Parliament winter session: Lok Sabha passes Assisted Reproductive Technology Bill to regulate IVF clinics
Dec 02, 2021 12:22 AM IST
The Lok Sabha on Wednesday passed the Assisted Reproductive Technology (Regulation) Bill, 2020, to regulate assisted reproductive technology (ART) services such as in-vitro fertilization (IVF) centres, sperm or egg banks etc that have mushroomed across the country
The Lok Sabha on Wednesday passed the Assisted Reproductive Technology (Regulation) Bill, 2020, to regulate assisted reproductive technology (ART) services such as in-vitro fertilization (IVF) centres, sperm or egg banks etc that have mushroomed across the country.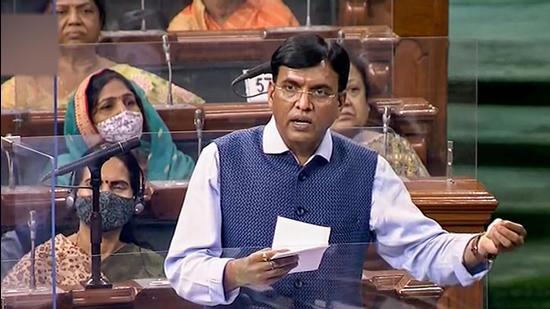 The bill was passed by a voice vote after Union health minister Mansukh Mandaviya said that it was brought following due consultations and the need to regulate ART services is to protect affected women and children from exploitation.
"Many such ART clinics have been running in the country without regulation. A need was felt for regulation of such clinics as there are implications on the health of those who undertake the procedure," the minister told the Lower House.
"If there is no regulation, the unethical practices will increase," he added.
The Union government had been working on the bill to regulate the ART industry since 2008 when it was first drafted by the Indian Council of Medical Research (ICMR).
The bill was first introduced in Lok Sabha on September 14, 2020 but the House had referred it to a standing committee. Many suggestions came from the standing committee and the government considered them, the health minister had said earlier.
The bill proposes the constitution of a national board that will set minimum standards of physical infrastructure, laboratory, diagnostic equipment and expert manpower to be employed by clinics and banks.
It also proposes the establishment of a national registry and registration authority to maintain a database of all clinics and medical professionals serving in the field. It further seeks stringent punishment for those practicing sex selection, sale of human embryos or gametes, or found running agencies, rackets and organisations for such practices in violation of the law.
The bill is the most recent, in a series of legislations approved by the Union Cabinet such as the Surrogacy Regulation (Amendment) Bill, 2019 and Medical Termination of Pregnancy (Amendment) Act, 2021, to protect and safeguard the reproductive rights of women.
Some members in the House said since the surrogacy bill is pending in Rajya Sabha and the two (another one being on ART) draft legislations are inter-linked, both should be passed together.
"The surrogacy bill is pending in the Upper House, that has not been passed. How can this House pass a law depending upon another law... My point is that this bill cannot be taken into consideration, this bill cannot be discussed," RSP's N K Premachandran said.
Responding to this, Mandaviya said that the surrogacy bill was passed in Lok Sabha and now it is in Rajya Sabha, and immediately after that "we brought this ART bill" and both the bills will now be taken up in the Upper House together.
Speaker Om Birla ruled that since the surrogacy bill is not pending in Lok Sabha, the Assisted Reproductive Technology (Regulation) Bill, 2021, can be taken up and passed by the Lower House.
ART services in the country have seen a significant growth in the past few years, with clinics offering nearly all services -- gamete donation, intrauterine insemination (IUI), IVF etc., and gestational surrogacy.
While there is no clear data, at least 3,000 clinics and banks are known to offer such services across the country.
However, there are no standard protocols for such centres to follow and reporting remains inadequate in the country.
"There was a need to regulate the sector because there is a lot about the sector that is not known, for example, how many clinics are there right now. There are many clinics that claim to be doing IVF, when in reality, they are just doing intrauterine insemination (IUI), and end up fooling couples. The bill will regulate such malpractices," a senior government official, familiar with the matter, said on condition of anonymity.
Any violation of norms listed under the bill may attract a penalty between ₹5 lakhs and ₹10 lakhs for first-time offenders. For subsequent contraventions, these offences will be punishable with imprisonment for a term between eight and 12 years, and a fine between ₹10 and ₹20 lakh, the bill's provisions stated.
Any clinic or bank advertising or offering sex-selective ART will be punishable with imprisonment between five and ten years, or fine between ₹10 lakh and ₹25 lakh, or both, it added.
Experts, however, pointed out certain unreasonable penal provisions in the bill that may discourage people from practising in the country.
"Many of my friends are already thinking of migrating to other countries as no country has the legal provision for non-bailable arrest for making a clerical error that may happen while filling up a patient form. People will have to employ extra full-time staff, and the cost will be borne by patients. The cost of IVF will definitely shoot up. This is a very wrong way of promoting adoption, if that's the target," Dr Shivani Sachdev Gour, senior gynaecologist-obstetrician and IVF expert, said.
"Still, we would need to look at the final version of the bill as there seem to be a lot of amendments suggested to the bill," she added.