Musharraf: Who came closest to Kashmir solution but also triggered Kargil war
Feb 05, 2023 07:06 PM IST
The former Pakistani military ruler, who probably came closest to resolving the Kashmir issue with India, was also the main driver behind the cross-border intrusions that triggered the Kargil conflict
Former Pakistani military strongman Pervez Musharraf, who probably came closest to resolving the Kashmir issue with India but was also the main driver behind cross-border intrusions that triggered the Kargil conflict, died following a prolonged illness on Sunday. He was 79.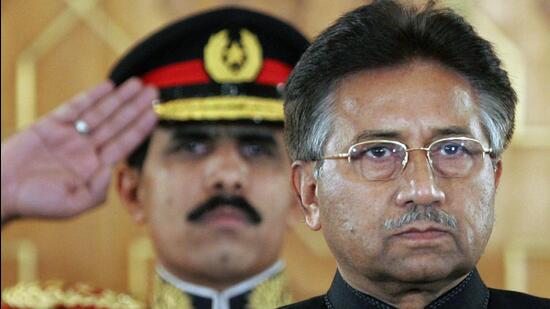 The pugnacious and tough-talking four-star general, long a favourite with Indian TV news channels, came to power through a bloodless coup in 1999 that deposed the civilian government headed by prime minister Nawaz Sharif. He tenaciously clung on to power for almost nine years, helping create the PML-Q party, before he was forced to resign in 2008 to avoid impeachment.
Stay tuned with breaking news on HT Channel on Facebook.
Join Now
Many of the security problems currently confronting Pakistan have their roots in Musharraf's flawed handling of a home-grown insurgency, especially by Taliban elements in Pakistan's northwest, even after joining the US-led war on terror in Afghanistan, his brutal crackdown on Baloch dissidents, and the failure to rein in anti-India terror groups.
Musharraf, who was born in Old Delhi on August 11, 1943 to a career diplomat, rose through the ranks of the Pakistan Army – seeing action during the 1965 war and joining the Special Service Group – before he was appointed army chief by Sharif in October 1998.
Just weeks after then prime minister Atal Bihari Vajpayee visited Lahore in a bus at the invitation of Sharif to try to make a breakthrough in bilateral relations by signing the Lahore Declaration in February 1999, Pakistani troops disguised as irregular fighters secretly infiltrated across the Line of Control (LoC) in Kargil sector, triggering a brief but fierce border conflict that ended disastrously for the Pakistani side.
In addition to suffering huge casualties at the hands of the Indian army and air force, Pakistan was forced to withdraw its troops after then US president Bill Clinton threw his weight on the Indian side, instead of brokering a peace deal as sought by Sharif.
The growing differences between Musharraf and Sharif prompted the premier to dismiss the army chief while he was on an official visit to Sri Lanka in October 1999 and to prevent the aircraft bringing Musharraf to Pakistan from landing at Karachi airport. The military rose in support of Musharraf and took over all government installations, and Sharif was deposed in a coup.
Sharif and his brother Shehbaz Sharif were forced into exile in Saudi Arabia as Musharraf declared himself the chief executive and began espousing a policy based on what he described as "enlightened moderation". The poor performance of Sharif's civilian government meant there were no public protests against the military takeover.
Just two years after the Kargil conflict, Musharraf accepted an invitation from Vajpayee for a summit in the Taj Mahal city of Agra in July 2001. Despite high expectations from the meeting, the talks collapsed soon after Musharraf's grandstanding at a breakfast meeting with Indian journalists. Lingering suspicions about Musharraf among BJP leaders such as LK Advani are also believed to have played a part in this.
While Pakistan benefited from the liberalisation of its economy and the inflow of American aid after Musharraf joined the war on terror following the 9/11 attacks by al-Qaeda, relations with India went through a series of ups and downs despite the military dictator's commitment in January 2004 to not allow any territory under Pakistan's control to be used for any form of terrorism.
Back channel contacts between Pakistan and India, under the governments of both Vajpayee and his successor Manmohan Singh, resulted in what has been described as Musharraf's four-point formula to settle the Kashmir issue. The formula envisaged making the LoC irrelevant by demilitarising both parts of Kashmir, allowing the free movement of people without any change of borders, permitting self-governance without independence and a joint mechanism for the management of Jammu and Kashmir.
Reported plans for the Kashmir deal to be finalised during a possible trip to Pakistan by Singh never materialised as Musharraf became embroiled in serious domestic political problems in 2007 that eroded his grip on power. This was primarily due to opposition from a powerful movement by lawyers and Pakistan's Supreme Court to his plans to seek reelection as president while remaining army chief.
The storming of the Lal Masjid in the heart of Islamabad by the Pakistan Army in July 2007 to remove Islamic fundamentalists triggered a devastating wave of suicide bombings across Pakistan that continued for several years, affecting the security situation and fuelling the rise of the Pakistani Taliban.
The Supreme Court thwarted Musharraf's attempt to oust then chief justice Iftikhar Chaudhry, a development that further weakened the military ruler's position. Former premier Benazir Bhutto's return to Pakistan from self-exile in October 2007 triggered another spell of confrontational politics ahead of proposed elections, and Musharraf imposed a state of emergency in November 2007. He suspended the Constitution and sacked chief justice Chaudhry before stuffing the superior courts with hand picked judges.
Bhutto's assassination in December 2007 and the return of Sharif from exile helped their Pakistan People's Party (PPP) and PML-N party emerge as the largest political forces following the general election in February 2008. Though Musharraf gave up the post of army chief even before the election, he faced growing pressure from the civilian government to quit. In August 2008, Musharraf resigned to avoid an impeachment motion by the PPP and PML-N, reflecting his growing lack of popularity within the army. Within months, he went into self-exile, dividing his time between Dubai and London.
In June 2010, Musharraf formed his own party, the All Pakistan Muslim League (APML), and announced plans to go back to Pakistan to contest elections, though his return was delayed till March 2013 because of a raft of legal cases involving serious charges such as treason and negligence that resulted in Bhutto's assassination. Within weeks of Musharraf's return, an election tribunal disqualified him from contesting elections and he was placed under house arrest in connection with the cases of treason and Bhutto's assassination.
In March 2016, Musharraf was allowed to leave Pakistan to seek medical treatment and he again went into self-exile in Dubai. He largely disappeared from public view, though he kept appearing on Indian and Pakistani TV news channels to comment on a wide variety of issues.
Reports emerged in late 2018 that Musharraf's health was deteriorating due to amyloidosis, a group of serious conditions caused by the build-up of an abnormal protein called amyloid in organs and tissues all over the body.