Photo puts question mark on cops' claim of killing 'Maoist' woman in gunfight
Updated on Jun 20, 2016 02:00 PM IST
The image in question is that of a woman, Madkam Hidme, in a guerilla outfit that was uploaded on social media. Police denied uploading any such image.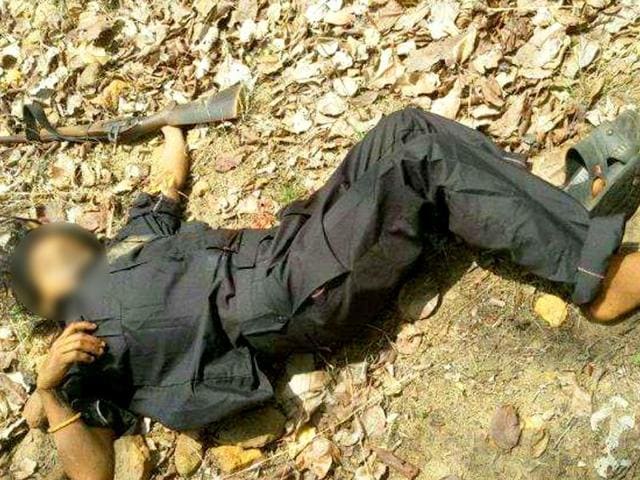 Hindustan Times |
, Raipur
Ejaz Kaiser
Allegations of foul play engulfed the killing of a suspected Maoist woman extremist in Chhattisgarh after a photograph showed her wearing a neat, loose-fit uniform that betrayed no signs of a fierce gunfight with security forces.
The woman, Madkam Hidme of Gompad village, was killed on June 13 after police engaged her in a forest in the restive southern Bastar district of Sukma.
But tribal rights campaigners dismissed the police version, saying security personnel forcibly took Hidme away from her home, dragged the woman into a forest, gang-raped her before shooting her dead. They alleged that an innocent woman was raped, killed and later branded a Maoist.
Sukma superintendent of police Indira Kalyan Elesela confirmed that she was killed in an "encounter". "A magisterial inquiry is on. It will reveal the truth. It's going to be an independent investigation not based on any image. On police record Hidme was a Maoist," the officer said.
The image in question is that of Hidme in a guerilla outfit that was uploaded on social media. Police denied uploading any such image.
"The photo narrates a different story. We are not calling the encounter fake but the image of the dead woman in a uniform that appeared two sizes too big for her raises suspicion. Besides, no autopsy was conducted. Based on these, we petitioned the high court for a judicial probe into the incident," said Sanket Thakur, the Aam Aadmi Party's (AAP) state coordinator.
Her dress apparently bore no signs of conflict inside a jungle, not even a wrinkle.
"The trouser was folded close to the feet. Will a hardcore Maoist venture out in a loose-fit uniform with no belt and conveniently move inside the difficult forested terrain wearing a pair of sandals? The outfit had no bullet holes, though she was allegedly killed in a fierce gunbattle," Thakur said.
Tribal rights campaigner Soni Sori too dismissed the police version.
"Police prevented me from visiting her village. Why? The undergarment of Hidme and her smashed ornaments were recovered by her relatives from the site," Sori said.
Sukma police maintained she was not allowed to go to Hidme's village because of security reasons.
Personalise your news feed. Follow trending topics