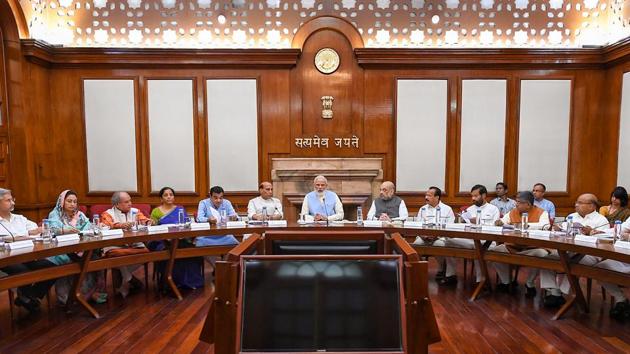 To focus on jobs and growth, PM Modi sets up 2 new cabinet committees
Economy has become a major cause of concern for the new government with GDP dropping to 5.8 per cent in the last quarter of the 2018-19, according to NSSO figures. Overall GDP for last financial year has been estimated at 6.8 per cent against a target of 7.2 per cent.
Hindustan Times, New Delhi | By Rajeev Jayaswal and Roshan Kishore
UPDATED ON JUN 06, 2019 08:20 AM IST
Concerned about an economic slowdown and growing unemployment, the government has decided to set up two high-level committees, one to revive growth and the other to figure out ways to create jobs, under the chairmanship of Prime Minister Narendra Modi, two government officials in the know said on condition of anonymity.
The first group of Cabinet ministers, the Cabinet Committee on Investment and Growth, which will suggest policies conducive to investments and growth, will have four other members - home minister Amit Shah, finance minister Nirmala Sitharaman, road transport and highways and micro, small and medium enterprises (MSME) minister Nitin Gadkari, and commerce and railways minister Piyush Goyal, the officials said.
The other group, the Cabinet Committee on Employment and Skill Development will have nine members (other than the PM) with a mix of Cabinet ministers and ministers of state (independent charge). Shah, Sitharaman and Goyal are part of this committee too.
The two officials said a notification on the creation of the committees is expected soon.
The government usually has a Cabinet Committee on Economic Affairs to address issues related to the economy and, according to a third person familiar with the matter who spoke on condition of anonymity, it will continue to do so even as the two committees provide the requisite focus to growth and investment, and employment.
There's cause for concern on both fronts, experts said.
According to recently released official data, India's gross domestic product (GDP) fell almost a 20-quarter low at 5.8% in the last quarter of 2018-19, which brought down the full year growth estimate to 6.8%, lower that the initial estimate of 7%. The GDP that grew at 8% in the first quarter gradually dropped below 6% in the fourth quarter mainly due to slump in agricultural and industrial growth.
"The move will certainly bring focus on the two big problems that have been identified," said Dr Pronab Sen, economist and former chief statistician of India. "How effective [are the two committees], would depend on how they are able to understand the problem and take effective measures."
The government is also concerned about growing unemployment as reflected in an official report that was released on Friday. According to the Periodic Labour Force Survey (PLFS) report for July 2017-June 2018, the unemployment rate soared to 6.1%, which was the highest in four-and-a-half decades. While the PLFS numbers are not strictly comparable with earlier Employment Unemployment Surveys of the National Sample Survey Office, the numbers paint a grim picture on the employment front. What is particularly worrying in the PLFS numbers is the big increase in unemployment rate among educated workers.
"It [unemployment] is an extremely serious situation, according to the government's own data. It is deeply disappointing for India's youth that this is the situation even after 10 years of skill development programme," said Santosh Mahrotra, professor of economics at Jawaharlal Nehru University.
The other members in the second committee are agriculture and rural development minister Narendra Singh Tomar, human resource development minister Ramesh Pokhriyal 'Nishank', petroleum minister Dharmendra Pradhan, skill development and entrepreneurship minister Mahendra Nath Pandey, minister of state for labour and employment Santosh Kumar Gangwar, and minister of state for civil aviation Hardeep Singh Puri, officials said.
The government is fully aware that the economy is decelerating and requires additional policy push. The committee on investment and growth will frame such policies and ensure their effective implementation, one of the two officials added.
Close