Donald Trump offers to host Narendra Modi later this year: White House
Hindustan Times, Washington |
HT Correspondent
Mar 29, 2017 03:59 PM IST
US President Donald Trump spoke by phone to Prime Minister Narendra Modi on Tuesday and said he looked forward to playing host to a visit by Modi to Washington later this year.
US President Donald Trump is looking forward to hosting Prime Minister Narendra Modi later this year, the White House said in a statement on Tuesday. No date for the visit was announced though.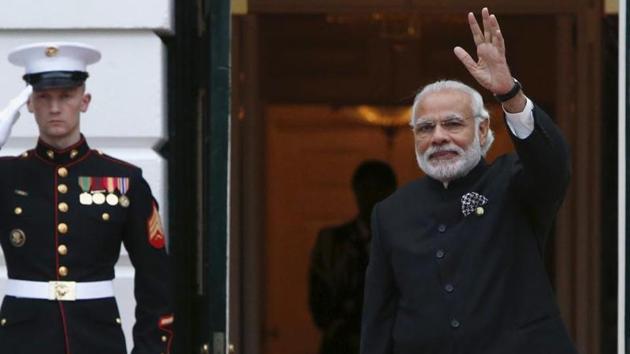 Trump called PM Modi on Monday to congratulate him on his recent state election victories, expressing "support" for his economic reforms and "great respect" for Indians.
"President Donald J. Trump spoke with Prime Minister Narendra Modi of India to congratulate him on the outcome of India's recent state-level elections," the White House statement said.
Modi's Bharatiya Janata Party won elections in Uttar Pradesh and Uttarakhand outright and formed the governments in Goa and Manipur with the help of allies.
This was the third publicly known phone conversation between Modi and Trump after latter's victory last November. The first conversation took place on the morning after Trump's upset win over Democratic candidate Hillary Clinton.
The second took place after president Trump's inauguration.
Their officials and aides have spoken and met many times since Trump's election, with the first team of Indian officials meeting vice-president-elect Mike Pence.
Indian national security adviser Ajit Doval met his then counterpart Michael Flynn in December -- before the inauguration, but had to make another trip last week to meet HR McMaster, his new counterpart after Flynn was forced to resign for lying about his contacts with Russians.
Doval also met secretary of defence James Mattis on his recent visit.
External affairs minister Sushma Swaraj and Secretary of State Rex Tillersen spoke on phone and foreign secretary S Jaishankar met with the top US diplomat during a visit to the US earlier in March.
Jaishankar, who was accompanied by commerce secretary Rita Teotia, also met McMaster and president Trump's top adviser on international economic affairs Kenneth Juster in the White House, commerce secretary Wilbur Ross and secretary for homeland security John Kelly.
Indian officials have felt generally good about these meetings. "Overall our sense was that the administration has a very positive view of the (India-US) relationship and a very positive view of India," Jaishankar had said after his meetings.