Private security industry is a bigger employer than healthcare in India: Study
Sep 26, 2018 08:06 AM IST
Two of every three Indian workers earned up to ₹10,000 per month in 2015
The private security industry in India employed 7 million workers in 2015, making it larger than healthcare and almost as large as public administration. Two of every three Indian workers earned up to ₹10,000 per month in 2015, much less than the stipulated minimum wage of ₹18,000 prescribed by the seventh pay commission set up by the central government.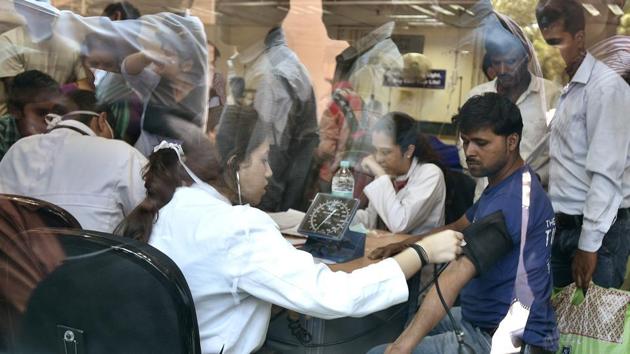 Most Indian manufacturing companies are sub-scale, with just 26 of every 10,000 manufacturing companies having more than 5,000 workers the same year.
The importance of the Indian IT sector is that while the share of IT companies in India's total employment is less than 1%, the business has the greatest share of firms (4%), reporting more than 5,000 employees in the year 2016.
These are the findings of The State of Working India 2018, released on Tuesday by the Centre for Sustainable Employment based at the Azim Premji University.
Job numbers are not the only divisive issue when it comes to an analysis of India's labour markets. One school of thought makes a virtue out of the Indian economy's advances in knowledge-based sectors such as Information Technology and Business Processing Management (IT-BPM). Another counters this claim by citing millions of unorganised sector workers employed in poorly paid and insecure jobs.
Employers in skill-intensive sectors complain about education not adding to employability. At the same time, the share of young men and women who are postponing their entry into the wage market to seek higher education has been increasing. But what has happened to the lot of workers? Has it improved? Or hasn't it? Neither headlines about millionaires being created by the newest unicorn, nor those about workers dying from lack of basic safety equipment captures this reality. Put simply, have things changed for good or bad, especially in this century, when India's economic growth has been quite high?
The answer, from the survey, is that the average Indian worker is not worse off than he/she was earlier, but that the improvement is too piecemeal to be celebrated. This is the story on all fronts: wage growth, quality of jobs, even caste and gender-based discrimination. Wages have risen, the share of regular employment has gone up, caste and gender-based inequality in wages has been coming down — but the progress is too slow.
There are significant divergences from the all-India headline numbers across regions and sectors. It is a careful examination of this diversity which brings out facts which are often lost in the important but also often simplistic binaries of India versus Bharat while analysing India's employment challenge.
For instance, as cited above, the private security industry in India employed 7 million workers in 2015, making it larger than healthcare and almost as large as public administration. The report rightly points out that we know very little about these sectors. International comparisons show that countries with high levels of income inequality have seen a bigger growth in the private security industry, said Arjun Jaydev from Azim Premji University, and part of the team which has prepared the report. A New York Times op-ed by Jaydev shows that share of private security guards in the US, a much more unequal society, was more than five times the number in Nordic countries such as Sweden, which have lower levels of inequality. The report, which is meant to be an annual publication (this is the first report), also makes a case for using both fiscal and industrial policy to achieve growth and quality employment. At the same time it mentions some interesting policy experiments being carried out in various parts of India to encourage employment generation. For example, in 2017, the Gujarat government announced a five-year subsidy of ₹4,000 and ₹3,000 per month for female and male employees in the textile sector for units which generated at least 300 domicile jobs. Odisha introduced a broadly similar policy in 2016. That such demands are not being made at the national level, point towards the fact that even politics around jobs in India might be stunted.
On the question of a larger employment policy, Nalin Kohli, spokesperson for the Bharatiya Janata Party, said that different state governments have come out with different sets of policies. At the national level, Mudra scheme has been a huge success in promoting self-employment, with more than 120 million people benefitting from ?3.6 lakh crore of loans being distributed. The employment data needs to be looked at in the context of self-employment as well, Kohli added. "Tackling the unemployment challenge is a priority for the Congress party. It will prepare a detailed road map to address this through the ongoing manifesto process. The broad outline of our policy will be incentive based and include a focus on reviving MSME clusters. The Congress president has already outlined this in various public platforms," said Rajiv Gowda, a Rajya Sabha MP and chairman of the All India Congress Committee research department.