Protest rallies taken out by PDP, NC ahead of Supreme Court hearing on Article 35A
The Supreme Court is hearing a batch of petitions seeking quashing of Article 35A of the Constitution which confers special status to permanent residents of Jammu and Kashmir.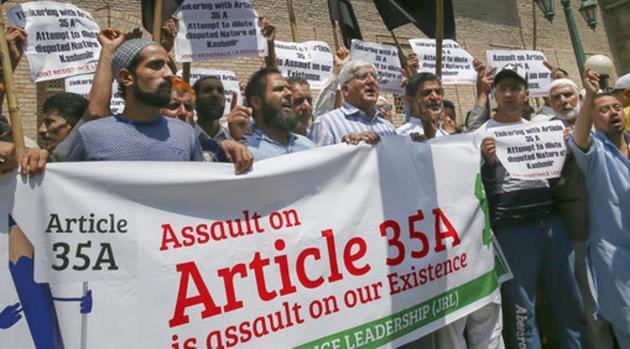 Updated on Aug 04, 2018 06:53 PM IST
Hindustan Times, Srinagar |
Ashiq Hussain
The National Conference and Peoples' Democratic Party held separate protests in Srinagar on Saturday and warned the Central government that the situation in the state could deteriorate if Article 35 A of the Constitution that guarantees special privileges to the state is 'tinkered' with.
The protests were held even as Jammu and Kashmir government asked the Supreme Court to defer the August 6 hearing on a bunch of petitions for quashing Article 35A citing upcoming panchayat and urban local body elections.
Article 35 A empowers the state's legislature to define "permanent residents" of Jammu and Kashmir and provide special rights and privileges to them.
Many NC leaders and dozens of activists marched from party office Nawaisubh to Sheri Kashmir Park in Srinagar carrying banners and chanting slogans in favour of the state's special status.
Senior NC leader and MLA Khanyar, Ali Mohammad Sagar said that there were conspiracies against the special status of Jammu and Kashmir and blamed them on people affiliated with the BJP.
"We are protesting across Kashmir and want to send a message to people in Delhi not to tinker with Article 35 A or Article 370. People of Jammu and Kashmir are united irrespective of their political affiliations; people from every region and religion have come together to defend these articles of the constitution. The leaders in Delhi should take note and there should be no action against the wishes and aspirations of people of Jammu and Kashmir, otherwise the situation will worsen here," Sagar said.
Read| What is Article 35A and why the controversy
Dozens of PDP workers led by some prominent leaders also protested outside the party office near Sheri Kashmir Park demanding dismissal of all cases against Article 35 A.
"This protest is in solidarity with wishes of people. Our leader Mehbooba Mufti has made it clear that any tinkering with Articles 370 and 35 A will create big issues in Jammu and Kashmir. People here won't tolerate any change to special status. We stand to protect state's special position in every situation," said Mohammad Khurshid Alam, MLC and PDP's district president in Srinagar.
While Article 370 of the Constitution grants special status to Jammu and Kashmir, Article 35A disallows people from the rest of India from buying or owning immovable property in the state, settle permanently, or get state government jobs.
For the past four days there have been protests by traders, transporters, fruit growers, people related to tourism, separatists and civil society amid fears that the state's special status will be revoked through the legal route. Posters and banners have been erected across the city asking people to remain together.
Separatist leaders Syed Ali Geelani, Mirwaiz Umar Farooq and Yasin Malik under the banner of Joint Resistance Leadership (JRL) have given call for a two-day shutdown on Sunday and Monday across the state and blamed BJP and RSS for attempt to "change the demography" of the state. The strike call has been supported by many organizations and civil society members across the spectrum.
The All Parties Sikh Coordination Committee has also come out in support of the special status.
In a statement, the Committee's Chairman Jagmohan Singh Raina said that majority of the people does not want any dilution of Article 35 A.
"People irrespective of caste, colour, religion and region have voiced their resentment over the attempts being made to abrogate Article 35 A. This unity should be an eye-opener for the fringe group and they should desist from their moves. People of Jammu and Kashmir have a distinct identity and they cannot compromise about it," said Raina.
The Jammu and Kashmir Bar Association and the NC have filed intervention applications in the Supreme Court to defend the constitutional provision.
Four petitions – three clubbed with the main one filed by NGO We The Citizens – have challenged Article 35A's legality on the grounds that it was never presented before Parliament and was implemented on the President's orders in 1954. Under the Constitution (Application to Jammu and Kashmir) Order 1954, the provision appears as an "appendix" in the Constitution and not an amendment.
Close Story