Rajdhani Express kills 2 elephants in Assam jumbo corridor near Dimapur
Updated on Sep 27, 2016 04:52 PM IST
Two female elephants, one about five years old and the other 15, were killed by the New Delhi-Diburgarh Rajdhani Express near Dimapur.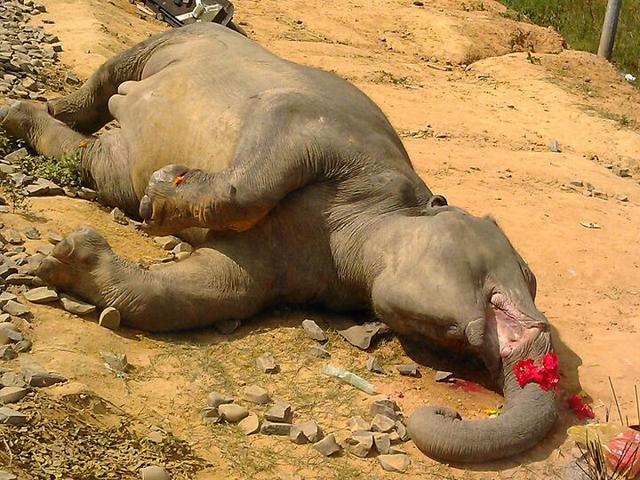 A speeding train hit and killed two elephants in a corridor designated for the animal near Dimapur, Nagaland's commercial hub, early on Tuesday.
Northeast Frontier Railway (NFR) officials said the incident happened about 12.25am when the New Delhi-Diburgarh Rajdhani Express ran into a herd of elephants that settlers on the eastern flank of the track had scared away with firecrackers.
Two female elephants of the herd, one about five years old and the other 15, were killed.
"A four-member enquiry team comprising railway and forest officials has been constituted to probe how the elephants got killed midway between Dimapur and Khatkhati railway stations," NFR spokesperson Pranav Jyoti Sharma told Hindustan Times.
Khatkhati, in Assam's Golaghat district, is about 270 km east of Guwahati,
It took several hours for the elephants' bodies to be taken off the tracks, blocking the train, thus delaying several other trains, Sharma added.
Forest officials said the spot where train rammed into the two elephants is a designated elephant corridor, warranting movement of trains at reduced speed, preferably at 20 kph.
"We have asked the district officials to ensure elephants can use their traditional corridors without any harm. We will take up the train speed aspect with the railway authorities," forest minister Pramila Rani Brahma said.
But NFR officials said they have not received any official request from the forest department to cut down speed on the Dimapur-Khatkhati section. "This has been the usual procedure wherever we have reduced speed on tracks through animal corridors or close to wildlife preserves," a senior NFR officer said.
Until last week, the Dimapur-Khatkhati section was a low-speed zone owing to 'bad bank', a railway term for soft ground requiring slow movement of trains.
Several elephants get hit by trains in Assam. In February 2014, a passenger train had mowed down three elephants in eastern Assam's Jorhat district.
Close Story
Personalise your news feed. Follow trending topics