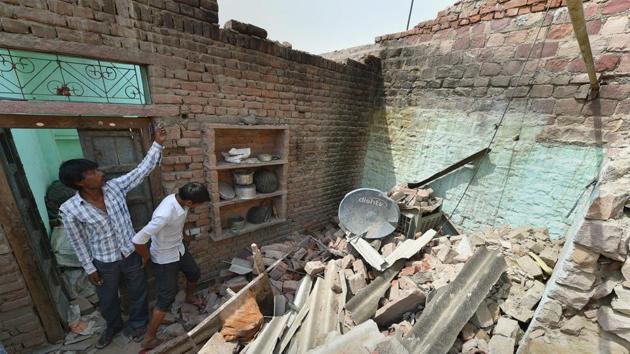 Relief workers pick up the pieces after dust storm leaves a deadly trail
Officials said restoring power and water supplies may take three to four days.
Agra/Jaipur | By HT Correspondents
UPDATED ON MAY 04, 2018 10:27 PM IST
As the death toll from this week's freak thunderstorms touched 125 on Friday, authorities started working to restore power and water supplies in the worst-hit areas of Uttar Pradesh and Rajasthan, the two states that bore the brunt of nature's fury.
Officials said restoring power and water supplies may take three to four days; many families in areas swept by the storms overnight on Wednesday had to spend Thursday night in the open, amid warnings of more thunderstorms until next Tuesday.
The storms, packing wind speeds of up to 130km per hour wrecked houses, damaged crops, uprooted trees and electricity pylons, cutting off power supply and disrupting train traffic as they cut a swathe through six states — UP, Rajasthan, Uttarakhand, Madhya Pradesh, Punjab and Haryana.
"It damaged electric poles and transformers, plunging parts of 20 districts of UP into darkness. We have started restoration work," the state's relief commissioner Sanjay Kumar said, adding that ex-gratia compensation had been paid to families of 70 of the 75 who had died in the state.
Claiming huge damage to power infrastructure, managing director of Jaipur's power distribution company Jaipur Vidyut Vitran Nigam Limited RG Gupta said work had started in urban areas to restore power in a phased manner; it will take 3-4 days to restore power in the rural areas, he said. "More than 7,000 poles have been uprooted in Alwar and another 6,000 in Bharatpur. In addition, about 1,500-2,000 transformers have been damaged," Gupta said.
Rajasthan home minister Gulab Chand Kataria said efforts to restore water and electricity supplies in the three storm-hit districts of the state had picked up pace. Rajasthan chief minister Vasundhara Raje visited Bharatpur and Dholpur districts to meet families affected by the storm.
According to the latest count released by various state headquarters, the toll had increased to 125 — at least 75 people were killed and 83 injured in UP, and 43 people perished in Rajasthan. HT had reported on Friday that the storms had killed 117.
"We were scared to sleep inside our half-broken house," said Ramesh Kumar, a resident of a village near Bharatpur. "Some of us kept awake so that sleeping villagers could be alarmed if the storm struck again."
"We couldn't sleep and were worried the storm may hit again. We took precautions and secured everything but nothing can stand up to nature's fury," 40-year-old Agra resident Munna Lal Jha said. Agra district was one of the worst-hit, with at least 46 people killed, according to the state disaster management authority.
Close