Rohingya refugees are a security threat: Govt's 'unfinalised affidavit'
The top court is hearing a challenge to Prime Minister Narendra Modi's government's decision to deport Rohingya Muslims, filed by two Rohingyas living in Delhi.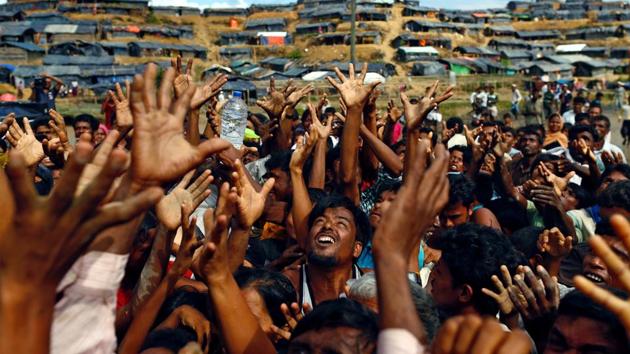 Updated on Sep 15, 2017 12:19 AM IST
An affidavit prepared by the government for possible filing in the Supreme Court said Rohingya refugees are a security threat and they must be deported to Myanmar, a stand that is likely to rile human rights activists.
The affidavit was not filed, and the government said it was 'unfinalised' and did not necessarily reflect its final position. A copy of it emerged in the media on Thursday after the government mistakenly served it to a lawyer who has moved the Supreme Court against a plan to deport the refugees.
Rohingyas are a minority in Myanmar's Rakhine, where an intense military crackdown — likened to an ethnic cleansing by the United Nations — has driven hundreds of thousands to flee to countries such as Bangladesh and India.
Close to 40,000 Rohingya Muslims live in India after fleeing Myanmar over the past decade. Nearly 15,000 have received refugee documentation, according to the United Nations, but India wants to deport them all. Last week, UN's human rights chief criticised India's decision as lacking 'basic human compassion'.
"The copy served on you has not been filed in the Supreme Court of India. Kindly, therefore do not treat the copy served on you as the affidavit of the central government," the government said in a statement after the proposed affidavit was reported online and by TV channels.
According to the affidavit that may or not be filed, the government has flagged purported links of some unauthorised Rohingya immigrants to militant groups based in Pakistan and Bangladesh. The government has also said the refugees are vulnerable to radicalisation by groups like the Islamic State.
The document mentions refugees being involved in "illegal/anti-national activities i.e mobilisation of funds through hundi/hawala channels, procuring fake/fabricated Indian identity documents for other Rohingyas/Bangladeshis, and also indulging in human trafficking".
Senior lawyer Prashant Bhushan has filed a petition on behalf of two immigrants challenging the government's decision to begin deporting them to Myanmar. The Supreme Court asked the government for its response which will likely be filed ahead of the next hearing next week.
Many of the Rohingya refugees who fled to India have settled in Jammu, Hyderabad, Haryana, Uttar Pradesh, Delhi-NCR and Rajasthan.
Former RSS ideologue and Rashtriya Swabhiman Andolan leader KN Govindacharaya has also moved the apex court seeking to make him a party in the case filed by the two Rohingya Muslims. Govindacharya has opposed their plea, saying they were "a burden" on the country's resources and posed a serious threat to national security.
Close Story