Samajwadi Party and Shivpal Yadav vie to mark Mulayam Singh's birthday
Updated on Nov 22, 2018 12:08 AM IST
Shivpal Yadav had formed the PSP (L) on October 23 months after quitting the SP after a power struggle with his nephew and Mulayam's son, Akhilesh Yadav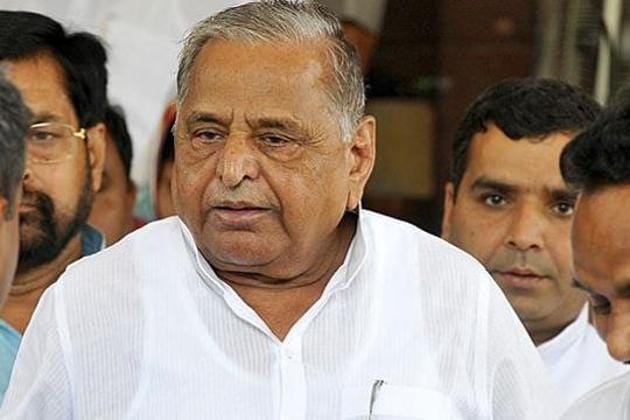 Eager to celebrate Samajwadi Party (SP) founder Mulayam Singh Yadav's 79th birthday on November 22, former Uttar Pradesh minister Shivpal Yadav's Pragatisheel Samajwadi Party (Lohia) or PSP (L) will mark the day as 'Secularism Day' and hold special programmes in Lucknow and the Yadav family's pocket borough of Etawah as part of the celebrations.
The Samajwadi Party (SP) has also put up hoardings across Lucknow about celebrating the leader's birthday.
Shivpal formed the PSP (L) on October 23 months after quitting the SP after a power struggle with his nephew and Mulayam's son, Akhilesh Yadav. Akhilesh and Shivpal have been trying to lay claim to the Mulayam's legacy, who has sent mixed signals on his support to the two parties.
The split came amid the SP's attempts to put together an opposition alliance to counter the Bharatiya Janata Party, which had swept the Lok Sabha polls in Uttar Pradesh, winning 71 out of the 80 seats in 2014.
Mulayam had joined Shivpal at the death anniversary event of socialist leader Ram Manohar Lohia on October 12. He had earlier visited the office of Akhilesh-led SP in Lucknow twice besides sharing the stage with his son in Delhi at a rally in September. Shivpal was sidelined in the SP after Akhilesh took over the party leadership in 2016 and was re-elected for another five years in October 2017.
PSP (L) spokesman Deepak Mishra said their party believes in socialist leader Ram Manohar Lohia and Netaji (Mulayam)'s ideology.
"Netaji has followed the ideology of secularism since joining politics in 1964. We do not want his ideology to get weakened,'' he said. "Netaji has also given his consent to attend a wrestling event organised in Etawah. A seminar is also organised in Lucknow (as part of the birthday celebrations)," he added.
SP spokesman Rajendra Chaudhary "We are not competing with anyone. The SP has asked its district and city units to celebrate the occasion."
Mulayam, a three-term Uttar Pradesh chief minister and former defence minister, represents Azamgarh in Lok Sabha.
Personalise your news feed. Follow trending topics