Saudi Arabia increases India's annual Haj quota to 1.70 lakh
Accordingly, India's quota was brought down to 1.36 lakh from nearly 1.70 lakh in 2012.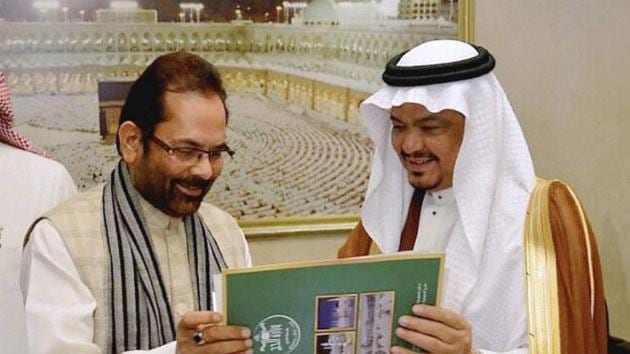 Updated on Jan 11, 2017 10:18 PM IST
Saudi Arabia has increased India's annual Haj quota from 1.36 lakh to 1.70 lakh, biggest such expansion in last 29 years, Union minister Mukhtar Abbas Naqvi said on Wednesday.
An agreement to this regard was inked by minister of state for minority affairs (Independent Charge) Naqvi with Saudi Arabia's Haj and Umrah minister Dr Mohammad Saleh bin Taher Benten at Jeddah on Wednesday, making the expansion effective from the current year.
The Saudi authorities had five years ago slashed quotas for foreign pilgrims coming from each country by 20 per cent in view of safety of the devotees as they undertook expansion of Grand Mosque there.
Accordingly, India's quota was brought down to 1.36 lakh from nearly 1.70 lakh in 2012.
Expressing pleasure at signing of the agreement, Naqvi said his meeting with Benten was "very fruitful" as constructive discussion was held on the whole gamut of issues related to the pilgrimage, transport and accommodation facilities for pilgrims and their safety.
"On behalf of the people and Government of India, we also extend gratitude to the Custodian of the Two Holy Mosques, His Excellency Saudi Arabia King Salman bin Abdul Aziz al Saud, for his keen personal interest and initiative in organising a successful Haj 2016," Naqvi said in a statement.
Naqvi exuded confidence that under the visionary leadership of Saudi Arabia's King Salman bin Abdul Aziz al Saud, the "excellent" relationship between India and Saudi Arabia will be further strengthened.
Stating India and Saudi Arabia share ideals of global peace, progress and prosperity, Naqvi said the two countries are tied together with strong civilisational, cultural, economic and political links.
"The regular visits by the leaders and senior-level officials of the two nations have further strengthened the relationship between the two nations. The visit of Prime Minister Narendra Modi to Saudi Arabia during April last year added new dimensions to our vibrant relationship," he said.
The Minister also expressed satisfaction over the improvements in services offered to pilgrims which indicates Saudi Arabia's firm commitment towards welfare and betterment of pilgrims.
The NDA government has started issuing Haj applications from January 2. The last date for submission of applications is January 24.
As part of its efforts to streamline the process, the government has urged pilgrims to submit their applications online. In December last year, a new Haj website was launched which provides all necessary information to Haj pilgrims, the statement said.
On January 2, the Minister had launched the Haj Committee of India mobile application to help pilgrims apply online.
Close Story