SC compares triple talaq to death penalty, asks can a practice so 'abhorrent' be legal
Updated on May 13, 2017 07:13 AM IST
Triple talaq is an Islamic practice under which a man divorces his wife by uttering it three times in one sitting.The Centre has urged the Supreme Court to declare triple talaq unconstitutional as it affects the fundamental right of Muslim women to live in dignity and security.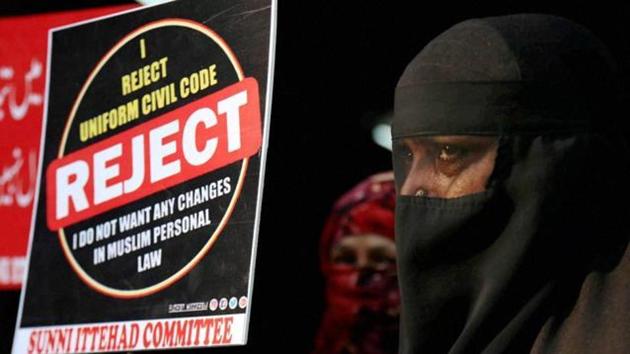 The Supreme Court on Friday compared the controversial practice of instant divorce in Islam to capital punishment, saying triple talaq was like death penalty – "abhorrent but still allowed".
A five-judge constitution bench led by Chief Justice of India JS Khehar is hearing pleas challenging the practice which allows a Muslim man to end his marriage by uttering the word talaq (I divorce you) thrice in one go.
Khehar drew a parallel with death penalty in response to a submission by senior Congress leader Salman Khurshid, who said triple talaq was sinful but lawful. Khurshid is the amicus curiae, or court's adviser, in the case.
The multi-faith bench of five judges - a Hindu, a Sikh, a Christian, a Zoroastrian and a Muslim – began hearing the petitions on Thursday, making it clear that the court would not examine Islamic custom of polygamy and nikah halala.
Several Muslim women have challenged triple talaq, saying it was discriminatory, against gender justice and dignity of women.
"Can something which is considered abhorrent by religion be validated by law?" justice Kurian Joseph said in reaction to Khurshid's remarks. "Whatever is sinful in the eyes of god, can it be lawful?" justice Joseph wondered.
Appearing for three Muslim women, senior advocate Ram Jethmalani said triple talaq was abhorrent and discriminated on the basis of sex as it didn't give women equal right to divorce.
He said secularism was subjection of religious doctrine to the rule of law.
Jethmalani, who is also representing the Forum for Awareness of National Security, called for a uniform code of marriage for men and women of the same religion.
Former Parliamentarian, Arif Mohammad Khan, attacked the instant pronouncement of talaq and said it was not sanctioned by Quran. Appearing for All India Muslim Woman Personal Law Board (AIMWPLB) he said far from being fundamental or sacramental to Islam it was an extremely dangerous concept that violated every good thing Quran prescribed.
Drawing a parallel between pre-Islamic practice of burying infant girls alive and triple talaq, Khan requested the Supreme Court to abolish the practice of instantaneous talaq, saying it was against the Holy Quran.
"In pre-Islamic Arab society infant girls were buried alive. The practice was abolished after the advent of Islam…Triple talaq is the modern version of the pre-Islamic practice," Khan said.
Known for spearheading a campaign for the cause of Muslim women, Khan told the bench that Quran prescribed only four methods before allowing separation of a man and woman, but none of them talked of triple talaq.
SC has drawn a timeline to conclude the hearing in the matter by May 19.
India has separate sets of personal laws for each religion governing marriage, divorce, succession, adoption and maintenance. While the Hindu law overhaul began in the 1950s and continues, activists have long argued that Muslim personal law has remained mostly unchanged.