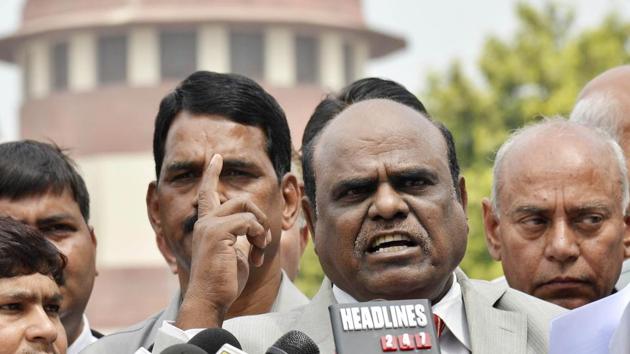 SC orders medical examination of Calcutta HC judge Karnan, says orders passed by him invalid
Justice CS Karnan has accused a number of Supreme Court judges, including the chief justice of corruption, which triggered a first contempt proceeding ever against a sitting HC judge.
UPDATED ON MAY 01, 2017 11:54 AM IST
The Supreme court ordered on Monday a medical examination of Calcutta high court judge CS Karnan, escalating an unprecedented confrontation within the judiciary.
Karnan has accused a number of top judges of corruption, triggering the first-ever contempt proceeding against a sitting high court judge. The top court also declared on Monday all orders passed by Karnan invalid, and said no court or tribunal shall take cognisance of his directions.
"No one can say such things and get away", the bench said on Monday after Karnan did not heed summons to appear before it.
The bench asked the Bengal director-general of police to form a team to help a medical board to carry out the "medical examination" on May 5.
The doctors for the test will be selected by the Government hospital, Kolkata, the court said, asking for a report by May 8.
Justice Karnan's clash with the judiciary started when he accused several judges of the Madras HC - where he earlier served - and an SC judge of corruption, nepotism and casteism.
His triggered contempt proceedings, the summons for which he ignored before issuing counter "orders" against the Supreme Court.
The escalation led to an unprecedented arrest warrant being issued against him on March 10. But he refused to receive it — when a team of Bengal police led by the DGP reached his home — and summoned the apex court judges instead.
Karnan is a Dalit and his orders against the judges are based laws protecting the scheduled cast/scheduled tribe people. He has alleged that he is being targeted for his caste.
In April, he imposed a "travel ban" on SC judges, asking them them to appear before him at his New Town residence by April 24 for "violating" his rights as a Dalit and "humiliating" him in public.
Close