SCO ministerial summit: Swaraj, Sitharaman to meet their Chinese counterparts in Beijing
Updated on Mar 21, 2018 09:07 AM IST
The SCO summit will be in June in Qingdao with Prime Minister Modi attending the multilateral event.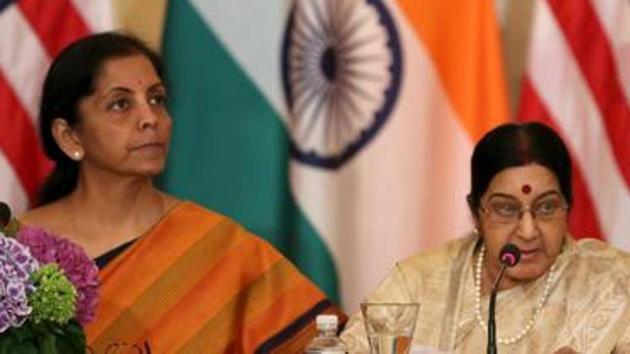 The government's engagement with the newly appointed Cabinet of Chinese President Xi Jinping will begin later this month with external affairs minister Sushma Swaraj and defence minister Nirmala Sitharaman expected to meet their counterparts, state councillor Wang Yi and defence minister General Wei Fenghe, on the sidelines of SCO ministerial summit in Beijing from April 24-26.
The meeting between Swaraj and Wang has been scheduled while the ministry of defence is expected to seek time from General Wei in a bid to build bilateral trust and cooperation. The SCO summit will be in June in Qingdao with Prime Minister Modi attending the multilateral event.
South Block officials indicated that National Security Adviser Ajit Doval is also expected to fly to Beijing after returning from Washington this weekend to meet his counterpart Wang, who is also the special representative for the India-China boundary dialogue. Wang was appointed state councillor by President Xi on Monday after his predecessor Yang Jiechi was elevated to the Politburo of the Chinese Communist Party.
Top diplomats and China experts told HT that the ongoing engagement with Beijing is designed to deepen economic and political cooperation as Delhi has neither the intention of provoking its neighbour nor the desire to embark on a full-fledged confrontation. This was made clear when cabinet secretary PK Sinha wrote a letter on February 26, asking all politicians and bureaucrats to refrain from participating in events organised by the Tibetan government in exile to celebrate the 60th year of exile of His Holiness The Dalai Lama.
While the Modi government wants the Tibetan government in exile to avoid indulging in any political activity perceived to be against Beijing, it is clear that it wants its core interests from the Line of Actual Control (LAC) to the Indian Ocean to be fully protected. Just as Chinese core interests of Tibet and Taiwan are non-negotiable for Beijing, Delhi is opposed to any unilateral changing of the LAC or Chinese activity in the Indian Ocean. Indian opposition to China Pakistan Economic Corridor, passing through Pakistan Occupied Kashmir, is now a matter of record. As reported earlier in HT, the ministerial engagement with China this month is expected to translate into a bilateral informal summit between Modi and Xi.
Close Story
Personalise your news feed. Follow trending topics