Singed by BSF fire, Pak Rangers commit to uphold ceasefire along border in J&K
Updated on Sep 29, 2017 08:26 PM IST
The intensity of the BSF's Operation Arjun in retaliation against sniper attacks and shelling on Indian villages forced Pakistan Rangers to request a flag meeting of sector commanders.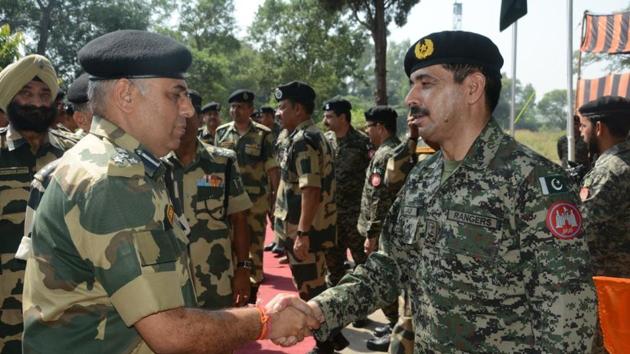 Hit hard by the Border Security Force's (BSF) punitive fire during Operation Arjun, Pakistan Rangers at a sector commander level flag meeting at Octroi border outpost in RS Pura sector in Jammu district on Friday said they would observe the November 2003 ceasefire agreement.
"Pakistan Rangers assured us to hold the sanctity of ceasefire agreement of November 2003 and BSF assured them that it won't initiate first fire but reserves the right to hit back, if provoked," said an Intelligence official, privy to the meeting.
Following Operation Arjun that targeted farms and residences of ISI officers and retired Pakistani army officials in retaliation to Pakistani sniper fire, Pakistan Rangers' Punjab DG Maj Gen Asgar Naveed Hayat Khan had twice called BSF director KK Sharma on September 23 and September 25 requesting to hold fire.
"On the request of Pakistan Rangers, a sector commander level flag meeting was held between BSF and Rangers on Friday from 1100 hours to 1245 hours in Suchetgarh area," said an official release issued here.
The BSF delegation comprising 17 officers was led by DIG BSF Jammu Sector P S Dhiman while the Rangers' delegation of 14 officers was headed by Sector Commander Chenab Rangers, Sialkot Brig Amjad Hussain. The Pakistani delegation also included three wing commanders.
The last sector commander level meeting was held on March 9 this year.
"This meeting was the first sector commander level meeting on the request of Pak Rangers between two border guarding forces since heavy shelling and firing on the International Border in the September in which BSF gave strong calibrated reply to Pakistan," the statement said.
During this period, the BSF successfully foiled a number of infiltration attempts and killed one intruder on September 4 in the Arnia sector.
Read more: Two injured as Pakistan targets Indian troops in J-K's Poonch and Rajouri
At the meeting, BSF strongly objected to Pakistan's dastardly acts of snipping of two BSF troopers - constable Brijendra Bahadur and constable K K Apparao on September 14 and August 25 respectively while they were on duty at forward points along the border fence.
The BSF also protested against unprovoked cross border firing and shelling on number of Indian border villages targeting innocent civilians and their properties.
It said such provocations will not be tolerated and shall be responded with equal and more measures.
Beside discussion on number of other issues related to border management, BSF strongly objected to movement of armed intruders in close vicinity of international boundary at night for attempting intrusion into India from Pakistani territory.
The Pakistan Rangers assured the BSF that they would undertake required measures to maintain peace on the border with a request that BSF should also exercise restraint to the optimum in its counter measures so as to ensure that minimum loss of civilians is caused on Pakistani side.
It was decided to re-energize instant communication between field commanders, whenever required, to resolve the petty matters.
Both sides agreed for expeditious implementation of the decisions taken in the earlier meeting and committed to each other to maintain peace and tranquility at the international border.