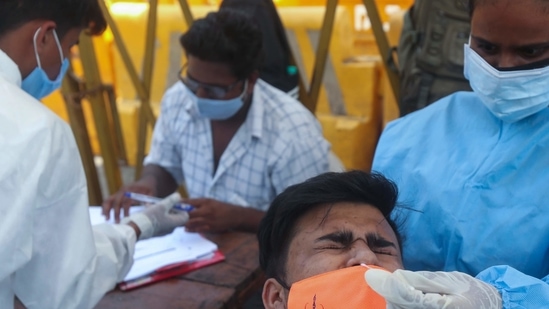 Slight dip in new Covid-19 cases in India after crossing 100,000 mark
There were 96,982 new cases in the last 24 hours, the Union ministry of health and family welfare's (MoHFW) dashboard showed on Tuesday morning.
UPDATED ON APR 06, 2021 02:16 PM IST
India's daily rise in the cases of the coronavirus disease (Covid-19) on Tuesday remained over 90,000 for the third consecutive day as 96,982 infections were reported in the last 24 hours from across the country, according to the Union ministry of health and family welfare. The new cases and the 446 fatalities have taken the country's Covid-19 tally to 12,686,049. India recorded an all-time high of 103,558 single-day coronavirus infections. The active cases have gone up to 788,223 and comprise 6.21 per cent of the total infections and the recovery rate has again dropped to 92.48 per cent, the health ministry's data showed.
The number of patient, who have recuperated from the disease, now stands at 11,732,279 and the case fatality rate has further dropped to 1.30 per cent, it also showed.
Also read | Night curfew imposed in Delhi from today. Here's what's allowed, what's not
According to the home ministry, the 446 fatalities include 155 from Maharashtra, 72 from Punjab, 44 from Chhattisgarh, 32 from Karnataka, 15 each from Delhi, Gujarat and Madhya Pradesh, 13 from Uttar Pradesh, 12 each from Kerala and Rajasthan, 11 from Tamil Nadu and 10 from Jharkhand.
Out of 165,547 deaths reported so far in the country, there have been 56,033 fatalities in Maharashtra, 12,789 in Tamil Nadu, 12,657 in Karnataka, 11,096 in Delhi, 10,348 in West Bengal, 8,894 in Uttar Pradesh, 7,244 in Andhra Pradesh and 7,155 in Punjab.
Also read | Video claims 50,000 Covid-19 deaths in India by April 15, WHO says it's fake
According to the health ministry's data on Tuesday, more than 4.3 million vaccine doses were administered in a span 24 hours, the highest single-day coverage till now, taking the total doses given in the country so far to 8,31,10,926. Data showed that 43,00,966 vaccine doses have been given in a span of 24 hours, out of which 39,00,505 people were administered the first dose and 4,00,461 have taken the second dose.
Maharashtra, Gujarat, Rajasthan, Uttar Pradesh, West Bengal, Karnataka, Madhya Pradesh and Kerala account for 60 per cent of the cumulative vaccine doses given till now. The health ministry said Maharashtra has so far administered the most number of doses with 81,27,248, followed by Gujarat at 76,89,507, Rajasthan at 72,99,305, Uttar Pradesh at 71,98,372 and West Bengal at 65,41,370 doses.
Amid the rising cases of the coronavirus disease, Union health minister Harsh Vardhan will meet representatives of 11 states and Union territories reporting high Covid-19 cases on Tuesday and Prime Minister Narendra Modi will interact with chief ministers on Thursday.
Close