Study hints at bias in India's air pollution monitoring stations
Hindustan Times, New Delhi |
Jayashree Nandi
Sep 23, 2018 07:00 AM IST
The report recommends increasing funding to improve data collection. Speciation data of particulate matter will be more useful as that will help target specific sources of pollution.
India's network of manual and real-time (automatic) air pollution monitoring stations is resulting in an information bias and may not be giving a representative picture for health epidemiology studies, a new study done by US and Indian scientists this year revealed.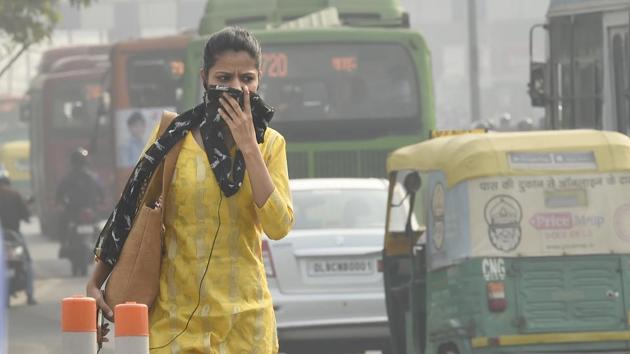 Currently, India has one air pollution monitoring station for every two million people. It has more manual than real time monitoring stations. The real-time stations are concentrated in north India, some western and southern states — Delhi, Uttar Pradesh, Rajasthan, Maharashtra, Telangana — but there is no real-time data reporting from central states — Chhattisgarh, Jharkhand, Odisha — that have a heavy burden of polluting industries and mines. There are no real-time stations in the northeastern states either.
The report — 'Monitoring Particulate Matter in India: Recent Trends and Future Outlook' — to be published shortly, has mapped manual air pollution monitoring stations under the National Air Quality Monitoring Programme (NAMP) based on population density, and found that air pollution dataset from India mainly represents urban and peri-urban areas. Lack of data from rural areas may also be contributing to exposure misrepresentation, the study found.
While urban bias in such monitoring is known, the report has raised questions about data quality from manual monitoring stations and discussed trends in PM 10 (coarse pollution particles) concentrations from 2004 to 2015 from the NAMP.
Manual versus automatic stations
There are 683 manual air quality stations in 300 cities and towns and a network of 87 continuous automatic air quality monitoring stations (CAAQMS) that provide data in real time from 52 cities in only 15 states, the report found. India's sparse pollution monitoring network can be contrasted with 87 monitoring stations for PM 10 and 32 for PM 2.5 in Greater London that has a population of about 9 million.
The manual stations in India collect samples over eight-hour spans typically twice a week, which may not provide representative air quality status. Manual monitoring also results in delay in data collection and has a large error margin and variation. Manual stations should pick up data for at least 104 days a year, but at most stations, data was captured for fewer days than required. Besides, in states like Manipur and Arunachal Pradesh, even manual station density is very poor and only data for two to five years is available. The report added that there was no meta data or quality control data available for public scrutiny.
A senior Central Pollution Control Board (CPCB) official said the number of stations has increased marginally since this study was conducted. "We have recently added a few stations. There are 703 manual stations in 307 cities and 134 continuous stations in 71 cities. There is a target to have 1,000 manual stations shortly and real-time stations in all million-plus cities, state capitals and rural areas under the National Clean Air Programme (NCAP)," he said.
On the advantages of manual monitoring, he said, "We can always conduct chemical speciation (analysis) after collecting particulate matter on filter paper while the advantage of real-time station is there is no time lapse..."
0.23% of PM 10 trends meet 'WHO' standards
The study also assessed PM 10 concentration trends from 683 NAMP stations between 2004 and 2015 to find only 0.23% annual averages met the annual World Health Organisation (WHO) guideline and about 19% met the Indian annual standard.
In 12 years, only one station at Tekka Bench Ridge in Shimla met the WHO standard twice — in 2004 and 2005. Sarora in Chhatisgarh recorded the highest PM 10 concentrations in 2011, but Delhi has consistently been the most polluted state since 2008. PM 10 concentrations were the highest in northern India — Uttar Pradesh, Delhi, Jharkhand, Punjab and Rajasthan.
The trends were also verified by the scientists. Aerosol optical depth (degree to which pollution particles in the air prevent transmission of light in an area) also indicate that Kinnaur in Himachal Pradesh had the lowest annual average PM 2.5 concentration and Delhi had the highest, hence it was in broad agreement with PM 10 data from the NAMP network, scientists said.
A good real-time network may cost ₹3K-cr
The report recommends increasing funding to improve data collection. Speciation data of particulate matter (chemical composition of PM) will be more useful as that will help target specific sources of pollution.
The CPCB plans to set up real-time stations by 2020. Average cost of a real-time station is ~1 crore. As per CPCB, each million-plus city needs at least 25 such stations — extrapolated for 60 cities, it will need 1,500 stations, which would mean an initial investment of ~3,000 crore.
Scientists said government should consider investing and supporting ground-level data with low-cost sensors, satellite generated PM data and an efficient early warning system.
"...sections of the country where we don't have much data on air quality. With the ongoing efforts towards installation of CAAQM stations and the proposed plans for the use of satellite data for AQ monitoring, it is critical that the different monitoring plans are coordinated, fed into each other, and ultimately, are used for data-driven policymaking," said Pallavi Pant, lead author of the report.