CM Kejriwal said even Parliament has acknowledged that the air quality of the national capital has improved significantly.

Published on Feb 05, 2023 02:21 PM IST
The Capital on Sunday recorded an AQI of 407 (severe) at 4pm as per Central Pollution Control Board's (CPCB) bulletin — the highest in 12 days, and a sharp departure from the recording of 294 (in the "poor" category) on Saturday.

Updated on Jan 23, 2023 05:56 AM IST
If you own a petrol or diesel vehicle, you can look up engine information in RC (Registration Certificate). The registration certificate contains all of the information about your vehicle. It also contains information about the type of engine.

Updated on Jan 15, 2023 06:05 PM IST
The AQI was a mild improvement from Monday's 434 – with both recordings being the highest in two months, since air pollution first reached crisis levels due to smoke from farm fires and calm winds that are typical of pre-winter months.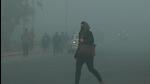 Updated on Jan 11, 2023 06:11 AM IST
The Delhi government on Tuesday imposed a temporary ban on plying of BS-III petrol and BS-IV diesel four-wheelers in the national capital till January 12.

Published on Jan 10, 2023 08:43 AM IST