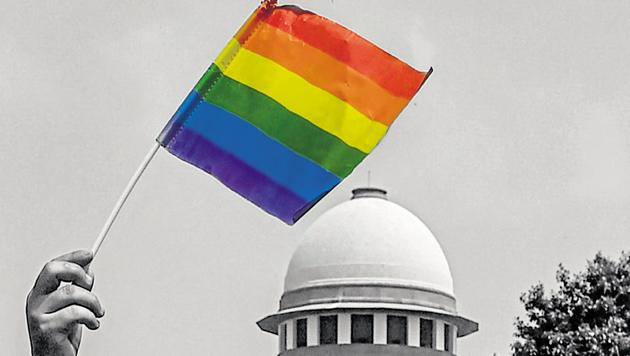 'I am what I am': SC's verdict on gay sex paves way for a more equal India
A five-judge constitution bench of the Supreme Court today, unanimously decriminalised part of the 158-year-old colonial law under Section 377 of the IPC which criminalises consensual unnatural sex, saying it violated the rights to equality.
UPDATED ON SEP 07, 2018 12:00 AM IST
It's no longer a crime to be a homosexual in India. The Supreme Court on Thursday partially struck down the 157-year-old British-era law that penalises consensual gay sex between adults, declaring that an individual's sexual orientation is a matter of privacy and also an essential facet of one's dignity. The LGBTQ (lesbian, gay, bisexual, transgender, queer) community possesses the same human, fundamental and constitutional rights as other citizens, the court said.
A Constitution Bench led by Chief Justice Dipak Misra said section 377 of the Indian Penal Code was arbitrary and unconstitutional to the extent that it punishes consensual intercourse between adults irrespective of their gender identity or sexual orientation.
SC held that section 377 infringed upon the fundamental rights of LGBTQ persons, who ought to be treated equally before the law, enjoy dignity and freedom of expression and not face discrimination. While reading his judgment, Misra said, "I am what I am. So take me as I am. No one can escape their individuality."
In four separate but concurring judgments, the apex court ruled that societal morality cannot violate the fundamental rights of even a single individual. "Constitutional morality cannot be martyred at the altar of societal morality," the bench said.
The judgement came on a batch of petitions filed by 34 individual petitioners belonging to the LGBTQ community, interventions filed by NGO Naz Foundation, parents of queer persons and Voices Against 377, a collective of human rights groups, among others. This was the first time LGBTQ persons filed writ petitions to challenge section 377's constitutional validity.
Petitioners included Navtej Singh Johar, a Sangeet Natak Akademi awardee, chef and restaurateur Ritu Dalmia, transgender woman activist Akkai Padmashali, hotelier Keshav Suri, activists Arif Jafar and Ashok Row Kavi, and a clutch of IITians from an all-India alumni group Pravritti.
Justice Indu Malhotra, who is the lone woman judge of the five-judge Constitution Bench, said, "Sexual orientation is an innate attribute of one's identity, and cannot be altered. Sexual orientation is not a matter of choice. Homosexuality is a natural variant of human sexuality."
"History owes an apology to the members of this community and their families, for the delay in providing redressal for the ignominy and ostracism that they have suffered through the centuries," she added.
Clearing the air on the issue of pending cases under section 377, the judgment says, "Reading down of Section 377 shall not, however, lead to the reopening of any concluded prosecutions, but can certainly be relied upon in all pending matters whether they are at the trial, appellate, or revisional stages."
Non-consensual intercourse and bestiality remains an offence under section 377.
SC overruled its own 2013 verdict that had set aside a Delhi High Court judgment reading down section 377 IPC decriminalizing same sex intercourse. The bench said that the judgment was a retrograde step and denied progressive realization of rights.
During the court hearings, the ruling government led by the Bharatiya Janata Party chose not to take a stand in the matter, leaving it to the court's wisdom. The government counsel, however, asked the court not to expand the scope of the petition to include civil liberties such as marriage or inheritance right.
However, in his judgment, Justice DY Chandrachud said, "This case involves much more than merely decriminalising certain conduct which has been proscribed by a colonial law. The case is about an aspiration to realise constitutional rights. But decriminalisation is a first step."
Activists viewed this as opening the possibility of further constitutional demands by the community for equal rights.
Writing for himself and Justice AM Khanwilkar, CJI Misra said, "A union under the Constitution does not mean union of marriage but also companionship, be it physical, mental, sexual or emotional."
With its judgement the top court also rejected the plea made by religious institutions from all backgrounds to retain section 377.
Hotelier Keshav Suri, one of the petitioners in the case, was overjoyed after the pronouncement. Present in the packed courtroom with his partner, Suri told HT: "I am extremely delighted. I am no longer illegal. I do not need to live in shadows any more. I can live freely and hopefully my marriage would also be treated legal soon. I will continue to work for it."
Petitioner Ritu Dalmia said, "I want to salute the panel of judges for delivering such an articulate, intelligent and sensitive judgment. (I feel) a sense of relief and more than that, a sense of hope."
Advocate Manoj V George, who represented the Apostolic Churches Alliance opposing the writing down of the law, attacked the government for not taking a stand on the issue. "The Centre failed to defend the law. It outsourced it for judicial legislation. This will open a Pandora's box," George said.
"Like the Supreme Court, we also do not consider this [homosexuality] to be a crime. But same sex marriages are not compatible with norms of the nature, so we do not support such relations," said a spokesperson for RSS, the parent organization of the ruling BJP.
Congress chief spokesperson Randeep Singh Surjewala termed the Supreme Court verdict "momentous". He posted on Twitter, "An age-old colonial law, that was an anachronism in today's modern times, ends restoring the fundamental rights & negating discrimination based on sexual orientation. It's an imp step forward towards a liberal, tolerant society."
Petitioner Sunil Mehra said, "If equality of LGBT persons is now a fundamental right, then right to marry, bequeath property, share insurance (medical and life) are all part of this. We're asking for rights, respect and dignity, and it is unconstitutional and impudent to deny that. I am astounded people who say that we cannot get these rights."
The bench ruled resoundingly in favour of constitutional morality over social majoritarianism. The archaic law is a weapon in the hands of the majority to seclude, exploit and harass the LGBT community. Such a law, the judges said, cannot be preserved.
CJI Misra said: "Sexual acts cannot be viewed from the lens of social morality or that of traditional precepts wherein sexual acts were considered only for the purpose of procreation."
Justice Rohinton Nariman asked the government to take measures to ensure the judgement is given wide publicity through the public media and initiate programs to reduce and finally eliminate the stigma. Government officials, in particular police officials, be given periodic sensitization and awareness training of the plight of LGBT community.
Justices Nariman, Chandrachud and Malhotra, pointed out how section 377 affected the access of the LGBT community to health-care facilities. This, they said, results in serious health issues, including depression and suicidal tendencies. Justice Nariman referred to the newly notified Mental Healthcare of 2017 in which Parliament, he said, makes it clear that homosexuality is not a mental illness. "This is a major advance in our law," said Justice Nariman, adding: "Parliament is also alive to privacy interests and the fact that persons of the same-sex who cohabit with each other are entitled to equal treatment."
The judgment also does away with a dichotomy in the criminal law. While the rape law permits consensual penetrative acts, section 377 makes the same acts of penetration punishable irrespective of consent.
Section 377, which treats consensual sexual acts by adults of the same sex as an offence and provides for life in prison, is modelled on Britain's Buggery Act of 1533 and had survived in India's statue book, after it was introduced in 1861. In April, at a meeting of the heads of the Commonwealth governments, UK Prime Minister Theresa May expressed regret for introducing homophobic laws in former colonies.
The Delhi high court decriminalised consensual same-sex intercourse in 2009, but four years later, the SC reversed the order on grounds that section 377 was not unconstitutional, and the LGBT community members formed a minuscule minority.
In 2016, SC, however, agreed to hear a petition by five prominent members of the LGBT community -- Bharatnatyam dancer Navtej Johar, culture expert Aman Nath, restaurateurs Ritu Dalmia and Ayesha Kapur and journalist Sunil Mehra, challenging the constitutionality of section 377. This was followed by a clutch of six petitions, and the hearings took place in July.
(Inputs from Dhamini Ratnam)
Topics
Close