Taj Mahal is a tomb and not a temple, ASI tells court
Updated on Aug 25, 2017 11:31 PM IST
Six lawyers in a law suit claimed the monument is a Hindu temple, Tejo Mahalaya.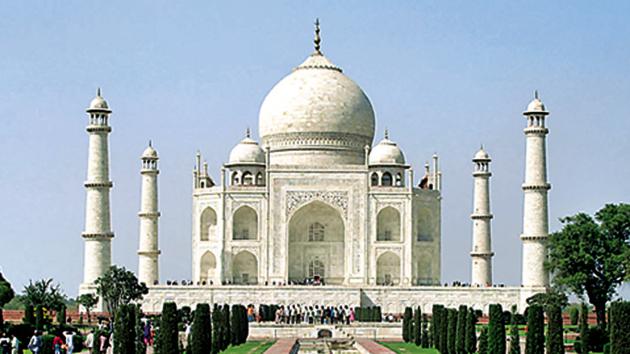 The Archaeological Survey of India (ASI) has told an Agra court that the Taj Mahal-- widely regarded as a masterpiece of Muslim architecture—is a tomb and not a temple as claimed by a group of petitioners.
In a written statement filed in the court of civil judge (senior division) on Thursday, the ASI refused to accept the contention that the world heritage site was built on a temple dedicated to Hindu god Shiva.
The court in April 2015 admitted a law suit filed by six lawyers, who had claimed the Taj is a Hindu temple, Tejo Mahalaya and as such followers of the religion should be allowed access inside the premises of the monument to perform 'darshan' and 'aarti.'
They also asked for opening of the locked rooms in the monument.
Currently, only Muslims are allowed to worship at the site, offering Friday prayers at a mosque attached to the monument.
The court has fixed the next hearing on September 11.
The court had earlier issued notices to the central government, Union ministry of culture, home secretary and ASI to file their replies.
The ASI is responsible for archaeological research and the conservation and preservation of historical monuments in the country.
The counsel for the Union of India and ASI, appearing before the court, stated that the petitioners had no locus standi in the matter and neither did they have the right to worship or perform any religious rituals as the monument is Islamic.
In its reply, the ASI also denied the existence of any temple within the Taj Mahal.
On the basis of available records, the ASI asserted that the is a mausoleum was constructed by seventeenth-century Mughal emperor Shah Jahan in the memory of his queen.
Theories about Taj Mahal's supposed Hindu heritage were floated after historian PN Oak in his 1989 book Taj Mahal: The True Story, claimed the monument was built in 1155, decades before the Muslim invasion of India.
He said its name is a corrupt form of the sanskrit term "Tejo Mahalay."
The Union culture ministry in November 2015 told Lok Sabha that there was no evidence of any temple at the Taj.
Personalise your news feed. Follow trending topics