Sabarimala row: Devotees attack journalists, stop women from approaching temple
he doors of the Sabarimala temple are set to open to devotees for first time after the SC verdict at 5 pm today. Thousands of police personnel, including policewomen, are deployed at the base camps.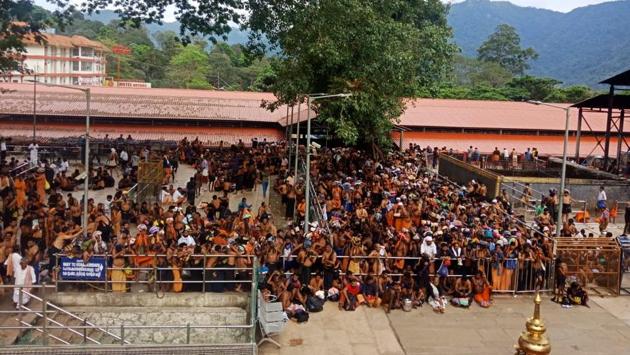 Updated on Oct 17, 2018 04:55 PM IST
At least three women journalists were attacked by an angry mob on Wednesday while on their way to report the protests over the Supreme Court's verdict to allow women of all ages into the temple dedicated to Lord Ayyappa in Kerala's Sabarimala as tension mounted in Pathanamthitta district.
Pooja Prasanna of television news channel Republic TV, Saritha S Balan of The News Minute website and News18' s reporter Radhika Ramaswamy were attacked by the mob in the district, where the hilltop temple is situated. (Follow live updates here)
Television channels showed hundreds of people surrounding Prasanna's car in Nilakkal town of the district as the protesters chanted Ayyappa slogans. The mob then turned violent as it punched and banged the windshields and windows of the car.
The website of Republic TV reported that the mob surrounded Prasanna's car, "shoving their faces into every window and the windshield, shouting loudly, making intimidatory gestures, and then, slamming the car from all sides".
It also reported that Prasanna and the rest of the camera crew travelling with her were attacked and slapped by the mob after they stepped out of the car. The crew's equipment was also snatched by the protesters.
Visuals also showed Prasanna confronting protesters, asking them why she and her crew were not being allowed to go ahead.
"I kept saying I am a journalist. It is very clear that I was not a devotee from my attire. I was wearing jeans, not a saree. But none in the crowd was ready to listen to me. At least 200 people followed me and started hurling abuses. I haven't ever been subjected to such a situation in my entire career," she said in a video message to New Minute.
The News Minute said that Balan was on a Karnataka State Road Transport Corporation bus full of Sabarimala devotees when a mob of 20 men from Karma Samithi surrounded it and tried to pull her out. It said Balan was physically attacked and verbally abused as the police tried to provide her with a protective ring in order to help her out of the bus.
"She was kicked from behind as angry devotees took her photograph, called her derogatory names and chanted slogans in the name of Ayyappa. A woman also tried to throw a water bottle at Saritha," it said.
Ramaswamy was also attacked by a mob at Nilakkal, the main gateway to the hill shrine, that abused her verbally and asked her to return even as policemen looked, News18 said. The protesters surrounded Ramaswamy's car, tried to pull her out and broke the window panes with sticks. They also vandalised the camera equipment that the crew was carrying.
"There were two to three cops when the incident happened. I was calling out for help and the police did not stop the mob," she was quoted as saying by News18.
The temple will be open for women of all ages for the first time on Wednesday after the Supreme Court verdict allowing women of all ages access to the shrine.
Earlier, a 40-year-old woman devotee from Andhra Pradesh was forced to turn back by protesters opposing the entry of women of menstrual age into the hill shrine despite the presence of thousands of police personnel, including policewomen, at the base camps.
New agency IANS reported that another woman, who was on her way to pray at the temple wearing jeans, was stopped at the Pathanamthitta bus stand by angry devotees.
The situation turned volatile as protesters threatened suicides and self-immolation and blocked women of reproductive age from visiting the 800-year-old shrine since its presiding deity, Lord Ayyappa, is considered to be celibate.
All small towns leading to Sabarimala, Erumeli, Vadessrikara, in Pathanamthitta remained tense as police said they would not let anyone to block the movement of the people.
Chief minister Pinarayi Vijayan has reiterated that his administration will not file any review petition against last month's Supreme Court order that allowed women between 10 years and 50 years to enter Sabarimala in what has been hailed as a landmark verdict.
He said no one will be allowed to stop devotees from visiting the temple in the Western Ghats.
The Congress, Bharatiya Janata Party (BJP) and several Hindu organisations have been protesting the top court's verdict and have warned of strong consequences if any temple traditions were broken.
BJP leaders like K Surendran and Sobha Surendran have been staging a sit-in protest at Pambha even as the grandmother of right-wing activist Rahul Easwar was arrested by the police.
The protesting devotees, including representatives from the Pandalam royal family and those from the families of the temple's chief priests or tantris, are chanting songs and prayers at some places at Nilakkal, reported IANS.
Tents of devotees in Nilakkal, the second base camp, were demolished as police dispersed protesters and warned them against preventing women from entering the shrine. They also removed a makeshift shelter erected by a protesting group Sabarimala Achara Samrakshana Samiti, which has called for a 24-hour shutdown.
The temple authorities put a banner over a board, which had said that women in the 10-50 age group were barred inside the shrine, on Tuesday night.
The temple would be closed on October 22 after the five-day monthly prayer during the Malayalam month of Thulam.
(With agency inputs)
Close Story