The BJP and the Church find common ground on 'Love Jihad' in Kerala
Hindustan Times, Thiruvananthapuram |
Naveen Nair
Jul 17, 2017 06:39 PM IST
The CPM has called 'love jihad' a hidden agenda of the Sangh Parivar in Kerala to use religion as a tool to get minority votes for the BJP.
Love jihad. A phrase no one had heard of till 2009. But some parts of the Christian community in Kerala are now convinced it's a real thing — that Muslim boys were seducing their girls and tricking them into marriage. And the BJP is reaping the benefits.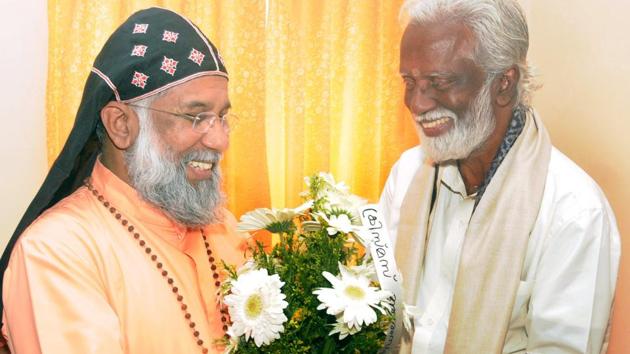 Mathew Mar Gregorios, the Bishop of the Syrian Independent Orthodox Church, believes that 'love jihad' is a reality and that the time has come for youngsters to stand up and fight this evil. "You should see the number of messages I get daily from parents of girls on my phone. There is a rampant conversion of Christian girls into Islam in the Malabar region. Since I am heading a Church denomination here, I have my limitations to talk about it openly,'' the Bishop tells HT.
'Love jihad' is a misnomer because it's a conversion ploy, not love, he says. "In most cases that I have seen personally and intervened too, it's just the pretence of love. Once married, the girl gets abandoned most of the times. Conversion is the only motto and it is aimed at increasing the numbers of one community. Some people have even alleged an IS link to all this, which needs to be probed.''
Those who believe in 'love jihad' point to the story from June 2016, when two Christian girls Nimisha and Merin converted to Islam and reportedly left along with their husbands to join the Islamic State in Afghanistan.
Or they point to the May 24, 2017, Kerala High Court ruling about a Kerala woman named Hadiya (formerly Akhila), who had converted to Islam from Hinduism to get married to a Muslim boy. The HC ordered her to return to her parents, and not to her husband Shafin Jahan, conveniently forgetting that she was a major who had a right to decide. Based on a habeas corpus petition filed by Hadiya's father, a bench of the HC court deemed void the marriage between the two.
Following the Hadiya case, a month ago, the Kerala High Court had directed the Director General of Police (DGP) to investigate 'love jihad'. "There are enough reasons to be concerned about. I can only tell you that a special team under crime branch has been formed to investigate love jihad,'' TP Senkumar, the DGP tells HT.
Another case is of 29-year-old Aparna Vijayan who had gone missing for 15 days (ahead of her wedding on April 11) while studying at Jewel Medical Trust in Ernakulam. When her mother finally found her, she was at Sathya Sarani Charitable Trust (an institute that aims to propagate Islam among non-Muslims, according to a DNA report, and also helps in conducting the religious ceremony) where she was reportedly taken by another student to convert her to Islam. Sathya Sarani already has cases against it at the HC and complaints from parents along with the State Human Rights Commission, who allege that their wards had been converted to Islam by the organisation and then use boys as alibis to build a good reason.
The Hadiya Jehan case may have been the tipping point for a group of young men from Kochi to set up a Christian Helpline (CHL) to fight 'love jihad'. Renjith Abraham Thomas, a former member of BJP's minority religious wing, set up the CHL and claims it has the blessings of the majority of the Church in Kerala. And that it has nothing to do with the BJP. "Out of every 10 girls who get converted to Islam, eight may be Hindus, but the remaining two are always Christians. Hence, we realised the community should have a helpline similar to what the Hindus have. We have started with social media campaigns, we have an office in Kochi and active helpline where we've started receiving calls from parents and even distraught girls,'' Thomas tells HT.
Adding fuel to the CHL claims, an unverified 'notice' has been circulating on WhatsApp offering cash rewards to Muslim youth for converting and marrying women from other religions. Sources in the state police's intelligence have confirmed to HT that an investigation has been launched on this.
It's hard not to notice that news of the helpline — or other signs of Kerala's accepting love jihad as a real, uncontested concept — is accompanied by a visit by BJP President Amit Shah to Kerala in June. Shah's meeting with bishops and cardinals points to BJP's hopes of cultivating this and other anxieties of the Christian community into votes.
"If the believers are concerned with such a scenario, then you cannot fault them for it. Though officially, the diocese has not taken a stand, we are concerned. So if there are people working towards stopping such a thing what is wrong in supporting them,'' asks Father Jimmy Poochakatt, spokesperson, Syro Malabar Church.
Not everyone is on board though. The CPM has called 'love jihad' a hidden agenda of the Sangh Parivar in Kerala to use religion as a tool to get minority votes for the BJP. Senior party leaders are saying that the RSS is behind a section of the people (those who aren't office bearers but people who've worked with them and left for other jobs or sympathisers of the Sangh Parivar like those working for its mouthpiece Janmabhoomi and other places) who claim allegiance to the 'minority morcha' which is raking up this issue at this time so as to polarise the society.
"Religion is a personal matter. What is wrong in people switching to another religion if they wish to? Renowned author Madhavikutty took the name of Kamala Surayya after embracing Islam. Similarly, actor and writer Balachandran Chullikkad converted to Buddhism. It's their choice and tomorrow they may come back to their mother religion if they are dissatisfied with their adopted one. But raising this issue in public domain is only to poison the minds of society through communal politicking,'' says CPM politburo member MA Baby.
Even as it distanced itself from CHL, saying it has no role to play in it, the BJP looks to gain political points from the division of Kerala's two largest minority communities. But it won't be easy for the BJP to wash its hands off CHL given the new bonhomie between the party and church heads, during Amit Shah's recent visit to Kerala .
"If the party wants to win in more constituencies in Kerala, the Christian vote is going to be crucial. Without their help we simply cannot win big. So, the party will obviously make all its moves to get them on its side," BJP state spokesperson MS Kumar told HT.
Love jihad is one thing. But aren't there plenty of other and obvious deal-breakers?
Among those present during Shah's visit was Alphons Kannanthanam, a member of the BJP National Executive Council and a Christian from the Christian stronghold Kanjirapally in Kottayam district, who says that the beef ban discussion was not on the table. "In spite of attempts to depict the cow slaughter notification as 'beef ban', BJP could not be alienated from Christians in Kerala, because the Bishops know the reality. The majority of the Christians see the BJP as a pro-development party, an agenda they can also easily associate themselves with,'' Kannanthanam told HT.
Perhaps the BJP believes that love jihad or similar tactics successfully deployed elsewhere could work with the Christian community in Kerala too. The CPM feels that since the BJP had learned a bitter lesson trying to warm up to the Muslim community during the Malappuram by-election, it is now working hard to appease at least the Christians.
The party added that the BJP's game plan was very evident when it conducted a felicitation ceremony on April 27, 2017, to celebrate the centenary of Philipose Mar Chrysostom, the Major Bishop of the Mar Thoma Syrian Church based in Thiruvalla in Central Kerala, also the Christian heartland. LK Advani's visit (he flew down to take part in the celebration) is not only an attempt to renew old personal ties between the BJP patriarch and the ageing, highly influential Bishop but also forge stronger bonds for the future.
Moreover, in what is seen as a shrewd move, the party's minority morcha wing conducted another programme in Kochi to felicitate the same Bishop. It was attended by KM Mani, the Kerala Congress (M) leader, who was showing off a new-found warmth for BJP state president Kummanam Rajasekharan on the dais. Mani even openly admitted that being gifted a lotus was 'pleasant and a new change' for him, sending out hints like hammers.
Mani's party, which was once a part of the Congress-led UDF coalition, has a sizeable influence over the Christian votes in central Kerala, and his readiness to join the NDA speaks well of the BJP's chances to woo the Christian vote.
Women activists in Kerala disagree. Not only are they rejecting the concept of 'love jihad', but many believe that this is again just a claim of the Sangh Parivar to divide the society by acting as 'champions of women'.
"I think it is a clear cut ploy by the RSS and its affiliated organs. If they have such issues with conversion they should oppose women who get converted into Hinduism also. That they are so happy to accept. Then what right do they have to oppose those who get converted to Islam,'' asks K Ajitha, a former naxalite-turned-social activist who runs an NGO called Anweshi.
On the other hand, there is the church, the High Court and the state police all ready to give the love jihad story the gleam of legitimacy. And for the BJP it's another opportunity to make inroads into the Christian vote bank in Kerala in the run up to the 2019 polls.
(Published in arrangement with GRIST Media)