Top 5 quotes from Sushma Swaraj's address at the UN General Assembly
Updated on Sep 26, 2016 08:47 PM IST
India asked the global community to urgently adopt a long-pending global treaty on terrorism as well as implement the UN Security Council reform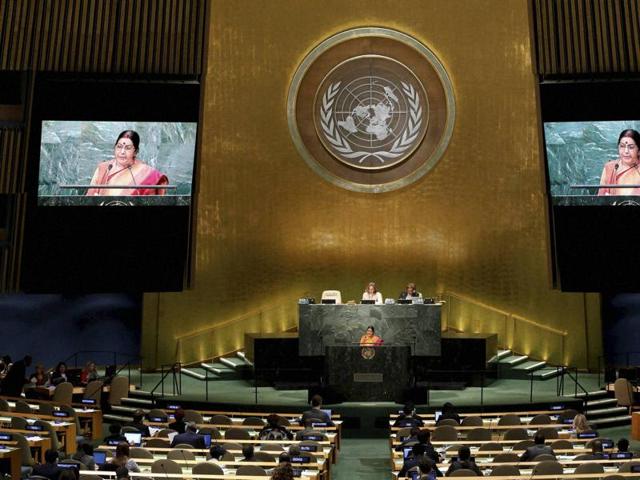 India asked the global community to urgently adopt a long-pending global treaty on terrorism as well as implement the UN Security Council reform, saying the world today needs a more contemporary approach to combating terrorism and a Council that is less outdated.
Highlighting the two pending tasks of General Assembly, external affairs minister Sushma Swaraj said despite the passage of two decades, the Comprehensive Convention on International Terrorism, which was proposed by India in 1996, is yet to be implemented.
Here are the top quotes from Sushma Swaraj's speech at the UNGA:
- It's important to ask- who is behind this and who benefits from it? Terrorists don't own banks or weapons factories, so let us ask the real question: who is that finances these terrorists, who arms them and provides sanctuatries?
- In our midst, there are nations that still speak the language of terrorism, that nurture it, peddle it, and export it. To shelter terrorists has become their calling card. We must identify these nations and hold them to account
- Jammu and Kashmir is an integral part of India and will always remain so. My firm advice to Pakistan is: abandon this dream.
- India has decided to ratify Paris climate deal on October 2 and will play a leading role in controlling climate change
- Today the biggest challenge all of us face is the poverty prevalent in all corners of the world
Personalise your news feed. Follow trending topics