Train hit kills five wild elephants including pregnant female in Assam
Updated on Dec 10, 2017 11:10 AM IST
The Northeast Frontier Railway has recently started experimenting with placing a device near railway tracks which amplifies buzz of bees to prevent such accidents.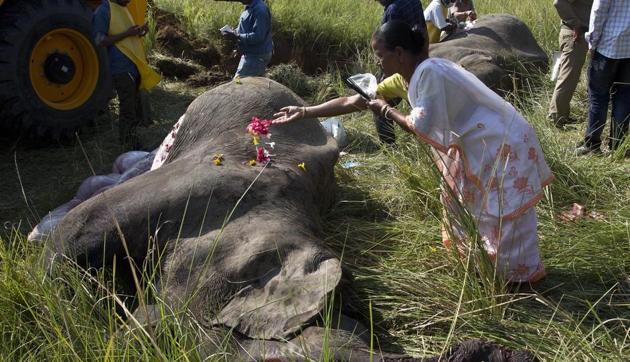 Five wild elephants, including a pregnant female, were killed after being hit by a speeding train near Balipara in central Assam in the wee hours of Sunday.
The incident took place around 1.15am near Bamgaon tea estate, nearly 210 km from Guwahati, when the herd crossing the train track in search of food was hit by the 15617 Guwahati-Naharlagun Donyi Polo Express.
All the five elephants died on the spot. A stillborn calf was later extracted from the pregnant female.
The incident comes three weeks after two elephants were killed by a speeding 15909 Awadh Assam Express at Thakurkuchi, 19 km from the state capital.
"It is a very tragic incident. Our staff was focused on another herd of nearly 100 elephants in a different area and there was no information of pachyderm movement in the area where the accident took place," Davinder Suman, divisional forest officer Sonitpur East said.
Wild elephants come out of forest around this time of the year in search of food and sometimes get hit by trains while crossing railway tracks to move towards paddy fields.
Sixteen wild elephants were killed by speeding trains in 2016. This year, a dozen have lost lives to trains.
Measures taken by the state forest department and railway authorities like increased patrolling near tracks, coordination between various departments, awareness campaigns etc. have been able to bring down number of such accidents, but failed to totally stop them.
Assam has the highest number of wild elephants in India—5,620 as per 2011 census. Increased deforestation and construction activity near their habitats force elephants to move out of reserve forests in search of food.
The state has witnessed numerous instances of human-elephant conflict as villagers sometimes resort to measures like poisoning and electrocution to save their standing crops and property.
Between 2006 and 2016, wild elephants killed 785 people in the state, while 225 pachyderms fell victim to poaching, speeding trains, poisoning, electrocution etc. between 2001 and 2014.
In a bid to reduce such deaths, recently the Northeast Frontier Railway has started experimenting with placing a device near railway tracks which amplifies buzz of bees hoping that elephants, which are scared of the stinging insects, will stay away from the tracks when they hear the sound.