UK a safe haven, won't flee, Nirav Modi lawyer tells court on bail plea; ruling today
Updated on Jun 12, 2019 07:17 AM IST
The judge, who heard Nirav Modi's bail plea and the government's counter, will deliver its verdict on the request today morning.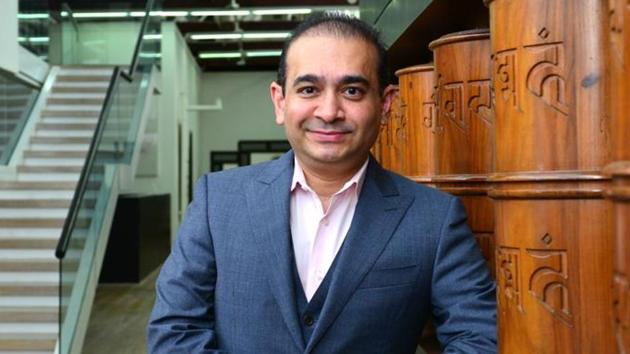 Ruling on diamantaire Nirav Modi's fourth bail plea will be delivered by the high court on Wednesday, after his lawyer on Tuesday described his experience in the Wandsworth jail as 'extreme' and assured the court he will obey strict conditions and not flee, if granted bail.
Claire Montgomery, Modi's lawyer, told Judge Ingrid Simler that he considered the UK as a safe haven, which was a strong disincentive to do anything to breach the possible bail condition of prohibiting travel outside the UK.
Crown Prosecution Service lawyer Nick Hearn representing India reiterated that the grounds on which the Westminster Magistrates Court had refused him bail thrice remained, and told the court there are 'powerful' reasons to believe he will interfere with witnesses.
Setting out various assurances and grounds for bail, Montgomery told the court: "He is not only determined to stay here, but has strong reasons. Nowhere else he would get the panoply of rights that he would get here. He couldn't afford to go anywhere else".
"Modi is not Julian Assange. He is not going to find refuge in the Ecuadorean embassy. He is an ordinary Indian jeweller", she said, adding that he is willing to obey any "ostensibly harsh" bail conditions, including 24-hour surveillance.
There were indications in court exchanges that Modi's stay in the overcrowded Wandsworth jail in west London since his arrest on March 19 may have had an impact on his health. Medical reports were submitted but not read out in court due to their confidential nature.
"The medical reports are evidence of his state of mind in respect of these proceedings", Hearn said.
Montgomery described his jail experience thus: "The conditions are not only extreme, they are personally difficult. The experience has marked him deeply. It ensures no prospect of risking any breach of bail conditions, he is willing to endure 24-hour surveillance".
Hearn insisted that there are 'powerful' reasons to believe Modi will not surrender, will interfere with witnesses, and added that a person of his means has ability to flee and cross borders to jurisdictions without extradition arrangements.
He reiterated the scale of "sophisticated fraud" allegedly perpetrated by Modi and his associates on the Punjab National Bank, and told the judge to proceed from the fact that two agencies of the Indian state – CBI and the Enforcement Directorate – had brought charges against him that had gone through Indian courts.
The proceeds of crime, as Hearn put it, went to 'dummy directors' of entities allegedly controlled by Modi, and told the court that India had strong bilateral relations with the UK and the extradition arrangements were part of the relations.
"The extradition request has been submitted in good faith by Indian authorities. Modi faces extremely serious charges. He has strong disincentives to surrender. He poses a very high flight risk", Hearn said.
Nirav Modi's request to the high court is his fourth attempt to walk out of jail where he has spent the last 84 days. The Westminster Magistrates Court, which is to decide on India's request to extradite him to face major charges of financial fraud, had earlier thrice rejected his bail request.
Nirav Modi, who was arrested by Scotland Yard on March 19, was last denied bail by chief judge Emma Arbuthnot on May 8 on grounds of 'flight risk', the scale of the alleged fraud, access to funds, potentially influencing witnesses and destroying evidence, and weak links to the UK.