Union Budget 2018 Highlights: Who said what after Arun Jaitley's budget speech
Feb 02, 2018 12:12 AM IST
Finance minister Arun Jaitley announced on Thursday big spending for rural areas and projected economic growth above 8% in the Union Budget that won broad approval from economists.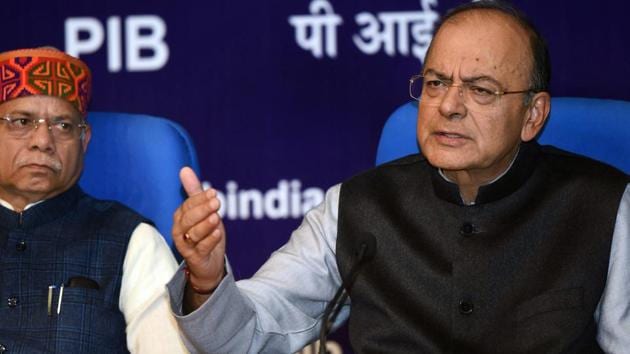 Jaitley also announced plans to introduce "the world's largest government funded health care programme", saying it would cover some 500 million of the country's poorest people. He went on to lay out plans to merge three public sector insurance companies and list the new entity.
Stay tuned with breaking news on HT Channel on Facebook.
Join Now
"This budget is farmer friendly, common citizen friendly, business environment friendly and development friendly. It will add to ease of living," Prime Minister Narendra Modi said after the Budget speech.
Jaitley said the spending in rural areas aimed at creating jobs and entrepreneurs, in addition to laying hundreds of thousands of miles of rural roads, building new houses, toilets, and providing electricity.
Here are the highlights from the Union Budget 2018:
7.57pm: Finance minister Arun Jaitley's #Talkathon event concludes.
7.54pm: In the organised sector, most players brought the prices down if the GST rates were reduced.
7.51pm: I made it a point to do a bilingual budget: FM
7.43pm: When you improve infrastructure, the people -- the middle class -- benefit: FM
7.37pm: Only after consulting on those items that are domestically generated (did we increase the duties). Therefore, the domestic prices are not going to change: FM
7.33pm: As DBT schemes picks up speed, the spending capacity of people will also increase: FM
7.31pm: The opportunity of job creation itself in the society has gone up: FM
7.26pm: Cryptocurrency is not a legal tender, but if you earn profit even from an illegal activity, it is still taxable: FM.
7.24pm: India has been alien to the concept of social security: FM
7.19pm: Number of taxpayers has increased and the quantum of tax has increased: FM
7.16pm: "Younger the employee, more the benefit (from the standard deduction of Rs 40,000)," says finance minister Arun Jaitley at a talkathon event.
6.23pm: "The budget, this time, has given a large benefit of flat Rs 40,000 as a standard deduction to the salaried class of taxpayers and pensioners. Earlier, some people were getting conveyance allowance and some medical allowance on the basis of production of bills but now we have removed all individual allowances on production of certain bills among others. It is flat Rs 40,000 to every salary earner. You can straightaway claim it," CBDT chief Sushil Chandra tells PTI.
6.10pm: "There was nothing new at all. It's not a people-friendly budget. The finance minister said nothing about unemployment. Medium and small scale sectors are still suffering. It's a shame that has introduced only 1% education cess," says West Bengal chief minister Mamata Banerjee.
5.59pm: "This budget is for making a New India. It is for the youth of the country, women, farmers, for rural India and poor people living in cities.This is a strong budget," says Union minister Dharmendra Pradhan.
5.42pm: After the Union Budget 2018 was presented in Parliament by finance minister Arun Jaitley, here's a list of all imported items that have become costlier or cheaper.
5.39pm: Amendments have been made in Prevention of Money-laundering Act, 2002 (PMLA) through Finance Act 2018. These Amendments aim at further enhancing the effectiveness of the Act,, widen its scope and take care of certain procedural difficulties faced by ED in prosecution of PMLA cases... The major amendments proposed include Measures to enhance effectiveness of PMLA such as Amendment in definition of proceeds of crime. The present amendment shall allow to proceed against property equivalent to proceeds to crime held outside the country also: Finance ministry.
5.19pm: "Now that the announcement has been made for the defence corridor, the first one will be built starting at Tamil Nadu, linking Chennai and Bengaluru. Announcement for the second corridor will soon be made," says defence minister Nirmala Sitharaman.
5.15pm: "The government continues to aim for a gradual narrowing of the Central government deficit to 3.5% and 3.3% in fiscal 2018 and 2019. We expect that the fiscal deficit targets will be broadly achieved... This year's divestments exceeding targets marks a break in a recent trend of missing ambitious targets. Moving forward, increased divestments could contribute to higher government revenues, greater efficiencies within state-owned enterprises and help reduce the government's high debt burden," says Joy Rankothge, vice president, Credit Strategy, Moody's Investors Service.
5.02pm: "Doubling the budget of Digital India to Rs 3,073 crore in 2018-19 shows the government's vision and commitment towards digital economy," says Ravi Shankar Prasad.
4.48pm: "There is nothing for the middle class and traders in this budget. Completely ignored," says Delhi chief minister Arvind Kejriwal.
4.47pm: "There a lot of schemes in the Budget for the farmers, the poor, Dalits and tribals. The Budget is in the spirit of Sabka Saath Sabka Vikas," says BJP chief Amit Shah.
4.45pm: "I did not hear any measure to boost exports, as the government has run out of ideas. The finance minister has imposed additional customs duties to restrict imports.The PM's speech at and the spirit of Davos has been forgotten within a few days," says Congress leader P Chidambaram.
4.44pm: "The farm sector stress will continue.Medical healthcare is a big 'jumla'. There is nothing in the budget to boost private investment.There is no tax relief to the average taxpayer. Is the finance minister serious?" Congress leader P Chidambaram.
4.32pm: The NITI Aayog will devise a mechanism to increase the Minimum Support Price for crops to 1.5 times of production cost, as promised in new Budget; to be done in consultation with the states: Finance ministry.
4.27pm: Step by step, in every budget, I have been putting surplus money in the hands of the middle-class taxpayer: FM.
4.26pm: "There is no impact on the final price of petrol and diesel (after the excise duty cut). To the consumer, there is no change. We took Rs 2 away from the duty and turned it into a cess," says revenue secretary Hasmukh Adhia.
4.24pm: The contribution of the salaried class has been recognised for the first time: FM
4.20pm: Confident of limiting the fiscal deficit target for 2018-19 within 3.3%: FM.
4.17pm: The Union Budget proposes an institutional mechanism to fix the emoluments of the elected members, thereby addressing the criticism that they fix their own salaries: FM.
4.10pm: "A social security net has to be created. And we need resources for the social security net," says finance minister Arun Jaitley.
4.08pm: Finance minister Arun Jaitley addressed a press conference. "The Budget blends fiscal prudence with the requirement and needs of the economy today," says the finance minister.
4pm: "Like previous years, it (this year's budget) will help in bringing a positive change in the lives of farmers and poor and thereby accelerate the growth of villages and the country," says Chhattisgarh chief minister Raman Singh.
3.58pm: Shares ended lower for a third straight session on Thursday, after the Union Budget set a capital gains tax on long-term equity investments, although investors welcomed higher spending in key areas of the economy such as agriculture.
3.22pm: "Keeping focus on 'ease of living', the budget has kept people of all segments in mind," says Jitendra Singh, MoS, PMO.
3.12pm: "In the first four Budgets, I had a series of structural changes... This is the year of consolidation," says finance minister Arun Jaitley.
3.10pm: "Agriculture needed support; rural India needed support; economically weaker people needed support... We have tried to fill in the blanks," says finance minister Arun Jaitley.
3.05pm: "This Budget has potential -- it strengthens infrastructure, backs rural areas and other sectors," says finance minister Arun Jaitley.
3.02pm: "There is a positive impact (of the GST) on personal income tax and corporate income," says finance minister Arun Jaitley.
2.58pm: "My eventual roadmap is to bring down the corporate tax to 25%," says finance minister Arun Jaitley.
2.56pm: Duties on petrol, diesel rejigged; basic excise duty lowered by Rs 2 per litre, Rs 6 additional excise duty abolished, but Rs 8 a litre road cess introduced.
2.54pm: "The income tax entry rate of 5% is the lowest in the world. So there was no chance of reducing rates anymore," says finance minister Arun Jaitley.
2.53pm: The details of the National Health Protection Scheme will be worked out by the health ministry.
2.51pm: "If we can make this (NHPS) successful, then the world will know: Whether Obamacare was successful or not, Modicare was," says finance minister Arun Jaitley.
2.39pm: "How far is equitable to allow the rich to go tax-free," says finance minister Arund Jaitley in interview to Doordarshan.
2.35pm: "It's a balanced Budget which is for every section of the society, especially the focus on farmers and health services of the poor. The economy will also get a boost," says railway minister Piyush Goyal.
2.23pm: Uttar Pradesh chief minister Yogi Adityanath says out of 24 new medical colleges, eight will open in Uttar Pradesh. There are provisions to build infrastructure and relief has been given to salaried class.
2.19pm: "In the 1 hour 45 minute speech, 1 hour was for the poor, this is indeed historic. The Opposition has become too pessimistic," says Union minister MJ Akbar.
2.18pm: Here are highlights of the finance minister Arun Jaitley's Budget speech:
*Budget guided by mission to strengthen agriculture, rural development, health, education, employment, MSME and infrastructure sectors.
*Government says a series of structural reforms will propel India among the fastest growing economies of the world. Country firmly on course to achieve over 8% growth as manufacturing, services and exports back on good growth path.
*MSP for all unannounced kharif crops will be one and half times of their production cost like majority of rabi crops: Institutional Farm Credit raised to 11 lakh crore in 2018-19 from 8.5 lakh crore in 2014-15.
*World's largest Health Protection Scheme covering over 10 crore poor and vulnerable families launched with a family limit up to 5 lakh rupees for secondary and tertiary treatment.
*Fiscal Deficit pegged at 3.5%, projected at 3.3% for 2018-19.
*Rs. 5.97 lakh crore allocation for infrastructure
*Disinvestment crossed target of Rs 72,500 crore to reach Rs 1,00,000 crore
*100% deduction proposed to companies registered as Farmer Producer Companies with an annual turnover upto Rs 100 crore on profit derived from such activities, for five years from 2018-19.
*Deduction of 30% on emoluments paid to new employees Under Section 80-JJAA to be relaxed to 150 days for footwear and leather industry, to create more employment.
*Proposal to extend reduced rate of 25% currently available for companies with turnover of less than 50 crore (in Financial Year 2015-16), to companies reporting turnover up to Rs 250 crore in Financial Year 2016-17, to benefit micro, small and medium enterprises.
*Standard Deduction of Rs 40,000 in place of present exemption for transport allowance and reimbursement of miscellaneous medical expenses.
*Exemption of interest income on deposits with banks and post offices to be increased from Rs 10,000 to Rs 50,000.
*Tax on Long Term Capital Gains exceeding Rs. 1 lakh at the rate of 10 percent, without allowing any indexation benefit. However, all gains up to January 31, 2018 will be grandfathered.
*Proposal to increase cess on personal income tax and corporation tax to 4% from present 3%.
2.05pm: "The finance minister fails the fiscal consolidation test and this failure will have serious consequences," former finance minister P Chidambaram tells PTI.
2.04pm: Samajwadi Party president Akhilesh Yadav tweets: "The Budget brings disappointment to poor-farmer-labourer; brings exasperation to unemployed youth; and is a slap in the face of traders, women, salaried class, and the general public. This is the destructive budget of the arrogant government that has ignored troubles of people. Even in its last budget, the BJP showed that it favours only the rich. Now, people will answer back."
1.56pm:The finance minister has tried to make improvements for farmers but the problems of farmers and rural people are enormous. The measures may not be sufficient," says former PM HD Dewe Gowda.
1.54pm: "Under the Prime Minister Gram Sadak Yojana, there will also be work to connect villages to rural Haat, higher education centres and hospitals," says PM Modi.
1.49pm: "For women, for more employment opportunities and increased take-home salaries, the EPF rate has been reduced to 8.33%," says PM Modi.
1.36pm: "I congratulate the finance minister for the decision regarding MSP. I am sure it will help farmers tremendously," says PM Modi.
1.35pm: "The Budget will bring new opportunities for rural India," says PM Modi.
1.34pm: "This Budget will accelerate economic growth; it is focused on all sectors," says PM Modi.
1.33pm: "This Budget is farmer friendly, common citizen friendly, business environment friendly and development friendly. It will add to 'Ease of Living'," says PM Modi.
1.33pm: "Budget 2018 strengthens the hopes and expectations of 1.25 billion people of the country," says PM Modi.
1.25pm: "The Budget 2018 is a testimony to Prime Minister Narendra Modi's commitment towards agricultural growth and farmers' welfare. The budget presented by finance minister Arun Jaitley is packed with policies and funds to boost the agricultural sector and it takes care of every aspect of agrarian sector," says agriculture minister Radha Mohan Singh.
1.20pm: "Announcements regarding education, health and agriculture have been made. A national health protection scheme to benefit 10 crore poor families has been announced; it is a huge initiative. I would like to congratulate the government," says Bihar chief minister Nitish Kumar.
1.03pm: NHPS will strengthen growth in the health sector by creating lakhs of jobs and will increase accountability, says NITI Aayog CEO Amitabh Kant.
1.02pm: "The government has attempted to pay lip service to farmers and to other marginalised sections of society, but it is a classical case of too less and completely at the inappropriate time," says Congress leader Manish Tewari.
12.52pm: Finance minister Arun Jaitley concludes his Budget speech.
12.48pm: Sensex at 35,526.23, down by 438.79 points.
12.46pm: FM proposes to increase the custom duty on mobiles from 15% to 20% and on some other mobile parts to 15%, and some parts of TVs to 15%.
12.45pm: FM proposes to increase the health and education cess to 4%.
12. 43pm: FM proposes to tax long-term capital gains exceeding Rs 1 lakh in listed stock at 10%.
12.38pm: Rs 50,000 additional benefit to senior citizens for investment in mediclaim.
12.35pm: A standard deduction of additional Rs 40,000 for salaried employees. This move will benefit 2.5 crore taxpayers.
12.34pm: No changes in the structure of income tax for individuals.
12.33pm: Rs 7000 crore will be the revenue foregone for the reduced corporate tax on MSMEs.
12.32pm: I propose to extend the benefit of the reduced corporate rate of 25% for companies with reported turnover of up to Rs 250 crore.
12.28pm: 100% tax exemption for the first five years to companies registered as farmer producer companies with a turnover of Rs. 100 crore and above.
12.27pm: 41% more returns were filed this year, which shows that more people have joined the tax net.
12.24pm: Revised fiscal deficit estimate for 2017-18 is 3.5% of GDP, fiscal deficit of 3.3% expected for 2018-19.
12.19pm: Automatic revision of MPs' emoluments every five years, indexed to inflation.
12.19pm: Emoluments of President, Vice President and Governor being revised: Rs 5 lakh; 4 lakh; Rs 3.5 lakh per month respectively.
12.17pm: Recapitalisation to enable PSU banks to lend Rs 5 lakh crore.
12.16pm: Exceeded the disinvestment target and collected Rs 1 lakh crore: FM.
12.14pm: The government insurance companies to be merged into a single entity, and subsequently listed in the stock exchange, as part of the disinvestment programme.
12.13pm: The government will assign every enterprise in India a unique ID on the lines of Aadhaar.
12.12pm: The government has identified 372 basic business reform actions. Each state will take up these reforms.
12.11pm: We will explore the use of blockchain. Government to take all steps to eliminate use of cryptocurrencies which are being used to fund illegitimate transactions.
12.10pm: Rs 5.97 lakh crore allocated for infrastructure spending in India.
12.09pm: 5 lakh WiFi hotspots to be set up in rural areas to provide easy Internet access.
12.08pm: Redevelopment of 600 major railway stations has been taken up; Mumbai transport system is being expanded; suburban network of 160 km planned for Bengaluru...
12.05pm: UDAN will connect 56 unserved airports in India.
12.02pm: AMRUT programme will focus on water supply to all households in 500 cities. Water supply contracts for 494 projects worth 19,428 core awarded.
12.01pm: Rs 1,48,528 crore is the capital expenditure for the Indian Railways for 2018-19... All trains to be progressively provided with WiFi, CCTV and other state-of-the-art amenities.
12.01pm: Bharatmala project approved for better road connectivity at Rs 5.35 lakh crore.
11.59am: Proposal to develop 10 prominent tourist destinations as Iconic tourism destinations.
11.55am: Women's contribution reduced to 8.33% towards PF in the first 3 years for new EPF accounts... The government will contribute 12% of EPF contribution for new employees in all sectors for the next three years.
11.51am: 70 lakh farming jobs have been created this year, shows an independent study.
11.50am: Rs 3 lakh crore allocated for PM MUDRA Yojana.
11.49am: The government is slowly but steadily progressing towards universal health coverage.
11.49am: Allocation of Rs. 56,619 crore for SC welfare and Rs. 39,135 crore for ST welfare
11.46am: Total 187 projects sanctioned under the Namami Gange programme.
11.45am: 24 new government medical colleges and hospitals to be set up by upgrading existing district hospitals.
11.44am: Rs 600 crore for nutritional support to TB patients.
11.43am: One medical college per every three constituency.
11.41am: "Have decided to take healthcare protection to a new aspirational level. Launching a flagship National Health Protection Scheme to cover 10 crore poor and vulnerable families, benefiting approximately 50 crore. Providing Rs 5 lakh per family per year for medical reimbursement, under National Health Protection Scheme. This will be world's largest health protection scheme."
11.40am: Rs 1200 crore for the flagship programme in health wellness centres.
11.37am: Eighteen new schools of planning and architecure will be set up... I propose railway university in Vodadara.
11.36am: Eklavya schools to be started for Scheduled Tribe population... Scheme for revitalizing school infrastructure, with an allocation of 1 lakh crore rupees over four years. Called RISE - Revitalizing Infrastructure in School Education.
11.35am: Integrated B.Ed programme to be initiated for teachers, to improve quality of teachers.
11.33am: Technology will be the biggest driver in improving education.
11.32am: Rs 14.34 lakh crore to be spent for providing livelihood to rural India through infrastructure building.
11.31am: Loans to self help groups will increase to Rs 75,000 crore by March 2019.
11.30am: We aim that by 2022, all poor people have a house to live in.
11.30am: In the next financial year, we target the construction of two crore toilets.
11.28am: Ujwala will give 8 crore women new LPG connections.
11.27am: Special scheme to address air pollution in Delhi-NCR region.
11.26am: Credit for agricultural activities is up from Rs 10 lakh crore to Rs 11 lakh crore .
11.25am: Fishery and aquaculture and animal husbandry funds with a total corpus of Rs 10,000 crore.
11.24am: Agri-Market Development Fund with a corpus of Rs 2000 crore to be set up for developing agricultural markets.
11.23am: Restructured National Bamboo Mission to be launched with an allocation of Rs 1290 crore to promote bamboo sector in a holistic manner.
11.23am: Grameen Agricultural Market (GRAM) will provide farmers a means to sell directly to buyers.
11.23am: Rs 500 crore announced for Operation Green.
11.22am: Allocation to food processing ministry is being doubled from Rs 715 crore to Rs 1400 crore.
11.21am: Cluster-model approach to be adopted for agricultural production.
11.20am: The focus is on low-cost farming, higher MSP. Emphasis is on generating farm and non-farm employment for farmers.
11.18am: 470 APMCs have been connected to eNAM network, the rest to be connected by March 2018... Agri-Market Development Fund with a corpus of Rs 2000 crore to be set up for developing agricultural markets.
11.16am: The government will ensure payment of full MSP even if farmers sell below MSP.
11.15am: The Minimum Support Price of all crops shall be increased to at least 1.5 times that of the production cost.
11.12am: Our government has ensured that services and benefits reach people directly. The direct benefit transfer in India is the biggest such exercise in the world.
11.11am: Maximum governance, minimum government has ensured India has climbed 42 places in the ease of doing business... We are now working toward easing of living in India
11.10am: Budget 2018 will focus on agriculture and rural economy, health, infra, senior citizens: FM
11.09am: "This year's budget will focus on strengthening rural and agricultural economy."
11.08am: "India grew at an average of 7.5% in the first three years since 2014. It is now a 2.5 trillion dollar economy."
11.07am: "All the structural reforms will help the economy in the short and long-term... India is expected to become the fifth largest economy very soon."
11.05am: "India stands out as the fastest growing economy in the world... There is a premium on honesty."
11.04am: Finance minister Arun Jaitley begins his Budget speech.
11am: The Cabinet has approved the Union Budget 2018.
10.20am: Cabinet meeting is underway at Parliament ahead of the Union Budget. Prime Minister Narendra Modi has reached the Parliament House.
10.11am: The benchmark BSE Sensex regained the 36,000-mark by rebounding over 171 points in opening trade as investors built up positions ahead of the Union Budget to be unveiled by finance minister Arun Jaitley.
10.05am: The rupee weakened by 9 paise to 63.67 against the US dollar in opening trade at the interbank foreign exchange market ahead of the budget.
9.56am: Finance minister Arun Jaitley arrives at Parliament to present Union Budget 2018.
9.49am: Finance minister Arun Jaitley has met President Ram Nath Kovind at the Rashtrapati Bhavan.
9.28am: Finance minister Arun Jaitley examined the final copy of the Budget document on Wednesday evening. On Thursday morning, he left for the the Rashtrapati Bhavan from the finance ministry at the North Block. He will shortly reach Parliament, where he will present the Budget at 11am after a Cabinet meeting.
9.17am: Ahead of the Budget, the Sensex has opened at 36,127.20; Nifty at 11,067.25.
9.08am: The defence budget for 2018-19 will largely account for only inflation and currency fluctuations, despite the armed forces coveting the latest and the best hardware. Full story
8.56am: Behind the Budget document, is a long and complex policymaking process. Read the story decoding the Budget-making process.
8.50am: Finance minister Arun Jaitley arrives at the ministry. He will later present the Union Budget 2018 in Parliament.
8.47am: Finance minister Arun Jaitley leaves his residence for the finance ministry.
8.32am: "It will be a good budget. It will be for the benefit of the common people," says Shiv Pratap Shukla, MoS, finance.
8.27am: Here are 10 charts that will help you make sense of the Union Budget.
8.06am: Ahead of the Union Budget 2018, the Economic Survey has unveiled 10 new facts about Indian economy. Full story
7.40am: Indian stock markets have posted their best one-month pre-budget gain in 13 years. Benchmark indices have gained 5.6% in the month to Thursday's Union Budget. Abundant liquidity and expectations that the budget will boost the rural economy and revive private investment, without compromising on fiscal prudence, have aided the run-up.
7.30am: Today's budget will be the last full budget of the Narendra Modi government before the 2019 elections.
7.05am: Former Congress president Sonia Gandhi is likely to chair the meeting of opposition leaders to plan a joint strategy for the Budget Session of Parliament after finance minister Arun Jailtey speech on Thursday.
7am: "I'm not against merging of two budgets but the government has diminished the railways' importance. Earlier there was a separate Railway Budget, the government used to make announcements and there was scrutiny in Parliament. Now only 4-5 ministries are discussed," says Pawan Bansal, former railway minister.