Video: Hanging on to dear life gets real for protester atop govt officer's car
Furious government officer allegedly didn't let protester get off the bonnet of his car in UP town.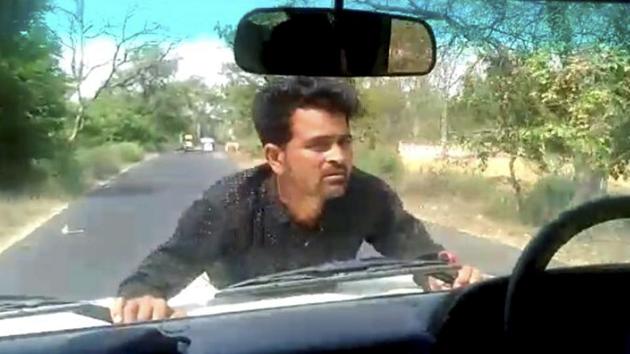 Updated on Apr 13, 2018 05:57 PM IST
Brij Pal will not call it the ride of his life. The young man clung on to the bonnet of a car as a government officer allegedly drove on and refused to let him off because he was angry with protesters demanding funds to build toilets.
Two videos being shared on social media show Pal hanging on to the bonnet as the car speeds away in Ramnagar, a small town in Uttar Pradesh. Pal can also be seen using his cell phone to take photos of his ordeal as the car moves on.
Pal was among a group of people who on Thursday went to block development officer Pankaj Kumar Gautam's office demanding the second installment of funds for constructing toilets in their village. News website NDTV reports the group started protesting outside his office because no official allegedly heeded them.
When Gautam came out of his office, he headed straight for his car and reportedly ignored the villagers. NDTV says the group followed Gautam till the vehicle. He quickly got in and turned on the ignition.
Some protesters jumped out of the way, but Pal found himself on the bonnet as the car sped away. It's alleged that Gautam didn't stop the vehicle and drove on for 4 km while Brij Pal held on.
Cross FIRs have been registered in the incident by both the parties at Aonla Police Station, the police said.
District magistrate Virendra Kumar Singh told news agency PTI he has formed a three-member committee headed by chief development officer to probe the incident.
Close Story