UP slaughterhouses: All about the Rs 15,000-cr industry that employs 25 lakh people
Hindustan Times, New Delhi/Lucknow |
Gulam Jeelani, Brajendra K Parashar & M Tariq Khan
Apr 30, 2017 08:24 AM IST
Uttar Pradesh's meat processing industry accounts for 50% of India's exports and employs 25 lakh people, directly or indirectly. As the Yogi Adityanath government launches a crackdown on illegal slaughterhouses in the state, HT looks at what drives the industry
The BJP's election manifesto promised to shut down all illegal slaughterhouses and place curbs on all mechanical abattoirs in the state. The manifesto said the concerns were about UP's livestock that suffered badly during previous dispensations. Though cow slaughter is banned in UP, there is no ban for slaughtering buffaloes. As the Yogi Adityanath government launches a crackdown on illegal slaughterhouses, here's a look at Uttar Pradesh's abattoirs and what drives the business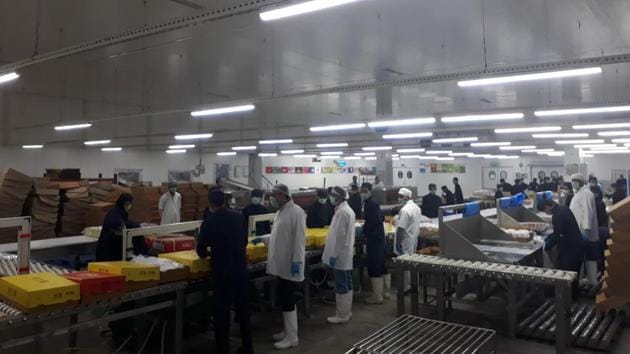 What does it take to start an abattoir
A proposal is submitted to the industries centres by an applicant after procuring land for the unit. It is then sent to the UP Pollution Control Board (UPPCB) which forwards it to the concerned district magistrate (DM) for clearance. A panel formed by the DM visits the project site and examines it on various parameters, law and order being the most important factor. After receiving the administration's nod, the proposal is sent back to the UPPCB for granting no objection certificate (NOC). A team of UPPCB officials also visits the project site and screens it to ensure it conforms to the norms laid down to check air, water and other forms of environmental pollution. An application is then moved by the plant owner before the Agricultural and Processed Food Products Export Development Authority (APEDA), the Union government's regulatory body that monitors exports of all products. Before granting approval for export, the APEDA carries out its own inspection of meat and meat products in slaughter houses, processing plants, storage and conveyance facilities.
Number of slaughter houses in UP
Of the 72 government-approved abattoirs across the country, 38 are in Uttar Pradesh, according to UP Pollution Control Board based on NoCs issued. This includes four government-run of which only two – Agra and Saharanpur – are functional. The remaining two are proposed in Lucknow and Bareilly. Hind Agro IMPP in Aligarh is one of the first plants set up in 1996.
Why do illegal slaughterhouses flourish
Most of the 38 slaughterhouses in Uttar Pradesh cater to exports. The buffaloes slaughtered in India are in demand in Gulf countries because of two reasons -- low cost and the assurance that buyers in Muslim countries are assured it is halal, slaughtered in a manner Muslims consider ritualistically appropriate. Under these circumstances, the local demands are met by illegal or standalone slaughterhouses.
How are buffaloes procured
On an average, 300 to 3000 livestock is slaughtered daily at these abattoirs depending on their capacity and permission. The abattoirs slaughter buffalo, sheep and goat, which have become 'spent' for their owners/farmers, mostly Hindus, and are procured by a group of traders from regional weekly 'mandis' (village markets). The average cost of a buffalo is around Rs 20,000. A minimum of 10-acre plot of land is needed to set up an IMPP at a cost of Rs 40 to 50 crore. The slaughter houses in the state have permission to kill a bull which is more than 15 years or is of an unhealthy breed.
How big is the industry
Uttar Pradesh is the market leader in production and export of meat in the country. There is no record of illegal animal slaughter and the quantity of meat produced from animals butchered illegally but rough estimates suggest that 140 slaughterhouses and over 50,000 meat shops don't have permission. As per an APEDA report, UP is the highest producer of meat with 19.1% share, followed by Andhra Pradesh at 15.2% and West Bengal at 10.9%. From 2008-09 to 2014-15, the state produced 7515.14 lakh kg of buffalo meat, 1171.65 lakh kg of goat meat, 230.99 lakh kg of sheep meat and 1410.32 pork meat in the year 2014-15, data from the state's animal husbandry department show.
How does Centre support the industry
The Centre has been encouraging the meat industry and the food processing ministry by providing aid of up to 50 per cent of the cost of setting up a unit. Uttar Pradesh accounts for nearly 50 per cent of India's total meat exports and more than 25 lakh people are associated with the industry directly or indirectly, according to the All India Meat and Livestock Exporters' Association.
How will a ban on slaughterhouses effect the industry
As per estimates, meat exports account for Rs 26,685 crore annually, according to UP's animal husbandry department. According to the All India Meat and Livestock Exporters' Association, a ban on meat exports would mean a loss of at least Rs 11,350 crores of revenue for the state. And if it persists the for next five years, then the revenue loss can mount up to Rs 56,000 crore. In the year 2015-16, UP exported 5,65,958.20 metric tonnes of buffalo meat.
What does the law say
In 2012, the Supreme Court asked all state governments to constitute committees for monitoring modernisation and relocation of slaughterhouses in every city and ensure appropriate measures to deal with their solid waste and pollution. According to the Uttar Pradesh Municipal Corporation Act, 1959, the local municipal bodies are mandated to ensure that fresh and hygienic meat is provided to people while keeping a tab on operation of slaughterhouse within city limits. The Act also lays down rules for functioning of slaughter houses, sale of animals and control of private slaughterhouses.
What invites government action
Any slaughterhouse can come under the authorities' radar over the source of meat. Plus the plant needs to have approval from the concerned development authority after which registration certificates are issued. The owners are bound to furnish documents relating to the layout of the premises, no objection/clearance certificate from the state pollution control board, permission from the municipal authority to operate the unit.
When is registration refused or cancelled
Issue of certificate may be refused or cancelled or suspended because of many reasons including, if the processing unit does not conform to prescribed standards which may include violation of the foreign trade policy, adverse reports from the banks violation of quality and food safety norms/ pollution control board guidelines.
Statistics on 'depleting' livestock industry
As per data from successive Livestock census, there has been a consistent increase in UP's buffalo population since 1997 -- from 189.96 lakh to 306.25 lakh in 2012. The number of female buffaloes has increased from 141.09 lakh to 257.11 lakh between 1997 and 2012, according to Livestock Census.