Use of masks made mandatory in public places amid rising Covid cases in Delhi
Apr 20, 2022 02:07 PM IST
Schools will not to be closed but standard operating procedures will be prepared for them in consultation with experts
NEW DELHI: Face masks will be mandatory again in public places in the national capital and any violations will attract a ₹500 fine, the Delhi Disaster Management Authority (DDMA) said on Wednesday even as it chose to keep the schools open and decided against bringing back other restrictions involving regulating markets or social gatherings. The decisions were taken at a meeting of DDMA amid a rise in Covid cases.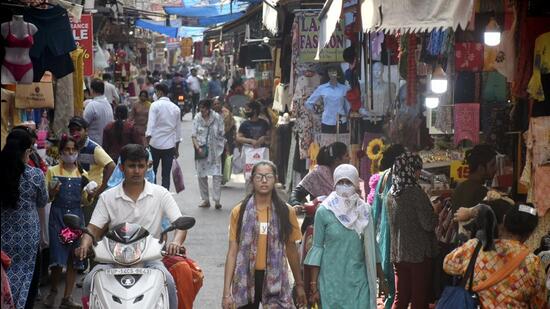 On Tuesday, 632 Covid-19 cases were reported in Delhi. But there were no deaths or hospitalisations. The test positivity rate was 7.72% on Monday.
Hospitalisation and fatality trends suggest there is no cause for alarm. Experts have said the current rise in positivity rate may be exaggerated since only those developing symptoms are likely to be tested. On Monday, authorities in National Capital Region cities such as Noida, Gurugram, and Ghaziabad made face masks mandatory again in public places.
A DDMA member, who spoke on condition of anonymity, said enforcing Covid-19 appropriate behaviour was discussed at length at the meeting. Authorities have been directed to once again start compliance drives, the official added.
On April 18, HT first reported wearing face masks was likely to be made mandatory in Delhi days after the government ended their compulsory use in public places on April 2. Experts have suggested their use should be strictly enforced to prevent the spread of the virus.
The data on Covid-19 cases among students and teachers were also discussed at the DDMA meeting and even as it decided against shutting physical classes. "Schools will not be closed as of now. A set of standard operating procedures (SOP) will now be prepared for schools for better management and prevention of Covid-19 cases in educational institutions. This SOP will be prepared in consultation with experts. Deputy chief minister Manish Sisodia has reviewed the first draft and is closely monitoring this. The SOP will have to be advertised properly in all schools and educational institutions," said a second senior official, who attended the meeting.
Officials said Lieutenant Governor Anil Baijal, who is the chairperson of DDMA, directed authorities to restart aggressive testing. Over the past few weeks, testing in Delhi has been low. On April 17, HT reported the number of tests will pick up after the DDMA meeting as district administrations will restart random testing at railway stations, markets, metro stations, etc.
An HT analysis of data till April 16 showed the number of Covid-19 tests in Delhi drastically declined this month. In April, Delhi conducted merely 11,396 tests daily on average. The tests were this low last in June 2020. The range of average daily Covid-19 tests was between 49,592 and 85,871 in 2021. The dip began this year, dropping from an average of over 70,000 in January.
Baijal directed authorities to send all Covid-19 positive samples for genome sequencing while expressing concern over the rising cases. "He said there is a need to keep a close watch since initial indications of the B. 1.10 and B.1.12 [variants] being more transmissible are there. Trends of hospitalisation will also be closely watched for the next fortnight. Attention will be given to people with comorbidities," said an official from Baijal's office, who did not want to be named.
A spokesperson for Arvind Kejriwal said the chief minister is closely monitoring the situation. "The chief minister has asked district teams to keep a close watch on social gatherings. He said we have to be concerned about the situation. There is no need to be scared..."