Rajasthan murder caught on video: Attacker ranting about 'jihad' axes, burns man
Dec 07, 2017 03:53 PM IST
The attacker, identified as Shambhu Lal Regar, was arrested after a series of video clips purportedly show him hitting and stabbing a man, burning the body and warning "jihadis" to leave India
The Rajasthan Police on Thursday arrested an unemployed man who in a series of video clips was purportedly seen hitting and stabbing a man, burning the body and warning "jihadis" to leave India or meet a similar fate.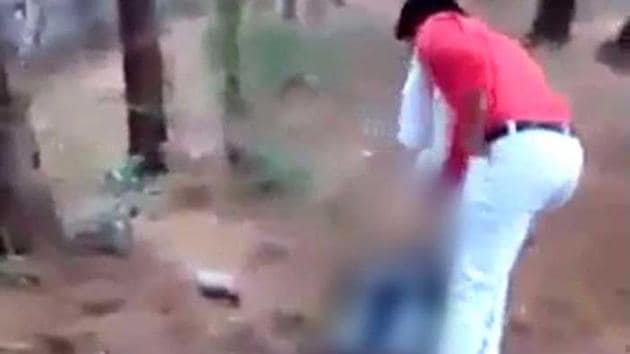 Police were yet to share the details of circumstances surrounding the Shambhu Lal Regar's arrest.
The clips, circulated on WhatsApp, emerged from the western state's Rajsamand district on Wednesday, police said. Hindustan Times couldn't independently verify the authenticity of the videos.
Police identified the body as that of 50-year-old Afrazul, a labourer from West Bengal who worked in the area. The man burning the body was Regar, an unemployed man, aged between 35 and 40, from the district's Rajnagar area, police said.
"Prima facie, it appears that Regar killed the man and the man was dead when he set the body on fire," Rajsamand superintendent of police said Manoj Kumar said.
The charred body was found on Wednesday afternoon by a passerby who informed the police. A forensic team visited the spot and the body has been sent for a post mortem examination.
Kumar said they were close to identifying the person who shot the videos that were shared after the body was found.
In one of the clips, Regar, dressed in a red shirt, a pair of white trousers and white shoes, attacks the man with an iron rod and stabs the man when he falls to the ground.
In another one-minute footage, Regar pours a liquid, most likely petrol, over the body in a deserted area lined with trees amid chirping of birds.
He purportedly shouts, "Jihadiyo hamare desh se hat jao (Jihadis, leave our country)," and throws a match on the body and then goes on a rant.
Before he set the body on fire, Regar takes out a bottle of fuel from a scooter's dickey. A motorcycle, which police suspect belonged to Afrazul, is parked nearby.
In another clip, a man who looks like Regar rants about launching a war against "Islamic jihad in Mewar".
"This day, 25 years ago Babri Masjid was razed but nothing has happened even 25 years later," the man can be heard saying.