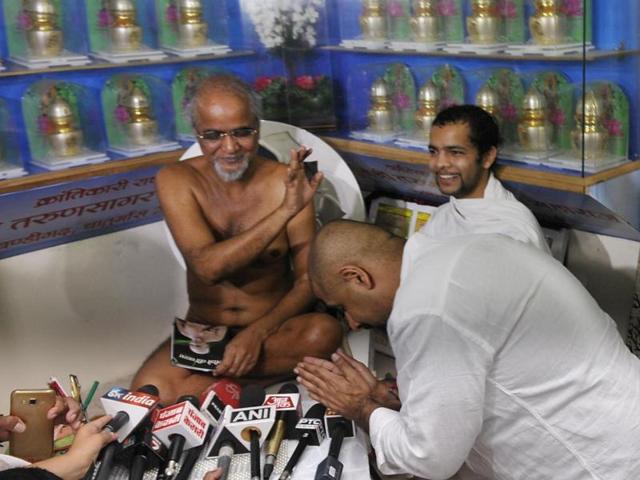 Music director Vishal Dadlani visits monk he mocked, holds ears, says sorry
Music composer Vishal Dadlani apologised to Jain monk Tarun Sagar in Chandigarh on Wednesday for his tweet on the leader's address to the Haryana assembly that created controversy.
UPDATED ON SEP 22, 2016 03:28 PM IST
Music director Vishal Dadlani met Jain monk Tarun Sagar, whom he had lampooned after his address to the Haryana assembly last month, apologised to him at his headquarters in Chandigarh on Wednesday. However, after the apology, Dadlani stuck to his stance that "religion and governance should be kept completely separate, in the secular interest of the country".
The in-person apology at the Sector-27 Digambar Temple followed 32 apology posts on the social media website Twitter by Dadlani, who said after holding his ears and seeking forgiveness from the monk, "Unknowingly, I had commented about guru-ji, but after hearing his 'kadve pravachan', I found them sweet and close to life." Sagar is known for his 'kadve pravachan' (bitter sermons or truths).
Dadlani had termed Sagar's address "monkery of democracy" — over which a case was registered against him at Ambala — and then had to face criticism most prominently from leaders of the Aam Aadmi Party (AAP), for which he has campaigned in the past. After the FIR, he had approached the Supreme Court for protection from arrest, but it had told him to approach the high court instead.
"I have not apologised because a case has been registered against me," he said on Wednesday, "I have come as I felt that I should apologise for my folly out of humanity... Whatever I said was out of ignorance and I misinterpreted the media reports circulating on Twitter that showed the monk in negative light. I tweeted without applying my mind."
At the temple, Dadlani apologised five times as per a Jain tradition. "Main kaan pakad ke maafi maangta hoon (I hold my ears and seek your forgiveness)," he expressly had to say.
Sagar said he had forgiven him already anyway, "but the Jain samaj (community) was hurt". "We all are humans and make mistakes. But the ones who realise their folly should be pardoned. The issue should be finished there and then," he added, urging that the person who has filed a case against Dadlani to take it back.
Dadlani got from the monk a bracelet of white beads and a set of books of his 'kadve pravachan'.
As for his future with the AAP, which he had apparently quit after the controversy, Dadlani said, "No one forced me to join or leave the AAP. I do not have the temperament to be a politician, but I will surely be an activist."
Congress leader Tehseen Poonawala had also tweeted along the same lines and a complaint was lodged against him too. But Sagar said, "I don't want to comment on the other man who had also tweeted and passed comments."
Close