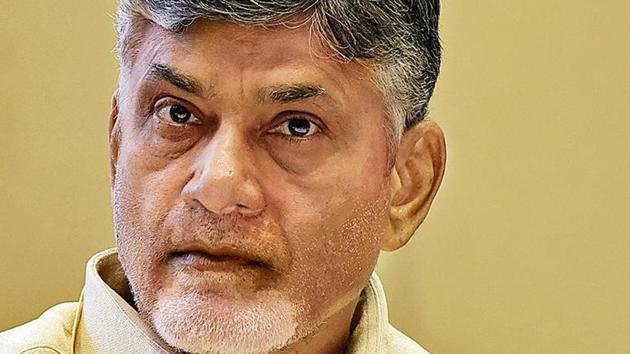 We are wounded, we want justice, says Andhra CM Chandrababu Naidu
Telugu Desam Party chief speaks to HT about his party's pull-out from the NDA, the plan for the 2019 general elections and special category status for Andhra Pradesh.
Hindustan Times, New Delhi | By Kumar Uttam and Prashant Jha
UPDATED ON APR 05, 2018 07:39 AM IST
After pulling his Telugu Desam Party (TDP) out of the National Democratic Alliance (NDA) and serving notice for a no-confidence motion against the Narendra Modi government last month, Andhra Pradesh chief minister N Chandrababu Naidu has been at the centre of national politics. In an interview, he spoke to Kumar Uttam and Prashant Jha about his demand for special status to the state that would entitle it to central grants for development following the 2014 bifurcation that created Telangana as India's 29th state. Naidu also spoke about the TDP's break with the Bharatiya Janata Party (BJP) and competition with the YSR Congress party, the main opposition in the state,and plans for the 2019 elections. Edited excerpts:
You have had many political meetings in Delhi. What is the primary purpose of your visit?
What I am asking for is the implementation of the bifurcation act, and of assurances given on the floor of the house. The then prime minister, at the request of the then Opposition, including Arun Jaitley and (M) Venkaiah Naidu, gave these assurances. I am asking all these political parties who passed the bifurcation act — is it not your responsibility to honour that act? Otherwise, what is the belief people are going to have in this country? Even the present PM, who was the candidate for PM at that time, supported, accepted and promised it. That is what I am demanding and requesting. People are very supportive — that is why they are all extending support for the no-confidence (motion) also.
The Centre's argument is that they are giving you all the substantive elements associated with special status, but they cannot give you the status itself.
Why?
Because of the constraints imposed by the 14th finance commission.
Where is that in the 14th Finance Commission (recommendations)? You (the government) are lying in the name of the 14th Finance Commission. The 14th Finance Commission chairman and members categorically denied and claimed they never said this about the special status; that it is not our job, that our job is only devolution of financial resources between states and the Centre. They have said , 'don't blame us, don't drag us into this controversy.' And what have you done for us substantially? Nothing.
BJP leaders claim that you had accepted a special package rather than special status but went back to it.
What I am saying is, 'you cheated'. You told me because of 14th Finance Commission, we are not giving, we will give substantially better than that. On the contrary, you have given same benefits for 11 others states.
But those are hill states.
I am not opposing giving it to them. I am supporting it. But at the same time, Why are you denying what you have committed to us? Without our mistake, we have been punished. Now we are the lowest per capita income state in southern India. Why are you going back? There is something...
What is that 'something'? Why have they gone back, in your reading?
They want some weak allies. The YSR Congress is there. They supported this government for the president and vice-president even. They have cases in CBI (Central Bureau of Investigation), ED (Enforcement Directorate) and everywhere. Around Rs 43,000 crore fraud has been established by CBI. Now, every Friday, they are going to court. This government is having some connection with them...
There are many who say that the YSR campaign built pressure on you and national politics is being held hostage to the competitive politics of Andhra.
This is orchestrated by the BJP. They want to damage my image. That is why they are supporting the YSR Congress, which is a tainted party. I am a senior politician of this country. You have to understand that these people have come after me. I was CM in 1995. What I am saying is our people are wounded, they are all suffering, they are all victims.
Why would they want to tarnish the image of an ally like you?
I am having an image for the last 40 years. Nobody can raise a finger at me — my character, credibility, performance. That is why people believed me. Why these people are harming me or my state is because any tainted party will be under their control. Any good leader will ask what I am asking today. They may not digest that. We are asking for our rights, as a regional party.
Do you think that BJP's plans to expand is making allies jittery?
Anyone will have an idea to expand their party. In Telangana and Andhra, after bifurcation, there were two states. I had an alliance with BJP to contest both the states... In two years, they said we don't have any alliance with TDP in Telangana. How do you read it? Is it fair? Without even informing an ally, can you do it like that?
Is the BJP over-ambitious?
Ambition is one but doing things this way is not acceptable, not a correct approach.
You worked with Atal Bihari Vajpayee and now Narendra Modi. What is the difference between the two?
For six-and-a-half years, I never asked NDA-1 for anything. I supported them with 29 members from my party. At that time, I was instrumental for so many reforms — telecom, highways, liberalisation, open sky policies, greenfield airports. But I did not ask for any position at that time. Even today, I say the same thing. The question is why are you not supporting us on what has been committed — that means the intention is different.
What is your personal relationship with the PM?
Whenever I asked, they said let us see. Whenever I used to go, they said 'yes, we are doing, yes we are doing, we will work it out.' One day, it was the UP election; one time Bihar election; one time Delhi election; one time Gujarat election. They went on postponing for the last four years. Even now, in the last budget, you are mentioning Andhra Pradesh's name.
Is it true that you did not get an appointment with the PM despite asking for it?
I don't want to blame anybody for all these things. It is the prerogative of the prime minister to give or not give an appointment. I wanted to represent to him my state's problems. When he gave me an appointment, I went to him.
What next for you? Is the federal front an option?
I don't want to comment on politics today. I am asking this nation through this Parliament, is it not the responsibility of all the political parties to do justice for Andhra Pradesh?
But you will need a government that will consider what you want?
Is it not their responsibility to fulfil what they have committed? It is a commitment of the Parliament. How can you violate the act? If everybody will say no, we will violate everything, what will be the sentiment of Andhra? If you betray or create a negative sentiment, it will backfire for the nation.
You have not been with the Congress ever.
Yes, we have always fought the Congress.
But are your doors open for (an alliance with) the Congress now?
You know we have done so many experiments, we have initiated so many political processes. The National Front was initiated by the TDP; the United Front was initiated by TDP; NDA 1 was with TDP support; we were in opposition during UPA 1 and 2; we supported and then came out of NDA 2. The political process is always a different issue. As of today, I am fighting for my rights.
But who, according to you, has hurt Andhra more — Congress or BJP?
They (Congress) insulted and humiliated (Andhra Pradesh). After that you (BJP) promised you will do everything, you showed the moon. Now you are not doing anything.
Do you think we are seeing increasing tensions between the southern states and Delhi?
In South India, there are progressive states because of economic reforms. Now, naturally progressive states should not be penalised. That is my plea from the beginning. If you penalise performing persons or states, nobody will perform. So that is not good for the nation. We have to create competition among states, on how to increase the performance, how to go for better growth rate and better per capita income.
Close