We have one year left. The perception of young Dalits can be changed: Ram Vilas Paswan
Union minister for consumer affairs and food & public distribution Ram Vilas Paswan spoke about the recent Dalit unrest, the political situation in Bihar, and the 2019 elections.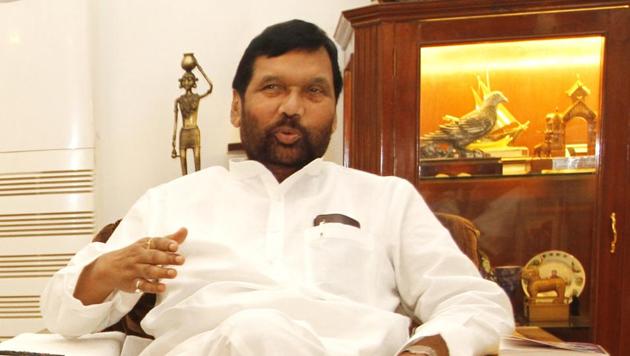 Updated on Apr 09, 2018 08:39 AM IST
Hindustan Times, New Delhi |
Kumar Uttam and Prashant Jha
Union minister for consumer affairs and food & public distribution, Ram Vilas Paswan is among the senior-most Dalit leaders in the country. The chief of the Lok Janshakti Party (LJP), he was first elected to the Lok Sabha in 1977. He spoke to Kumar Uttam and Prashant Jha about the recent Dalit unrest, the political situation in Bihar, and the 2019 elections. Edited excerpts:
Do you see the Bharat Bandh of April 2 as a natural expression of Dalit anger or as political rivals mobilising protests?
It was both. The court judgement (on the Scheduled Caste and Scheduled Tribe - Prevention of Atrocities - Act) came suddenly and people were shocked. Earlier, there was a UGC (University Grants Commission) order saying reservations would be department-wise — this would reduce reserved seats. There was anger already; then this dilution of the Act happened.
We met the prime minister. He clearly said a review petition will be filed. The order came on the 20th (March); then there was a weekend and four holidays in the middle. It took only five working days. There was no delay.
The anger among the youth was natural but violence happened when political parties jumped into it. These parties have done nothing for Dalit rights.
Would you agree that there has been 'misuse' of the Act?
Which Act in India has not been misused? There was fear among people that the only weapon of the SCs and STs would go.
There is criticism that while this government may have symbolically done more for Ambedkar, in terms of substance, there has been little.
Take the Ujjwala scheme — if three crore people have got gas connections, 90% of them would be SCs. Take Jan Dhan — the majority of the beneficiaries would be SCs. Because all these schemes are universal, it may not be apparent. But remember when you make scheme for poor, SCs and STs benefit the most.
But there have also been several incidents which contribute to the perception that the government is anti-Dalit — Rohith Vemula, Una, Bhima Koregaon, now Dalit MPs of BJP themselves speaking out.
Una was unfortunate. But you know why the perception got created?
Because the chief minister was removed, but the government did not say we removed the CM. Forty-two officers were suspended, but the government did not say we have done it. Within 30 days, a charge sheet was filed but the government did not comment. If it had said with courage that we suspended the officer, filed the charge sheet and will remove the CM, then the perception would have changed.
So this was the BJP's political mistake?
You asked why there is a perception problem. On Rohith Vemula, the PM was sad and when he went to Lucknow, he got emotional, cried, and said he is a son of mother India.
But several ministers questioned Rohith Vemula's Dalit identity?
This is wrong. The PM contradicted it. On the issue of minorities, too, this government has worked the most. Many people may not publicise it because some section may get angry. I say, speak about what you do, speak out loudly; what is wrong in it?
Even on the current SC order, would you say the delay in the Prime Minister speaking up contributed to the perception of insensitivity?
The social justice minister, Thaawarchand Gehlot, said it many times. But you are right, when PM says, it sends one signal; when Amit Shah says it, a certain signal goes.
Given the perception, do you think Dalits will vote for the BJP in the 2019 Lok?Sabha elections like they did in 2014?
VP Singh changed his perception within nine months. He came from a royal family, he was considered feudal till the time he was in UP. When he became PM, he started from the grassroots. He started with Ambedkar and then implemented the Mandal Commission report. For this government, one year is left. We have one year left. We can change the perception of young Dalits through a series of steps.
What other advice you would give the BJP to correct its image?
Work without antagonising anyone. There is lava inside — when it comes out slowly, the volcano doesn't erupt; but if you suppress it, then it becomes an active volcano.
We have to understand that there is a difference between generations. My father would accept if someone slapped him or abused him or when he wasn't allowed to sit or not. Our generation resisted a bit, but it continued.
The Chirag Paswan generation is not ready to accept it. People ask, why is there a protest on smaller issues? It's because young Dalits want a life of respect.
Should Modi then take the VP Singh route?
The Modi government's record on SCs and STs is good. But there should be publicity, better publicity.
People occupying higher positions in the government will have to start telling people openly, then the perception will change automatically.
This is a bit surprising. BJP's strength was its communication. Is it today its failure?
A perception builds because of communication. In north India, caste is a reality. We have to remove this perception. There is no problem with Modi. I am not saying he should speak on every issue. The big BJP and National Democratic Alliance (NDA) leaders should speak. At first, it will look odd, but people will realise later.
Since Ram Navami in Bihar, there have been a series of communal incidents.
Who can doubt the secularism of Nitish Kumar and me? The minorities love us alike. The government filed an FIR. The accused is in jail now. But it is important to think before speaking. When we talk of 'sabka saath sabka vikas' (development for all), we should speak in a manner that no section feels it is getting ignored.
Is this advice for the extremist elements in BJP?
People in the BJP and NDA should take lessons from Modi. In four years, Modi has not spoken about Article 370 or Ram Temple or Uniform Civil Code. He did not stoke any controversy. He simply said Constitution is my religion. Everyone should follow this.
Are you worried about the Bihar incidents?
I am very worried. But I have a question if you blame BJP for this: Nitish (Kumar) was the chief minister for 10 years with them. Why was there no incident then?
Because this BJP is more aggressive?
No, the BJP is not aggressive. But the rivals have become aggressive. The RJD (Rashtriya Janata Dal) has become more aggressive. The BJP is being made a scapegoat. You must understand all non-Congress people in Bihar are from the JP (Jayaprakash Narayan) movement, they can never be communal — be it Sushil Modi or Nand Kishor Yadav or Shahnawaz Hussain. We have all been in jail and worked with JP (Jayaprakash Narayan).
How is your relationship with Nitish?
When he was out of NDA, I was his strong opponent. When he came with us, we became family. He has a 15% vote. Add NDA to it and we have to cement it.
Will seat-sharing in Bihar be an issue in 2019?
When hearts meet, parties will meet.
Recently, Chandrababu Naidu said the BJP wanting to expand is fine but the way it seeks to do so is wrong.
Why were you with us for four years? If they were scaring you, why did you leave in the fifth year?
Are the smaller parties in NDA unhappy?
You have to realise that the Vajpayee government was a coalition government. The Modi government is an absolute BJP majority government. It got votes in the name of Modi. It is natural that BJP's self-confidence will be higher than that of others. That is why he has taken big risks — GST, note ban. If everything is happening in his name, if minus is in his name, then plus also goes in his name. Who doesn't speak in NDA? The Sena is abusing all the time, the TDP spoke, I also speak, (Upendra) Kushwaha and (Ramdas) Athawale speak. Where is the ban?
What is the difference between Modi and other prime ministers you worked with?
Not only India, he is the world's most hard-working PM. He travels five countries in three days, spends 65 hours in a plane. Modi means work. He travels three states in a day. As far as hard work is concerned, there is no match.
You can often sense which way the wind blows. What will happen in 2019?
In 2019, we will form the government.
But where will you be?
I was, am, and will be with NDA. Anything else is unthinkable. NDA is intact. There will be Rahul (Gandhi) on the other side. And there will be Third Front or Mamata (Banerjee). Now think about where will people go?
Do you see Opposition forging an alliance?
Where is the unity?
But there is an effort.
Nothing will happen. There is only one formulation in democracy — who is the leader? That's it. On that, nobody will agree.
Could it be Sharad Pawar?
Congress will not accept anyone other than Rahul Gandhi. Take it from me.
itaram Yechury told us in a recent interview that 2019 could be either like 1996 or 2004?
These people became zero from hero doing all these things. There were three elections between 1996 and 1999. Does the country want that?
Close Story
Personalise your news feed. Follow trending topics