West Bengal extends Covid-19 restrictions till July 30, lets Metro to run 5 days
Jul 14, 2021 05:58 PM IST
West Bengal government in its revised norms retained its cap on wedding guests at 50, and restricts the movement of people and vehicles between 9pm and 5am.
West Bengal government on Wednesday extended the ongoing restrictions aimed at curbing the spread of coronavirus disease (Covid-19) cases till July 30.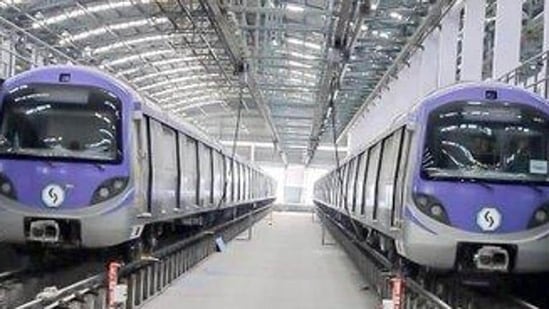 The Mamata Banerjee-led government, in its revised Covid-19 guidelines, decided to allow Kolkata Metro to operate five days a week — between Monday and Friday — with 50% seating capacity from July 16.
In its revised guideline, which will come into effect from July 16, the West Bengal government said all educational institutions will continue to stay shut for physical classes while the movement of public transport is allowed with 50% capacity and after adhering to Covid-19 necessiated health and safety protocol.
The government continued to impose a restriction on the movement of people and vehicles between 9pm and 5am except on grounds of health services, law and order and transport of essential commodities and agricultural produce.
"Intra-state local train movement shall remain closed except for staff special trains for movement of emergency and essential services personnel, " the latest order read.
The revised guidelines permit retail shops in malls and market complexes to remain open as per usual operational hours with 50% workforce and limited entry for customers. However, restaurants and bars can operate only till 8pm.
The government continued to allow a gathering of 50 people for wedding and 20 for funerals.
While the state goverment continued to put a temporary ban on cinema halls, spa and swimming pools, it allowed the althetes to practise in pools between 6am and 10am.
However, salons and beauty parlours are allowed to operate with 50% capacity and after following Covid-19 protocol.
"Banks and financial institutions shall remain open for restricted hours between 10am and 3pm and for operations of ATMs," the guidelines read.
Political, social and entertainment-related congregrations remain prohibited in the latest guidelines, too.
Fully vaccinated morning walkers can continue to access parks between 6am and 9am.
The West Bengal government had imposed lockdown-like restrictions in the state owing to the second wave of the pandemic from April 30, soon after the final phase of the eight-phase assembly election concluded on April 29.
As the cases grew, the state government imposed complete lockdown between May 16 and May 30. The restrictions were then extended in phases till June 15, again till July 1 and with certain relaxations till July 15.