In November last year, the World Health Organisation recommended Emergency Use Listing (EUL) status for Covaxin. Several countries including Australia, Japan and Canada allow passengers vaccinated with Covaxin into those countries.

Covid-19 cases in India May 26, 2022: Eighteen patients died and 2,167 recovered from the virus in the last 24 hours.

Written by Harshit Sabarwal | Edited by Swati Bhasin
, New Delhi
BCG vaccine primarily provides protection against tuberculosis and has been administered to newborns as part of Centre's National Immunization Programme for the least 50 years.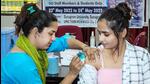 A Covid-19 surge is underway that is starting to cause disruptions as the school year wraps up and Americans prepare for summer vacations. Many people, though, have returned to their pre-pandemic routines and plans, which often involve travel.

AP | | Posted by Zarafshan Shiraz
, Honolulu
Any practice or a change starts with the home and we all have dreamt of making our home beautiful by decorating and embellishing it. To garnish our digs and nurture the environment, there are plenty of ways to decorate them in an eco-friendly way. Check out these tips by home interior decor experts