What internet ban? Kashmir politicians still lead a busy social media life
Updated on May 18, 2017 08:01 AM IST
In spite of the state government imposing a ban on social media platforms, the who's who of Kashmir continue to be able to post on Facebook and Twitter, including the ruling Peoples Democratic Party.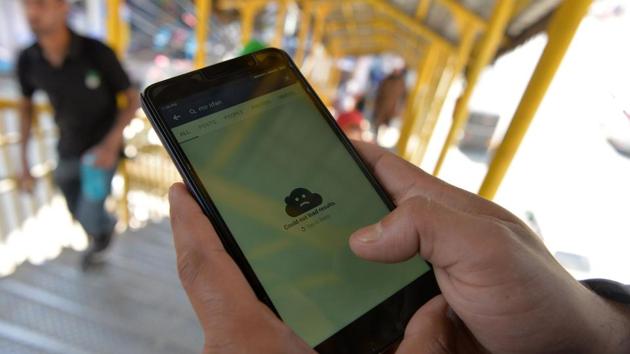 Tweets sent out three days ago by the youth wing president of the ruling Peoples Democratic Party (PDP) about chief minister Mehbooba Mufti meeting young entrepreneurs would have been innocuous, had the situation been normal in Jammu and Kashmir.
But the state has been under a social media ban since April 26, and Waheed-ru-Rehman Para's 140-character post on the micro-blogging site drew an immediate caustic response from rival National Conference spokesperson Junaid Mattu.
Mattu retweeted Para's tweet, adding: "Hasn't the CM banned Twitter in Kashmir? Isn't your tweet the irony of ironies".
Para did not respond. Mattu, however, was least embarrassed when asked how he could manage to tweet in the time of the ban. He, instead, blamed the state government and its officials for circumventing the ban.
"It's not only hypocritical but outright evil of a government to have laws and then circumvent them as per convenience. It's tragic and goes on to show how they have lost the plot in Kashmir," he riled.
Para's silence and Mattu's broadside shone the light on what has been an open secret in Kashmir: That the social media ban enforced to quell rumours and violent protests has been more of a joke with almost everyone turning to the Virtual Private Network (VPN) technique to access blocked sites.
The VPN masks a user's location, letting them access websites banned in a particular area.
The Who's Who of Kashmir is continuing to post on Facebook and Twitter.
The PDP and its social media handles are still vigorously promoting the chief minister and her welfare activities while opposition leader Omar Abdullah is as active as ever in disseminating his views on the happenings in Kashmir on social media.
Equally active are some ministers, bureaucrats and senior police officials.
At a recent official meeting in Srinagar, the summer capital, a source recounted officials in attendance discussing alternatives to circumvent the ban since one particular VPN had stopped working.
"Government officials are also humans, you have to understand," remarked an official rather sheepishly.
The brazenness with which the ban is flouted has assumed bizarre proportions.
When news broke this Tuesday of the chief minister being heckled by women at an event, PDP officials requested journalists to check out the videos uploaded on Twitter by rural development minister Abdul Haq Khan that seemed to show otherwise.
Khan's tweets drew instant sarcasm. "Which VPN does the minister use," many asked.
Meanwhile, Mehbooba Mufti's verified Facebook page is regularly being updated with her daily activities by administrators based in Srinagar, even as the United Nations continue to press for immediate revocation of the social media ban. The gag is a "collective punishment," the UN high commissioner for human rights said.