As Gorkhaland stir rages, Darjeeling cops in a bind over Bimal Gurung's arrest
Updated on Jun 22, 2017 01:15 PM IST
Darjeeling Police fear arresting Bimal Gurung, who is on the run for more than a week, will turn the Gorkha Janmukti Morcha into a hero and fan more violence.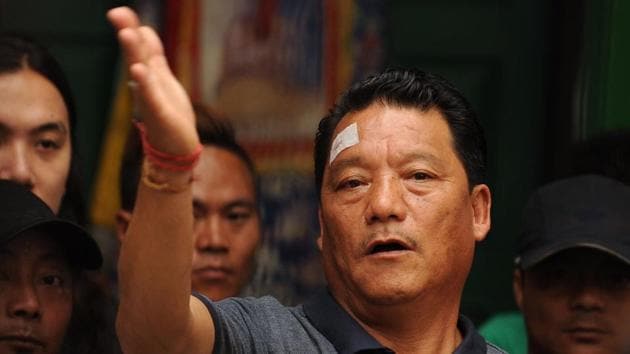 Finding Bimal Gurung, the chief of the Gorkha Janmukti Morcha, is fast looking like searching for a needle in a haystack.
Gurung, who is spearheading the Gorkhaland protests in West Bengal's Darjeeling hills, went into hiding hours after police raided his office last week.
Since then, violence has gripped the hills as three people have died and scores have been injured. The army is out on the streets as local residents fear a long spell of instability with talks failing and hill parties pressing on their demand for a separate state.
Police say they are doing all they can to find Gurung but privately express fear that arresting him would turn him into a hero and fan further violence in the hills. "The state government doesn't want to take chances to arrest him," a senior intelligence official said.
Since internet services were snapped, Gurung has changed locations several times to evade arrest, say police. "He is protected and safe wherever he is. All hell will break out if he is arrested," the GJM leader added.
In the middle of the mayhem, the GJM chief is missing, and only two video messages of his recorded before the raids is doing the rounds. "I will fight for Gorkhaland until the last drop of my blood," he says in one. He hasn't surfaced since nor spoken to the media.
But his absence has catapulted him to a larger-than-life figure and police say he can find shelter at any person's house in the hills. Darjeeling police have conducted a series of raids at possible hideouts but Gurung remains untraced. He is said to be incommunicado, even to his confidantes. "Only a select few and trusted confidantes are aware of his whereabouts," a senior GJM leader said but refused to be quoted.
The crisis might not be resolved soon as the hill parties – including the GJM – have pulled out of the autonomous hill administration and agreed to fight on for a separate state. Police say cases have been registered against Gurung and a number of GJM leaders. "I cannot divulge the details of the case or raids the police is doing but the process is on," said Darjeeling superintendent of police Akhilesh Chaturvedi.