Wildlife photographer spots rare tiger in Nilgiris
Updated on Jul 07, 2017 08:09 AM IST
Nilanjan Ray, a wildlife photographer from Bengaluru, spotted a rare 'pale skinned' tiger in the Niligiris Biosphere Reserve in Tamil Nadu last week.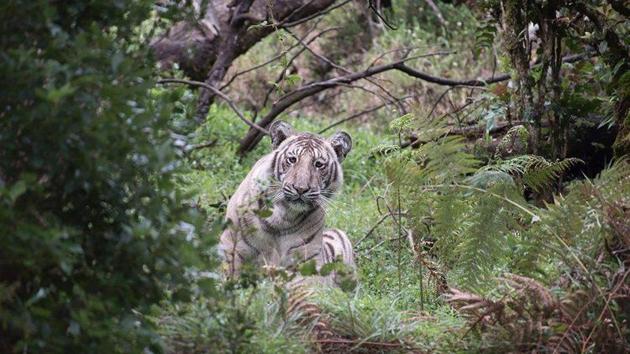 A wildlife photographer from Bengaluru has for the first time sighted a rare pale skinned tiger in the Nilgiris in Tamil Nadu, where he was on a visit last week.
The sighting of the tiger has sparked interest among conservationists and wildlife enthusiasts, because this is said to be a normal tiger and not a white tiger.
Nilanjan Ray, a wildlife photographer from Bengaluru, spotted the tiger in the Niligiris Biosphere Reserve last week.
Speaking to HT, Ray, an alumnus of the Indian Institute of Management-Calcutta, said it was a very serendipitous sighting. "I was travelling in the reserve with a forest guard, when this tiger leaped on to a hillside and hid in some undergrowth, likely startled by noise of the vehicle," he said.
Read more | With increase in numbers, tigers fight it out for space in Ranthambore reserve
For a while, Ray said, there was a game between them and the tiger. "Every few minutes we would see it lift its head from the undergrowth for a few seconds," Ray said.
Ray's attempts to capture photographs, though, were unsuccessful, until another tiger joined it. "It was then that I was able to click a few photographs," Ray said.
However, Ray, feeling heady from the sighting, was not prepared to the reaction he got when he posted the pictures on social media. "Many people said this was a fake and there was a general hue and cry," he said.
"So, I decided to send the photos to the Parvish Pandya, a zoologist who consults for the wildlife magazine Sanctuary Asia, and Belinda Wright, a renowned conservationist and film-maker, to review the photographs," Ray said.
Pandya told Ray that this pale skin was called colour morphism, which is the result of genetic variation. Meanwhile, Wright told him that she had seen a similar tiger in Ranthambore in the 1980s, but this tiger was even paler.
Read more | Finding a new home: Tigers from highly-congested Corbett park to be relocated
"This was not a white or albino tiger, which, Wright said, are only available in zoos and bred there," Ray said.
A senior forest official told HT, that Ray had informed the department and they had seen the photos. "The tiger looks like a sub-adult. But do not know the sex of either tiger," the official said.
The official said camera traps would be set up in the area to track the tiger. "While we know the location where the tiger was spotted, we cannot reveal it because this could endanger the tiger," the official added.