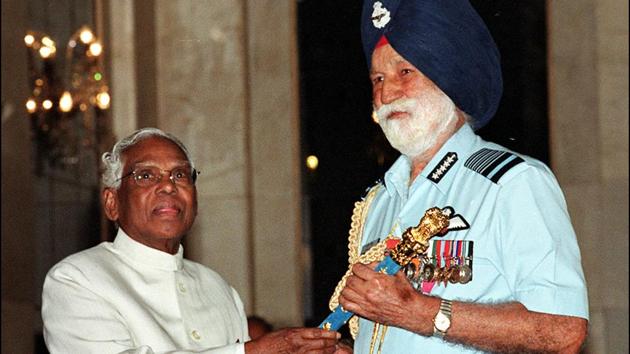 World War II, 1965 India-Pakistan War: A look at Arjan Singh's distinguished career
The former IAF chief Arjan Singh had played a key role in India's victory in the 1965 war against Pakistan.
Press Trust of India | By Press Trust of India
, New Delhi
UPDATED ON SEP 16, 2017 10:16 PM IST
Marshal of Indian Air Force Arjan Singh died on Saturday after he was admitted to Army Hospital in New Delhi following a heart attack.
Here is a timeline of his life:
April 15, 1919: Born in Lyallpur, present day Faislabad in Pakistan
1938: At 19 years was selected for a pilot training course at Royal Air Force College, Cranwell
1939: Training cut short by World War II. Joined Sqdn 1 in Ambala
1943: Became Commanding Officer Sqdn 1
1944: Led his squadron to Imphal against the Japanese during the Arakan Campaign.
1944: Received the Distinguished Flying Cross (DFC) for leading the squadron during Imphal Campaign by Lord Mountbatten
August 15, 1947: Led the fly-past of over a hundred IAF aircraft over the red fort.
August 1, 1964: Arjan Singh took over as the Chief of Air Staff in the rank of Air Marshal
1965 : Arjan Singh was awarded the Padma Vibhushan for his leadership of IAF during the '65 war with Pakistan
August 1969: Retired from the Indian Air Force after serving for three decades
1971: Appointed India's Ambassador to Switzerland.
1974: Appointed Indian High Commissioner to Kenya.
1980s: At the height of militancy in Punjab he was part of a 5-member committee that would go door to door in the state and try to bridge the differences between Hindus & Sikhs.
1989: Janata government appoints Arjan Singh as the L-G of Delhi as an attempt to apply balm to the wounds of the Sikh community
2002: Conferred with the rank of the Marshal of the Air Force making him the first and the only 'Five Star' rank officer with the Indian Air Force.
April, 2011: Wife Teji Singh passes away at the age of 80.
Close