MS Dhoni guides 'Cheeku' Virat Kohli during India vs New Zealand 2nd ODI: Video
MS Dhoni remains a strong influence behind the stumps for both the Indian cricket team bowlers as well as skipper Virat Kohli. Some of Dhoni's magic moments were caught on stump mic during the 2nd India vs New Zealand ODI in Pune.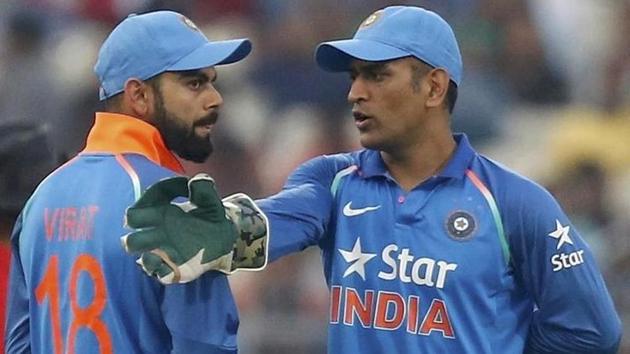 Updated on Oct 26, 2017 05:39 PM IST
Hindustan Times, Mumbai | By Devarchit Varma
MS Dhoni's chatting from behind the wicket has always been a rich source of amusement for fans and experts alike as they also get to read the thought process of the man who has been a guiding force for many a bowler from that vantage position.
Of late, MS Dhoni has formed a special relationship with the new Indian spin pair of Kuldeep Yadav and Yuzvendra Chahal, who have flourished thanks to the invaluable guidance from behind the wicket.
(Read | Virat Kohli trumps Lionel Messi in Forbes' top 10 valuable brands among athletes)
But the encouragement is not restricted to the spinners; Dhoni can be heard on the stump microphone having a word with other bowlers as well. On one such occasion during the second ODI against New Zealand at Pune on Wednesday, he was seen egging on part-time spinner Kedar Jadhav.
INNOVATIVE BOWLING
Lack of runs may have dented Kedar Jadhav's batting confidence, but when he came on to bowl with New Zealand's match-winning batsmen from the first ODI, Tom Latham and Ross Taylor, on strike, there was no dearth of support from MS Dhoni.
(Read | Virat Kohli impressed with evolution of Bhuvneshwar Kumar, Jasprit Bumrah)
Dhoni yelled, "Bohot badhiya! (very good)" and "badhiya" when Jadhav bowled two tight deliveries to each batsmen.
"Ye ball achcha hai iske liye (this ball is good for him)", said Dhoni when Latham failed to score off a delivery angled into him. "Har teesra ball ye daal sakta hai (you can bowl this every third delivery)".
Dhoni kept saying, "Bohot badhiya!" on most deliveries, calling Jadhav by his short name 'Kedu'.
KEEPING IT IN HINDI
Dhoni added, "Ek baar karenge to fir dimag me ghusta hai (if we do this again, then he might notice)." He then advised, "Badhiya, dheere hi daalna… (good, keep bowling slow)".
But MS Dhoni's most amusing remarks were the suggestions made to captain Virat Kohli, fielding at extra cover for Latham.
"Cheeku, do-teen jan ko idhar chod de! (Cheeku, leave 2-3 people to cover this area)," Dhoni told Kohli, calling him by his nick name.
Later in the over, Dhoni asked, "Cheeku ek ball aur rakhega? Ek ball jo pehle rakha tha… mein catch ke liye? (Cheeku, will you keep the fielder for one more ball? The one I had kept earlier for a catch?")
All those instructions worked like a dream as India restricted New Zealand to a modest 230/9 in the second ODI, going on to clinch a six-wicket win with four overs left. The three-match series is level 1-1 with the final match to be played at the Green Park in Kanpur on Sunday.
Close Story