'Pandurang Salgaonkar may have said things just to fend off journalists'
Pandurang Salgaonkar has always been a little wary of journalists, says Former BCCI West Zone chief curator Dhiraj Parsana, on the pitch curator's statements that reveal he was willing to doctor the pitch for the India vs New Zealand second ODI in Pune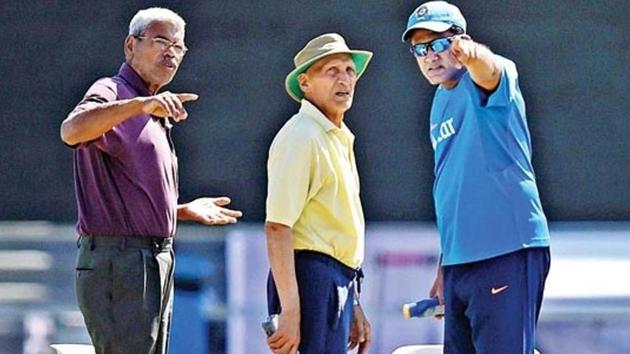 Updated on Oct 25, 2017 05:08 PM IST
Hours before the first ball was bowled in the second ODI on Wednesday, cricket administrators and fans were in for a shock as reports of Pune pitch curator Pandurang Salgaonkar's alleged willingness to doctor the pitch were flashed across television and social media. (India vs New Zealand, 2nd ODI - Live updates)
There seemed to be a huge interest in Wednesday's tie as fans poured into the stadium early. Some of the fans were unaware of the incident and had come only because "Dhoni-Kohli khel rahe hain. India aaj jeetega!" (Dhoni, Kohli are playing and India will win today).
This, though, isn't the first time the Maharashtra Cricket Association Stadium pitch has come under scanner. Earlier this year in February, the Pune pitch was rated "poor" by the ICC after the Test between the hosts and Australia ended inside three days.
The video that surfaced on Wednesday, however, was chilling. The former first-class cricketer was seen speaking to journalists who had approached him as bookies and claimed he would give away information about the pitch.
It has always been a norm for journalists to speak to the curator a day or two before the game to have a general idea of the nature of the pitch. However, the journalists stated that they are going to place bets accordingly and would hand Salgaonkar a share of the profits.
What might have gone against the veteran is that he nodded and agreed to speak on the issue later. Former BCCI West Zone chief curator Dhiraj Parsana feels Salgaonkar might have said things simply to fend off journalists, which is part of the profession.
"I used to tell him to not run away from the media but tell them in brief of what's happening. Maybe that's how he has learnt these things. I know Pandurang as a cricketer and as a person," Parsana said. "We played a lot of cricket in Mumbai; he used to play for Mahindra and Mahindra and I used to play for Mafatlal. He has been a very strong person all these years as a curator. He is always fond of what he is doing, and he is not like that. He is not a person who would fix. He is a strong-minded person, a wonderful curator. I am sure what he said would have been to fend off those people."
And although there were reports of a possible cancellation of the game over the alleged tampering, Maharashtra Cricket Association president Abhay Apte cleared the air stating that the ICC observer at the ground had a look at the pitch and cleared it. A source close to the BCCI confirmed that match referee Chris Broad had observed the pitch before the start of the game and called it fit for play.
Close Story