Highlights, India vs Sri Lanka, 1st cricket Test, Day 3: Virat Kohli, Abhinav Mukund give IND massive lead
Abhinav Mukund scored a fluent 81 while Virat Kohli slammed his 15th fifty as India ended day 3 of the Galle Test on 189/3, a lead of 498 runs against Sri Lanka. Catch highlights of India vs Sri Lanka, 1st Test, Day 3, here.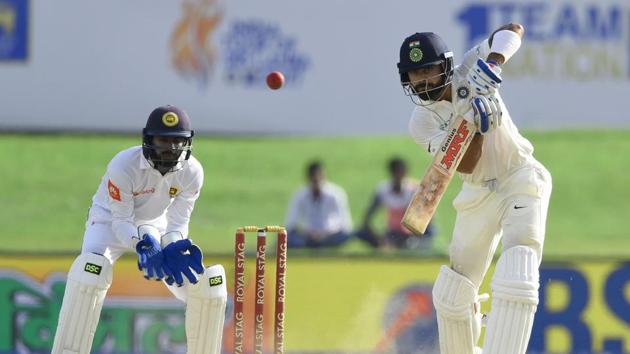 Updated on Jul 28, 2017 06:20 PM IST
Virat Kohli batted confidently and smashed his 15th fifty as India's lead crossed 450. Abhinav Mukund scored his second fifty but departed for 81 in the final over of the day as India's lead at stumps on day 3 reached 498. The Indian skipper will be aiming to score a century and then set Sri Lanka a big score on day 4. Catch highlights of India vs Sri Lanka, 1st Test, Day 3, here. (SCORECARD | STREAMING INFO) (ENGLAND vs SOUTH AFRICA, 3rd Test)
18:06 hrs IST: Virat Kohli will not be aiming to get to a century on day 4 and set Sri Lanka a target in excess of 550. India will then have five session to bowl Sri Lanka out and take a 1-0 lead.
18:03 hrs IST: WICKET! Abhinav Mukund has been given out LBW and he reviews it. The ball skids on and he is trapped on the front pad, the ball is hitting the middle stump. That will be stumps but India are in a great position.
17:55 hrs IST: Mukund enters the 80s. Only two overs remain. Can Sri Lanka bowl both? Could be done.
17:51 hrs IST: Oh dear, nothing going Sri Lanka's way. Mukund cuts a short ball to backward point and the sub fielder has a shy at the bowler's end but misses, there is no fielder backing up and it is five runs.
17:48 hrs IST: Sri Lanka are operating with spinners as the light fades. It looks like they are good to go. Maybe one or two overs might not be bowled.
17:41 hrs IST: Bright sunshine again in Galle. It looks like all the overs might be bowled now.
17:37 hrs IST: Dilruwan Perera finds the leading edge and the outside edge of Kohli in successive balls but the Indian skipper survives. Mukund looks to pull a bouncer but the top edge goes to the fine leg fence.
17:32 hrs IST: Loose from Kohli at the end of the day. Full and wide ball outside off, it swings away and Kohli chases after it without any feet movement. Lapse in concentration. It is getting darker in Galle. Maybe time for one or two overs.
17:26 hrs IST: The 100-run stand is up between Kohli and Mukund. Both batsmen are setting up a big platform for some milestones tomorrow.
17:22 hrs IST: Kohli and Mukund are making smooth progress. One feels that both players are playing for stumps.
17:14 hrs IST: Oh dear, Kohli drove uppishly to mid off and Herath tries to stop it on the half volley, but he hurts his finger and the physio runs out to have a look. He is walking off the field. Sri Lanka will be hoping it is nothing serious.
17:10 hrs IST: The lead has now reached 450. It looks like India might declare tomorrow. The target could be in excess of 500.
17:01 hrs IST: Finally, after eight innings, Kohli registers a fifty. He has also gone past 1000 runs as India's captain.
16:57 hrs IST: Kohli is one away from his fifty. India's lead is nearing 450.
16:53 hrs IST: Kohli nears his fifty. It will be his first major knock since the Bangladesh 200. That was six innings ago.
16:44 hrs IST: Fifty for Abhinav Mukund! He gets there by paddle sweeping Rangana Herath to the fine leg fence. First fifty for Mukund since the West Indies tour in 2011.
16:40 hrs IST: Testing over from Pradeep, probing around that off stump channel. But, Kohli played the over well.
16:36 hrs IST: Less than an hour to go for the day to end. India will be aiming to get closer to 500 and then insert Sri Lanka in.
16:29 hrs IST: The partnership between Kohli and Mukund has crossed 50. It is now a matter of individual milestones.
16:24 hrs IST: Kohli continues to play aggressively. He slams two boundaries off Nuwan Pradeep and he is nearing his fifty.
16:21 hrs IST: At The Oval, Alastair Cook has missed out on a century but England are still going strong.
16:17 hrs IST: Mukund has latched on to the short ball and forehanded it to fine leg. He is nearing a fifty and Kohli pushes India's lead past 400
16:13 hrs IST: India are 84/3 and are nearing 400. Kohli is looking in good touch after a long time.
16:10 hrs IST: Testing over from Lahiru Kumara as Kohli was tempted and troubled by the short ball. He survives that and is continuing on his merry ways.
16:01 hrs IST: India's lead is nearing 400. Kohli is looking in ominous touch while Mukund is making his chance count.
15:56 hrs IST: Virat Kohli has started off like a train. In his first four balls, he has hit two boundaries.
15:53 hrs IST: While we wait for the action in Galle to begin, over at the Oval, Alastair Cook is just 12 away from his century.
15:50 hrs IST: Play will start at 15:55 hrs IST. Hail the Galle groundsmen. Brilliant stuff from them.
15:46 hrs IST: Galle is bathed in sunshine at the moment. Play could resume any time soon.
15:37 hrs IST: The covers are slowly coming off and there is an inspection scheduled at 15:45 hrs IST.
15:28 hrs IST: Umpire are wandering out with the umbrellas. That is not such a pleasant sight.
15:19 hrs IST: Chuck that. The rain is back on. Covers are all over the playing field.
15:08 hrs IST: An inspection has been scheduled at 15:15 hrs IST.
14:59 hrs IST: Covers are still firmly in place. We might be in for a big delay.
14:46 hrs IST: It has apparently stopped raining and the umpires are wandering out to check the conditions. The ground staff might remove the covers in a while.
14:28 hrs IST: The ground staff are right as usual. The rain has picked up at Galle and we could be in for a length delay.
14:22 hrs IST: More covers have been brought on now. They anticipate more rain in the air.
14:15 hrs IST: More covers are being brought out to cover the whole outfield. The wind has picked up and the rain is pouring. Hold on, word is that the rain has stopped.
14:12 hrs IST: The rain is pelting down at Galle. All the covers have been brought out. One can hope it is one of those short sharp showers.
14:10 hrs IST: WICKET! Excellent catch by Kusal Mendis and good captaincy from Herath. Mendis was stationed there and Pujara falls into the trap. Full ball on the pads, Pujara flicks it to leg gully where Mendis is stationed there, the ball goes to him and he grabs it on the second attempt. Cheteshwar Pujara c Kusal Mendis b Lahiru Kumara 15.
14:05 hrs IST: Oh boy, that is not a good sight at all. Dark clouds coming in from the Sea area. We might be in for some heavy rain later.
14:02 hrs IST: The ground staff are on the edge of the boundary and they are anticipating some rain. One can only hope that the rain stays away.
13:58 hrs IST: Inside edged but safe! Full delivery angled in, Mukund is cramped up for room and gets an inside edge onto his pad, the ball falls to the ground and just misses leg stump.
13:55 hrs IST: Mukund is looking positive while Pujara is in solid touch. India would be aiming to set Sri Lanka a target of 450-500 by the end of the day and insert Sri Lanka in tomorrow potentially.
13:46 hrs IST: Sri Lanka are once again struggling to stem the flow of runs. Pujara and Mukund are building a solid partnership.
13:37 hrs IST: India's lead has now gone past 350. Smooth progress being done.
13:33 hrs IST: Pujara smacks yet another boundary while Mukund is looking solid. India's lead is nearing 350.
13:26 hrs IST: Pujara and Mukund strike boundaries of Pradeep as India continue to extend their advantage.
13:19 hrs IST: India are not trying too many experiments with the batting order. The plan might be to bat till the last hour and then insert Sri Lanka in again.
13:13 hrs IST: WICKET! Too much aggression costs Dhawan. Short ball and turning away a bit, slightly more extra bounce, Dhawan fails to control the cut and finds backward point. Shikhar Dhawan c (sub) Dhananjaya de Silva b Dilruwan Perera 14.
13:10 hrs IST: Sri Lanka cannot seem to stop Dhawan. Another wide delivery from Dilruwan Perera this time and the left-hander flays it to the cover boundary.
13:09 hrs IST: Another confident stroke from Dhawan. Full ball from Pradeep and the left-hander drills the drive to the sweeper cover fence.
13:04 hrs IST: Mukund also gets off the mark with a blazing boundary off Dilruwan Perera as he crashes a square cut to the deep point fence.
13:01 hrs IST: Dhawan continuing from where he left off in the first innings. He gets going with a crunching square cut to the deep backward point fence.
12:57 hrs IST: Out come Abhinav Mukund and Shikhar Dhawan. Mukund needs a big score if he has to stay in contention for the Colombo Test.
12:52 hrs IST: India have not enforced the follow-on. They will bat and set Sri Lanka a target.
12:50 hrs IST: WICKET! Jadeja picks up his third wicket as he cleans up Lahiru Kumara with a delivery that spins back in. Sri Lanka all out for 291. Will India enforce the follow on?
12:05 hrs IST: Well, it is lunch. This could be that Sri Lanka are eight down. A session can be extended only if a team is nine down but Asela Gunaratne will not bat due to an injury which occurred on the field and so the session won't be extended. Sri Lanka are still staring at a massive deficit.
12:00 hrs IST: It should be lunch now but since this is the last wicket, the session might be extended by half an hour.
11:56 hrs IST: Dilruwan continues to play well as he moves closer to the 90s. However, in the last ball of Jadeja's over, Lahiru Kumara had backed up too far and a direct hit at the bowler's end would have meant curtains.
11:51 hrs IST: WICKET! Brilliant comeback and it is Pandya's first Test wicket. Back of a length and straightening on off stump, Pradeep is late into the stroke and the stumps are clattered. Nuwan Pradeep b Hardik Pandya 10.
11:50 hrs IST: This will not improve Kohli's mood. Full toss from Pandya and Pradeep just thumps it over the leaping fielder for a boundary.
11:47 hrs IST: Once again good connection. Flighted ball outside off, Dilruwan slog sweeps it to deep mid wicket but Ashwin is much inside the rope. Had he been a bit further back, he could have taken the catch. Next ball, Dilruwan slams his fourth six as Sri Lanka frustrate India.
11:44 hrs IST: Good first over for Hardik Pandya. Almost gets Pradeep bowled but the ball just misses the off stump.
11:43 hrs IST: Hardik Pandya is finally into the attack. In the 72nd over. Can he polish the tail off?
11:41 hrs IST: In the air but safe! Pradeep miscues the lofted shot and it is sailing down the ground, it has not got the distance, Ashwin and Shami converge but no one catches it. Jadeja kicks the ground in disgust.
11:37 hrs IST: Umesh continues to leak runs as Dilruwan finds the boundary at long on. These are vital runs and this might force Kohli to think about the follow-on.
11:30 hrs IST: Perera continues to frustrate India. He makes room and upper-cuts a short ball twice to third man. Umesh Yadav and Virat Kohli not amused.
11:24 hrs IST: WICKET! Jadeja gets his second. Herath attempts the reverse sweep and the catch is taken. The umpire gives it out and Herath reviews. Initial replays show that the ball has hit the forearm but on closer look, the ball has brushed the glove. Rangana Herath c Rahane b Jadeja 9 (13).
11:19 hrs IST: Fifth fifty for Dilruwan Perera! Well played! He gets to the landmark in style. He smashes his third six by slogging Ashwin to deep mid wicket while he late cuts a flatter ball past slip. Well played.
11:17 hrs IST: Dilruwan and Herath continue to rotate the strike. India are struggling to polish the tail off.
11:12 hrs IST: Perera continues to bat brilliantly. He latches onto the slog sweep and dispatches it to deep mid wicket for a boundary. He is nearing his fifty.
11:11 hrs IST: Some good news for India. KL Rahul is fit and he will be available for the Colombo Test.
11:07 hrs IST: Poor ball from Ashwin. He slants it down the leg side and Herath glances it to fine leg for a boundary.
11:03 hrs IST: Appeal for an LBW and the umpire raises the finger immediately. Dilruwan reviews and the bat has hit the pad. Nowhere near the edge. Seems a goner. Oh! It is going over the stumps. Weird. The decision is overturned.
10:58 hrs IST: Dilruwan continues to fight for Sri Lanka. He smashes Ashwin for another six and then leans into the drive by creaming a flighted delivery to the deep extra cover fence.
10:54 hrs IST: WICKET! Jadeja gets his man. Mathews departs for a well-made 83. Flighted delivery outside off and it bounces a tad more, Mathews drives it straight to Kohli at cover. Angelo Mathews c Virat Kohli b Ravindra Jadeja 83.
10:50 hrs IST: Another good over from Ashwin. He has really troubled the Sri Lankan batsmen with loop and guile but they are playing him well.
10:46 hrs IST: Mathews seems to have been practising his Tennis. Short and wide ball from Shami, the batsman forehands a short-arm pull to long on for a boundary. Interesting choice of shot. Sri Lanka 203/5, trail by 397 runs.
10:45 hrs IST: Shami has bowled four consecutive bouncers at Dilruwan. He then stays wide of the crease to slant a delivery in but it is short and the batsman cuts it to deep backward point.
10:42 hrs IST: The partnership between Mathews and Dilruwan has crossed 50. This has been a solid stand and both have looked comfortable.
10:40 hrs IST: Shami is trying the bouncer barrage against Dilruwan. Good pace but Sri Lanka are hanging in there.
10:37 hrs IST: Almost a run-out! Some hesitation between Dilruwan and Mathews but in the end, both are safe. Couple of balls later, Mathews miscues the drive in the air but it is safe again.
10:31 hrs IST: FOUR! Lovely shot from Mathews. Too full from Shami and the former Sri Lankan skipper caresses the cover drive to the boundary.
10:30 hrs IST: Double change! Mohammed Shami, who picked up two wickets yesterday, is into the attack. He too can reverse swing the ball.
10:27 hrs IST: Ashwin is into the attack and immediately, he is troubling the batsmen with flight and dip. He is getting some drift as well.
10:25 hrs IST: Umesh is getting some reverse swing but Sri Lanka are scoring at a good rate.
10:20 hrs IST: Dilruwan is really batting aggressively here. Floated up outside off, the batsman creams the lofted shot over long off for a six. Things not going to plan for India.
10:18 hrs IST: In the air but safe! Mathews living a bit dangerously here. Umesh bangs in a short ball and the batsman fends at it, the ball lands safely at mid wicket.
10:14 hrs IST: Good over from Jadeja. He troubles Dilruwan and Mathews with spin. He has found his groove on day 3.
10:11 hrs IST: Good comeback over from Umesh after a loose first over. However, good intent being shown by Sri Lanka.
10:07 hrs IST: Dilruwan is showing plenty of confidence as he skips down the track and thumps Jadeja over mid-off for a boundary. Sri Lanka 163/5.
10:03 hrs IST: Umesh starts off steadily but Sri Lanka will be a bit confident after that boundary. Ravindra Jadeja from the other end.
10:02 hrs IST: The players are greeted with bright sunshine. Umesh Yadav to start proceedings with two slips and a gully in place. Poor start though as he bowls a short and wide ball and Dilruwan Perera cracks it to deep point for a boundary.
09:55 hrs IST: Will India enforce the follow-on? With such a massive deficit, it would be tempting. But, perhaps, Kohli would want to rest his bowlers. Or maybe not.
09:47 hrs IST: Ashwin and Jadeja will be the key again, but with the old ball, Mohammed Shami and Umesh Yadav can also be lethal. Plus, India have not used Hardik Pandya yet.
09:38 hrs IST: Sri Lankan grounds have a policy to cover the entire playing area during the rains. That avoids the outfield getting wet and play can start promptly. This policy has worked and we could start on time despite the heavy overnight rains.
09:32 hrs IST: Ashwin and Jadeja were getting some deliveries to leap off the deck and spin sharply. With the pitch potentially crumbling a bit more, Sri Lanka's batsmen face an uphill task. They are already six down, with Asela Gunaratne not batting due to a fractured wrist.
09:23 hrs IST: The Galle pitch is already starting to assist the spinners. Survival will be difficult as the game progresses. However, there was heavy overnight rain and some of the covers are coming off from the outfield. One hopes that the game starts on time.
09:20 hrs IST: A warm welcome to day 3 of the Galle Test between India vs Sri Lanka. The hosts are still 247 runs behind in trying to avoid the follow-on. Angelo Mathews is the key here if Sri Lanka have to come close to wiping the follow-on deficit.
At stumps on Day 2, Sri Lanka were 154/5 with Angelo Mathews batting on 54 and Dilruwan Perera on 6. Mohammed Shami took two wickets. They face the tough task of saving the match with 10 batsmen following Asela Gunaratne's series-ending thumb injury.
Earlier, India lost four wickets in the morning session of the second day but their tail wagged as they added 201 runs to their overnight score of 399-3 before being all out.
Nuwan Pradeep was rewarded for his lion-hearted bowling effort with career-best figure of six for 132.
Pujara's ton
Resuming on 144, Cheteshwar Pujara brought up his sixth score of more than 150 before Pradeep dismissed him with a good length ball that bounced and seamed away. Pujara batted nearly six-and-half-hours for his 153, adding 137 runs with Ajinkya Rahane who made 57.
India's lower order then decided to flex their muscles. Ravichandran Ashwin smashed seven boundaries in his 47, Mohammed Shami clobbered three sixes in his run-a-ball 30 and all-rounder Hardik Pandya scored 50 off 49 balls on his test debut to help India reach the 600-mark.
Sri Lanka's feeble reply
In reply, Umesh Yadav dismissed opener Dimuth Karunaratne for two with a fuller delivery and the batsman challenged the leg-before decision but could not overturn it.
Shami dealt a double blow in his fifth over, getting both Danushka Gunathilaka, who made 16, and the scoreless Kusal Mendis caught by Shikhar Dhawan in the slips.
The hosts were reeling at 68-3 when Upul Tharanga and Mathews added 57 runs to arrest the slide.
Tharanga made 64 before falling to a bizarre run out, diving back to the crease and his bat bouncing up in the air. Abhinav Mukund took a stunning one-handed catch at silly point to send back Niroshan Dickwella, who managed eight, off Ashwin's bowling.
Close Story