Seventh pay commission recommends overall hike of 23.55%
Hindustan Times |
, New Delhi
HT Correspondent
Nov 20, 2015 09:26 PM IST
In the new year, central government employees can look forward to fatter pay cheques and heftier allowances.
In the new year, central government employees can look forward to fatter pay cheques and heftier allowances.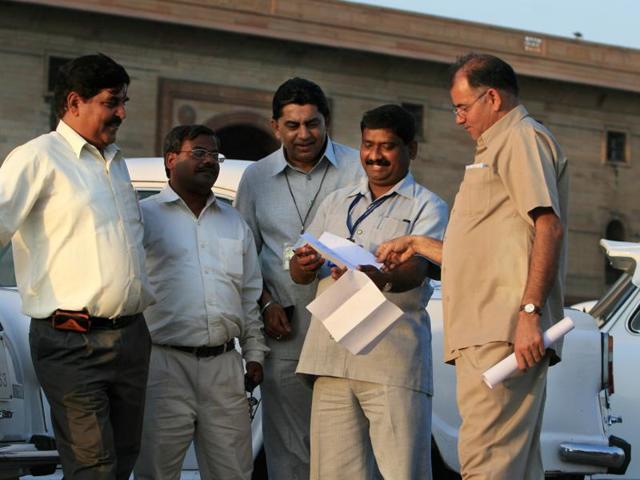 The seventh pay commission on Thursday recommended an average 23.55% increase in their salary, allowances and pension, a move that will benefit 4.8 million staffers and 5.5 million pensioners. The hike will be effective from January 1, 2016.
A minimum pay of Rs 18,000 per month and a maximum of Rs 2.5 lakh has been recommended by the commission, headed by justice (retired) AK Mathur, that presented its 900-page report to finance minister Arun Jaitley.
More cash in hand is likely to result in higher consumption by the government's massive employee base, which accounts for a large segment of the Indian middle-class. More demand could boost the economy through higher spending on assets such as cars and housing.
Read| Seventh pay commission: IAS versus non-IAS turf war divides panel
The government usually accepts the broad proposals for pay revision — due every 10 years — and state governments usually respond with their own hikes.
Jaitley said a secretariat will be set up to implement the pay panel recommendations. A separate empowered committee of various departments will examine the suggestions of the panel.
"The recommendations will be examined expeditiously and the government will take a final decision," Jaitley said.
The government's spending on employee payouts will rise by Rs 1.02 lakh crore. Of this, expenditure on salaries will go up by Rs 39,100 crore and allowances by Rs 29,300 crore, while revised pensions would Rs 33,700 crore.
A fresh IAS recruit will get a basic salary of Rs 56,000 a month against Rs 23,000 currently, while a sepoy in the Indian Army will earn Rs 21,700 per month from Rs 8,460 currently. In addition, employees are paid dearness allowance and house rent among many other allowances.
If accepted, the new proposals will set Rs 18,000 as the minimum pay of an employee on the central government's rolls. At present the minimum salary is Rs 7,000.
Read: 'Equitable' pension formula like OROP recommended by pay panel
The total emoluments of a general helper -- the lowest ranked employee – amount to Rs 22,579, more than double that of his counterpart in the private sector, a study commissioned by the panel found.
The commission has proposed a change in the salary structure by doing away with the system of pay bands and grade pay and recommended "pay matrix". It has also called for scrapping overtime allowance and interest-free loans to buy motor vehicles.
House rent allowance – a key perk -- has also been rationalized at 24%, 16% and 8% of the basic pay, depending on the city where the employee works, and would increase when the dearness allowance crosses 50% and 100%.
Read| Seventh pay commission: Hike comes with Rs1 lakh cr fiscal burden
Since the government's overall expenditure will increase, its fiscal deficit -- the difference between what it earns and spends – will also widen by 0.65 percentage points and likely make an impact on the deficit-reduction target of 3.5% for the next financial year (2016-17).
The government's overall payout will be lower because of no arrears this time, compared to the previous pay commission, which came in late.
(With agency inputs)