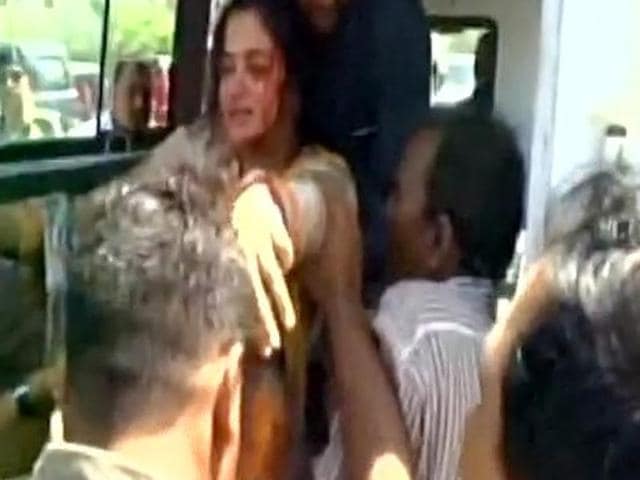 Video | BJP MP Poonamben Maadam falls into drain in Jamnagar
A BJP parliamentarian from Gujarat fell into a sewage drain when the concrete slab beneath her gave away in Jamnagar on Monday.
UPDATED ON MAY 16, 2016 01:59 PM IST
A BJP parliamentarian from Gujarat was injured when she fell into a sewage drain in a freak accident in Jamnagar on Monday, officials said.
The MP from Jamnagar, Poonamben Maadam, received injuries on her head, shoulder and foot when she fell into the 8-feet deep drain while talking to municipal officials over a drive to remove encroachers in Gujarat's fifth biggest city.
According to her doctor S Maheshwari, the leader suffered a 4-inch deep gash on her head besides injuries on her shoulder and foot.
"…her condition is stable, her vitals normal, and she is conscious and there is nothing to worry about. She will be able to go home earliest by tomorrow morning," he said at the hospital where she was being treated.
Shaky TV footage showed people rushing to help the MP, in a yellow dress, lying on her back in the drain.
The MP was pulled out by people accompanying her.
Maadam had gone to meet residents of Jalaram slum who were opposing a demolition drive and had entered into an altercation with the employees of the Jamnagar Municipal Corporation (JMC).
Though incidents of children and even adults falling into open drains and borewells are common across India, it is rare for elected representatives to face such a situation.
The MP grabbed the headlines in April 2015 when she danced during a religious programme in Gujarat's Veraval. Devotees at the programme had allegedly showered her with around ₹three crore within minutes.
Jamnagar is around 300 km from capital Ahmedabad.
Close