Despite Modi's assurance, Varanasi falls short of 1st 'smart city' list
When Narendra Modi visited Varanasi as the prime minister designate on May 17, 2014, residents of the city saw in him a beacon of hope.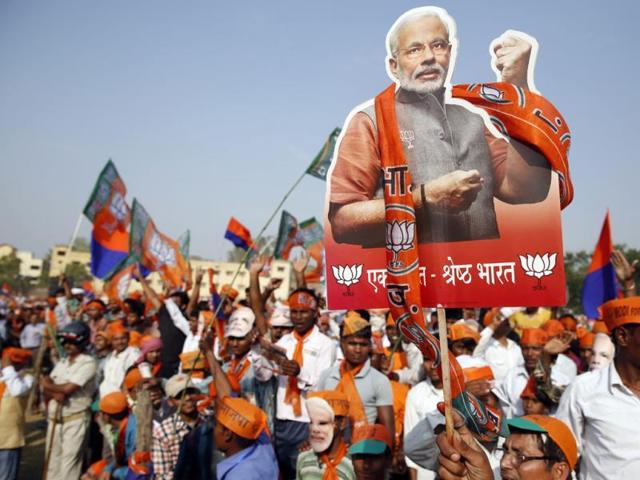 Updated on Jan 29, 2016 11:27 AM IST
When Narendra Modi visited Varanasi as the prime minister designate on May 17, 2014, residents of the city saw in him a beacon of hope. "We will work together to transform Kashi, which is essential to transform India," he announced, evoking a huge round of applause from the crowd.
However, even 21 months after the announcement, the situation here largely remains the same. With its bumpy roads, traffic congestion, age-old drainage system and poor sanitation conditions, it is little wonder that this ancient city -- represented by Prime Minister Modi in the Lok Sabha -- fell way short of finding a place in the list of 20 cities selected for the ambitious Smart City Mission project.
In fact, Varanasi was ranked 96 on the list of 97 cities that competed for inclusion in the first list announced by urban development minister M Venkaiah Naidu.
"It's such a let-down that Varanasi failed to make it to the list," said Pt Prasad Dixit from Mehmoorganj.
On August 30, 2014, Modi had inked a Kashi-Kyoto partner city agreement with Japanese premier Shinzo Abe -- a deal aimed at developing Varanasi with active help from Japan's 'city of ten thousand shrines'. The pact was part of his vision to turn the Prime Minister's constituency into one of the 100 smart cities in the country. Going by the agreement, Kyoto was supposed to provide cooperation in the fields of conservation, modernisation, art, culture and academics.
Read | Smart cities scheme announced: 20 which made it and those that didn't
However, little has been done in that regard until now. The city streets are plagued by open manholes, and road widening projects have met with local resistance. Faced with lack of parking space and few buses, auto-rickshaws and cycle-rickshaws remain the primary mode of transportation for commuters.
Traffic congestion is another problem faced by the public.
At present, the city has 88 community toilets. Though as many as 205 more were supposed to be built with the help of the Japanese International Cooperating Agency, the plan couldn't be carried out due to lack of land. Bio-toilets have been set up in certain areas, but aren't being maintained properly.
The drainage system in the old city, developed about 100 years ago, has been unable to keep up with the changing times. Besides this, people in various parts of Varanasi complain of poor and contaminated water supply.
The Kashi-Kyoto agreement had also dwelt on the construction of three solid waste treatment plants outside the city. However, to the administration's credit, construction work on one of these units has already begun.
Suresh Gupta, a resident of Teliabagh, said Modi cannot be blamed for the dismal civic situation in the holy city. "The Prime Minister is not responsible for everything. People who think so need to change their mindset. It was Modi who introduced the cleanliness drive. He tried to motivate the people..."
Read | Bhubaneshwar tops smart cities list: How the winners were chosen
According to Gupta, Kashi would witness no transformation unless people changed their approach. "Bumpy rides are what people have here. Roads are repaired before the visit of the PM, but they return to square one sooner than later," he said, blaming the Nagar Nigam for not maintaining the roads under its jurisdiction.
Traffic jams – which have become a regular feature at Girijaghar intersection, Godaulia, Nai Sadak and Nadesar – are also a major issue that haunts both residents and tourists, said Jagatganj resident Roshan Pandey.
He said local residents also needed to change their mindset on sanitation, and take proactive steps to keep the city clean. "When Modi grabbed a spade and started cleaning Assi Ghat on November 8, 2014, several local residents joined him. Some NGOs also came forward to spread awareness on the matter. But people still need to do more. They should start by not dumping polythene and other kinds of waste on the streets," Dixit said.
Despite his disappointment, mayor Ramgopal Mohale believes a lot can be done to rectify the issue. This was a wake-up call to fix the city's infrastructural and sanitation problems, he said, adding: "We tried our best to come in the top 20 but in vain. We will look at the reasons that cost Varanasi a position on the list, and ensure that the city tops it next year. Renewed efforts coupled with focused groundwork will certainly get the desired results."
However, Varanasi's failure to make the list gave the Opposition a chance to question the Prime Minister. "Will PM Modi reveal the reason for Varanasi being kept out of the list of top 20 smart cities?" asked Samajwadi Party leader Shatrudra Prakash. "If development was the criterion (for Modi being elected as India's premier), why did the PM fail to ensure the development of his own constituency? The people of Varanasi have received nothing from the Centre in the last 21 months."
Recalling a time when Mohale visited Kyoto to "bring hi-tech development to Varanasi", Prakash asked: "Will he tell us what happened to his plan, and why his party's government left Varanasi out of the Smart City Project list?"
Public suggestions
In October last year, the Varanasi Nagar Nigam had sought suggestions from the public on various issues such as traffic management and sanitation under the Smart City Scheme. Around 20,000 residents offered online suggestions while as many as 1.7 lakh forms were filled. On the basis of these suggestions, a report was prepared and sent to the state urban development department in December – from where it was forwarded to the Union ministry of urban development.
Sources said that while 34% of the suggestions laid emphasis on cleanliness, 28% spoke for proper solid waste management. Quite a few also suggested that the potholed roads in the city be given a complete makeover.
Read
Delhi's VIP zone on list of 20 for smart city project
Smart cities: 'Adopted' Pune, Vizag only 2 to benefit from foreign help
Close Story
Personalise your news feed. Follow trending topics