Farmers in Odisha's Bargarh swear by traditional methods
But except Kharamal and surrounding areas, most villages in Paikmal are still dependent on rain-fed rice based agriculture and thus vulnerable to drought.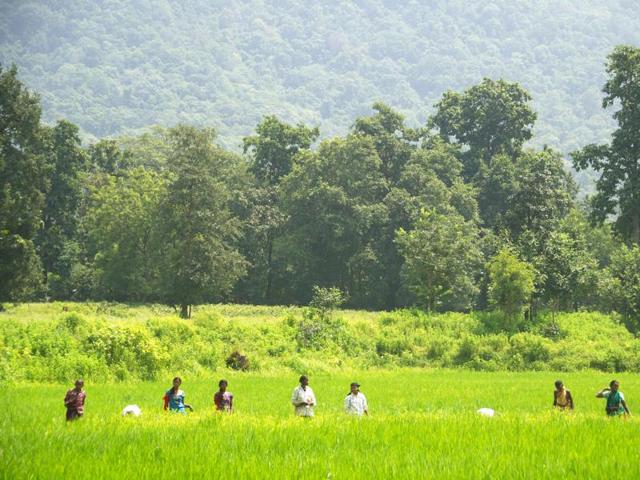 Published on Oct 13, 2015 04:36 PM IST
Hindustan Times |
Priya Ranjan Sahu
A migrant labourer not long ago, 37-year-old Sitaram Majhi is now a successful farmer.
As Odisha's agricultural fields starve for water due to drought conditions this year, Majhi never had a problem watering his crop in Kharamal village in Bargarh district's parched Paikmal block, more than 500 km from Bhubaneswar.
Equipped with chahala – a small traditional water harvesting structure – and a vermi-compost pit the three-acre farm, on which he cultivates rice and several varieties of vegetables, has never failed Majhi, even during drought. The marginal farmer sells vegetables worth Rs. 2,000 every week in the nearby market – all this without any investment in chemical fertiliser and pesticide.
"I used to migrate to Andhra Pradesh to work in brick kilns. Now I am self-reliant after our efforts in reviving traditional methods of water harvesting worked," Majhi told HT.
Kharamal, at the foothill of Gandhamardan Hill, has about 100 families, mostly tribals. Till a decade back, like Majhi most of the villagers used to migrate to brick kilns in Andhra Pradesh and farmlands in Haryana after successive droughts over three decades degraded the land, making agriculture a futile exercise.
Things, however, started to change from 2005 after Manav Adhikar Seva Samiti (MASS), a local voluntary organisation, reminded the villagers about the immense potential of their traditional methods of water harvesting to combat drought. Majhi was first to dig up a chahala in his field.
With support from the organisation, the villagers took up integrated ecological restoration activities involving gully plugs, plantation on catchment areas and hilly slopes, check dams and revival of defunct water structure. The results began to show within three years – cultivable area in the village increased from around 70 acres to 250 acres with not an inch remaining unused.
Soon the efforts spread to over 20 surrounding villages. Tula Amari, 47, of neighbouring T Bandhapada village, who grows several varieties of vegetables in his three-acre patch, said: "An area that was known for drought and migration gradually turned green with the moisture content and soil quality of the ground drastically improving. Now very few migrate for work as most, including landless, are busy working in the fields here."
The farmers adopted organic farming because investment in chemical fertiliser and pesticide was much more expensive. "They underwent a training programme on sustainable ecological agriculture that included creation of seed bank and organic fertiliser," said Adikanda Biswal, an eco-agriculture trainer with MASS.
MASS withdrew from the scene after its five-year project ended in 2009, but by that time the villagers had created 43 chahalas and 12 panighara – a small structure to store water seepage from hill – and 25 vermi-compost pits. The whole process has also made them very confident.
In the area, Majhi is regarded as a model and an expert on digging up water structures, preparing organic compost, pesticide and seed and land development.
"Villagers seek his help on all things related to agriculture and take his advice very seriously," said 48-year-old Malti Biswal, who was landless a decade back but is now cultivating an acre of land on lease.
The villagers' enthusiasm for conservation has made the government's watershed programme a big success in the area after it started in 2010, with many villagers owning multiple patches of farms each equipped with a chahala.
But except Kharamal and surrounding areas, most villages in Paikmal are still dependent on rain-fed rice based agriculture and thus vulnerable to drought.
"About 60% of my paddy saplings have been damaged. And if it does not rain within a week, I will be completely ruined," said 50-year-old Bisambar Patra, a farmer from Hirapur village not very far from Kharamal. Patra, who cultivates seven acres of land, added that he might be forced to migrate for work. Scanty rainfall has affected agricultural activities in more than 10 blocks in 23 of total 30 districts of Odisha. Spectre of severe drought looms over eight districts including Bargarh.
According to Odisha's noted water activist Ranjan Panda, who played a vital role in creating water sustainability for the farmers of Kharamal, over 90% of the world's farms are small-scale and small and marginal farmers produce about one-third of world's food on just 25% of the world's farmland. Yet they do not figure in the global debate on poverty and climate change despite the fact that they are the main victims of both.
"The world is now debating the next defining agreement on climate change – United Nations Climate Change Conference – to be held in Paris in December. The efforts like Kharamal are best examples of adaptation to impacts of climate change that is making water resources scarcer, land degradation process faster and is putting the rural poor folks to tremendous pressure. With such adaptation initiatives, the world can change the fate of the small farmers," said Panda.
Close Story
Personalise your news feed. Follow trending topics