Vote on Modi? PM's Bihar campaign comes crashing down
Updated on Nov 08, 2015 03:47 PM IST
The Nitish Kumar-led grand alliance appeared headed to form the next government in Bihar on Sunday, a verdict that comes as a huge blow to Prime Minister Narendra Modi for whom the election was seen as a key test of popularity.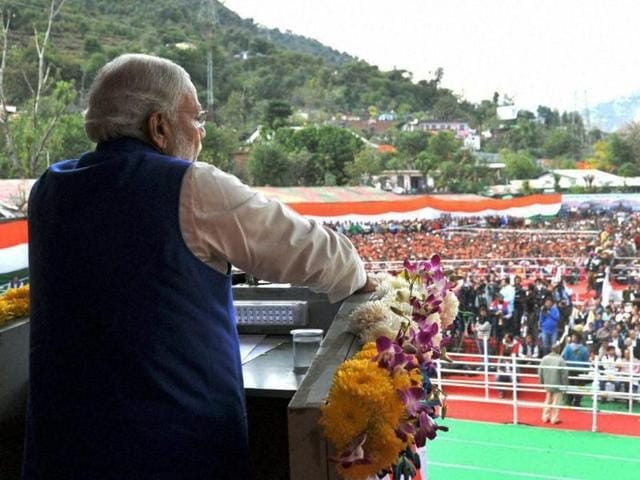 Hindustan Times |
, Patna
Mammen Matthew and Vijay Swaroop
A grand alliance of parties led by Chief Minister Nitish Kumar appeared set to storm to power in Bihar on Sunday, dealing a heavy blow to Prime Minister Narendra Modi for whom the election was seen as a key test of his popularity.
The alliance seemed headed for a two-thirds majority, primarily riding on the united support of Yadav and Muslim voters and the vote of Kumar's chief backers, the Kurmis.
But Kumar's Janata Dal (United) appeared to have won fewer seats than ally Lalu Prasad-led Rashtriya Janata Dal (RJD), an outcome that may undermine him within the coalition and open up the possibility of turf battles.
The results, though, would be particularly worrying for Modi, who had mounted a no-holds barred campaign, addressing some 30 rallies and promising voters crores of rupees in investment to pull the state out of chronic poverty.
The election was seen as a critical test of Modi's policies to bolster the economy and for the strident brand of Hindu politics – underlined by a bruising debate over intolerance – which many within the Bharatiya Janata Party (BJP) strongly advocated.
Watch: How BJP lost the plot in Bihar
The defeat in Bihar could force Modi to go slow on radical reforms such as overhauling archaic labour laws and land acquisition rules. Moreover, Modi needs to win most of the state elections over the next two years to gain control of the Rajya Sabha if he has to push through his economic reforms agenda.
Read | Bihar results LIVE | As Nitish trumps Modi, Lalu takes centre stage
The grand alliance's victory was forged by unity among Yadav and Muslim voters and Kumar's projection as chief minister. The BJP-led National Democratic Alliance (NDA) did not put up a chief ministerial nominee and instead banked on Modi's appeal as a development messiah, possibly leaving voters confused.
The alliance placed Kumar as a political rallying point for all anti-NDA forces nationally, while forging a concrete template for opposition politics to take on the BJP in polls in four other states – Tamil Nadu, West Bengal, Assam and Kerala – next year and the all crucial state of Uttar Pradesh in 2017.
The BJP's re-engineering of castes citing Modi as an extreme backward caste (EBC) too failed.
The chief factor that swung what was all along seen as a close election in favour of the grand alliance was the consolidation of Yadav and Muslim votes and support from Kumar's primary constituency of Kurmi voters.
For the BJP, the remarks by RSS chief Mohan Bhagwat just ahead of the polls that the time had come to review the reservation policy turned out to be a self-goal for the party. NDA leaders tried to counter this but by the time the defence came, it was too late.
Read | Around 150 seats for Grand Alliance in Bihar, Sharad Yadav says
Yadav and other backward castes, which control about 60% of the Bihar electorate, benefit from the government's affirmative action.
Kumar's clean image and his projection as chief minister did the magic for the grand alliance as he is seen as a man committed to development. Several of his schemes, particularly those related to empowering women and girls, were popular and received wide appreciation.
The grand alliance's victory is also attributed to the rejection of communal politics, driven mostly by the recent debate over cow slaughter and consumption of beef.
For the NDA, in addition to the bitter campaign launched by its leaders and more particularly by the BJP, targeting Lalu Prasad and name-calling alliance leaders too seemed to have damaged the BJP's chances.
The BJP failed to derive any benefit from the promise of a special Rs 1.25 lakh crore package for Bihar.
Read | Bihar poll results: TV channels' coverage causes confusion
Personalise your news feed. Follow trending topics