In Hyderabad, Kanhaiya pitches for 'Rohith Act' to end casteism
In Hyderabad, JNUSU president Kanhaiya Kumar underscored the growing demand for "Rohith Act", a law against caste discrimination.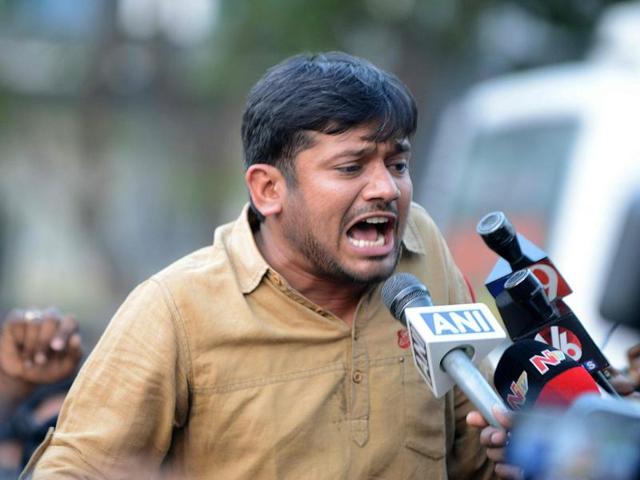 Updated on Mar 24, 2016 01:09 AM IST
Kanhaiya Kumar alleged on Wednesday the NDA government turned the February event at JNU, where seditious slogans were allegedly shouted, into a row to divert people's attention from Hyderabad university PhD student Rohith Vemula's suicide.
He also underscored the growing demand for a "Rohith Act" — a law against caste discrimination in educational institutions.
The JNU students union president, charged with sedition for anti-national slogans, was not allowed to enter the University of Hyderabad, where outsiders and media-people were barred after Tuesday's violent protests against vice-chancellor Podile Appa Rao.
"The Centre smartly made up the JNU issue to keep the Rohith issue under the carpet ... That's why as soon as I came out of jail, I thought my first visit outside Delhi would be Hyderabad," he said.
He compared Dalit rights campaigner Vemula's mother, Radhika, with freedom fighter Bhagat Singh's mother.
"I will first meet Rohith's mother and brother. If police allow me, I will certainly go to the campus to speak to the students," Kumar said at the airport where a clutch of Leftist leaders received him.
Later in the evening, the 29-year-old leader spoke to a small gathering of students outside the university gates. "I came here in solidarity with the students. Our fight is to protect the Constitution and democracy. We will continue our fight for social justice without disrupting peace."
Protests continued in the university after vice-chancellor Podile resumed office on Tuesday following two months of leave. The students have accused him of pushing 26-year-old Vemula to suicide on January 17 after his scholarship was cancelled allegedly at the behest of Hindu right-wing groups.
The vice-chancellor's office and his official residence were vandalised while many students were wounded as police cane-charged and took 25 protesters into custody.
Classes were suspended till March 26 in view of the violence. Additional forces were deployed and pickets put up around the campus, where power supply and Internet service were reportedly stopped.
Students posted images of cooking meals as hostel kitchen staff refused to work because of the vandalism in the university. Some non-teaching staff alleged students had abused and attacked them.
Podile did not attach any significance to Kumar's visit, saying "we have nothing to do with that boy".
CPM leader Sitaram Yechury demanded the release of the arrested students while Union minister Venkaiah Naidu asked political parties to stop politicising campuses.
"Let there be student politics, not divisive politics on campuses. Universities have the autonomy and mechanism to resolve issues with the students," Naidu said.
With agency inputs
Close Story
Personalise your news feed. Follow trending topics