New-age authors cash in on growing market
Feb 24, 2013 12:50 AM IST
A new breed of writers are earning fame and money through their books and have redefined the benchmark for a bestseller, writes Manoj Sharma.
If you thought writers live in garrets, then you have not followed the story of India's rapidly growing market for commercial fiction, which has spawned a whole new tribe of writers.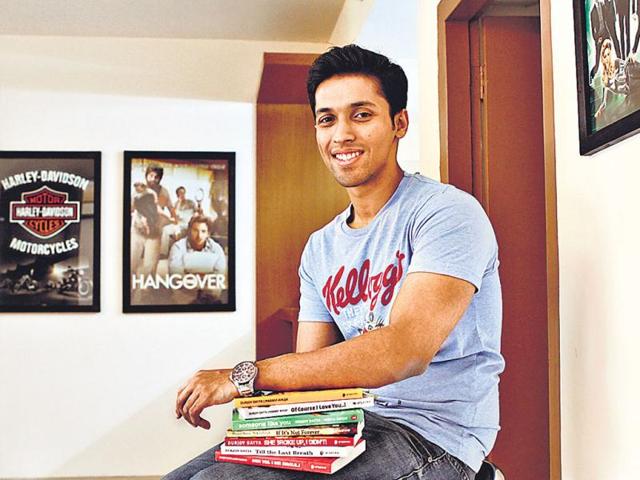 In a country, where the benchmark for a bestseller is a mere 5,000 copies, the sales of their books regularly hit the 1-lakh mark, mostly within months of release. And these authors never set out to be writers in the first place.
Recently, many of them — Amish Tripathi, Ashwin Sanghi, Ravinder Singh and of course, Chetan Bhagat, all management professionals, — even figured on the Forbes India Celebrity 100 list on the basis of their fame and money earned as writers.
Having earned financial security from the phenomenal sales of their books, many of them are giving up their cushy management jobs to become full-time writers — and even publishers.
In 2011, Delhi-based Durjoy Datta, an alumnus of Delhi College of Engineering, quit his job at American Express as a marketing analyst and turned a full-time writer. Datta has no regrets — he earns about Rs. 30 lakh a year from sales of his books — more than what he was earning as a marketing analyst. Besides, he set up a publishing house — Grapevine India — with the objective of "identifying young and upcoming talent, backing them and developing them into strong recognisable brands".
His publishing venture has already brought out about 20 titles by new writers from varied backgrounds. "With the market for commercial fiction expanding exponentially, it is a good time to be in publishing," says Datta, who is currently busy with the publicity of his seventh book, 'Someone like You', co-authored by Nikita Singh. It made its way into the bestseller list within the first week of its release earlier this month.
Mumbai -based Amish Tripathi , an IIM (Kolkata) alumnus, also quit his job as a banker in 2011 to take up writing full time.
"I am a risk-averse banker! I resigned only after writing my first two books and feeling reasonably confident that my royalty cheque would be enough for me to pay my bills. So I'm one of those lucky people who are earning their living from work that they like doing," says Tripathi, whose first two books — The Immortals of Meluha and The Secret of the Nagas — have crossed the 1 million sales mark. The concluding part of his Shiva trilogy — The Oath of The Vayuputras — is to be released later this month with an astounding print run of 5 lakh copies.
Then there are those high-earning authors such as Ashwin Sanghi, a Mumbai-based management graduate from Yale, who says while his earnings from the sales of his books are enough to allow him to live as a full time writer, he has chosen to follow writing as a passion, not profession.
"My earnings from royalties and movie rights are substantial enough to support me financially. But if I were to give up working and focus only on writing, then my writing would become work," says Sanghi, who runs his own business.
Sanghi is the bestselling author of The Rozabal Line, Chanakya's Chant and The Krishna Key, whose combined sales is about half a million copies.
So, what is the secret of success of these writers — the smart, largely self-driven marketing or great story-telling?
Vaishali Mathur, senior commissioning editor, Penguin Metro Reads, publishers of Ravinder Singh and Durjoy Datta, says that commercial writers are successful because they have a huge connect with their readers. "Those who read their books can relate to the stories and identify with the characters as most authors are also in the same demographics as their readers," she points out.
This new breed of writers has changed the very concept of bestsellers in India. Earlier, any book that crossed the 5,000 mark was considered a bestseller, now the figures have risen to upwards of 10,000.
Adds Kapish Mehra, managing director, Rupa Publications, publishers of Chetan Bhagat and Ravi Subramanian, "It is possible to make money as a writer in this country, if you can break into the exclusive club that includes the likes of Chetan Bhagat and constantly sell 1 lakh copies per year."
And this exclusive club is expanding fast.